It's corn on the cob season! Meaning: every grocery store has it complete with a shucking station. Everytime I go to the store, I see customers shucking. Right there, in front of everyone. For all you grocery store shuckers, there's a tastier way to cook your corn on the cob. Read on for our easy baked corn on the cob recipe and find out how to make it without shucking!
Its a hard rule at home – we don't shuck our corn until it is ready to eat. We have simple rules:
Don't boil the cob
Don't (in the name of all things holy) wrap the cob in clear plastic wrap and microwave it.
When we get corn on the cob, we always follow those two rules, even when short on time.
Why you might ask?
Shucking raw corn is a pain.
Cooking the corn within its own husk cooks it in its own juices, keeping extra sweetness in.
Cooked corn is easy to shuck.
We're sure it tastes better.
Let's talk about how hard shucking raw corn is. You have to peel out tough little string-like fibers. You have a firm husk fighting against you. And if you do it in a grocery store, people are watching your shucking battle. Shucking at home creates extra mess.
But… Cook the corn in its husk and suddenly shucking is easy. You can grab the little fiber strings that were once firm and rip them right out. You can rip the now soft husk off with no issues. The bottom line: it's shucking made easy.
And taste is improved too. I've had plastic wrapped corn and boiled corn from time to time. Neither tastes as good. And if you grill the corn in its husk, you can get a nice smoky flavor to it. Put it in the oven, and none of the juices escape, locking in all flavor. Just ask the Goose.
She can't get enough of this easy oven baked corn. In fact, this is what happened when she saw the corn laid out to be photographed for this post.
Instead of calling it quits on the shoot, here's a little behind the scenes look at a food shoot with a toddler underfoot.
All you need to do to cook non-shucked corn is   toss it in an oven or on the top rack of your grille. It takes about 20 minutes and about 5 to cool off, but it is worth every minute.
Print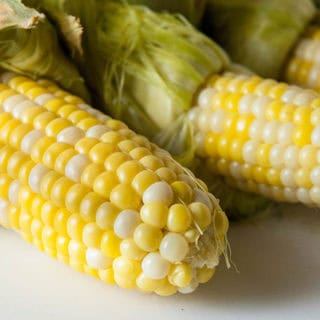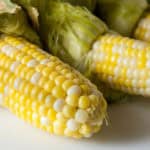 Corn Cooked Right – No Shucking Way!
---
Ingredients
To Finish (optional):
Butter
Salt
Pepper
Parm cheese
---
Instructions
Preheat oven to 400 or set grill to medium high or create hot fire with charcoal.
Cook for about 20 minutes or until the corn husk starts to look brown/grey all over.
Let sit for about 5 minutes
Carefully peel away husk, it will be hot!
Top with favorite toppings such as butter, salt and pepper, and/or cheese.
---