One of my favorite things to eat this time of year is corn on on the cob. It's so easy to make and total toddler crack. I mean seriously? Have you ever given a toddler corn on the cob? It keeps them occupied for the better part of 5 minutes. That's a long time in toddler time, which is sort of like dog years.
So needless to say we eat tons of corn on the cob in our house this time of year. Right around late in the summer, when the first hint of autumn creeps into the air, I crave corn chowder like it's going out of style.
It's the ultimate end of summer comfort food with its creamy, cheesy goodness. The version I make is full of summer veggies, vegetarian, gluten free, and lower fat. Note, I didn't say low fat. There are still two whole cups of cheese in this but it doesn't have any heavy cream or meat. So that makes it better for you. Plus veggies. It's a bowl full of veggies. Hello health food!
Glad you agree.
Plus, because we love food with a kick in this house, I include a jalapeno for that bit of heat that I just can't get enough of. If that's not your thing, leave it out. No big deal. But if you are wanting a little adventure, try it with the jalapeno. It adds a kick but it's still pretty Goose friendly.
It's Goose friendly in that she ate it because we told her it had corn in it. However, she did lift up her bowl and search her high chair tray for her ear of corn. It definitely confused her that the corn was in the soup instead of in a cob on her tray. And as much as that confused her, it amused us. Because really, isn't there anything more precious than watching a toddler try to figure something out on her own?
Print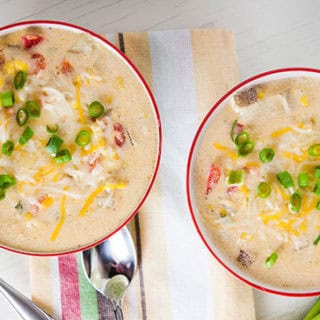 Vegetarian Corn Chowder
---
Prep Time:

10 minutes

Cook Time:

30 minutes

Total Time:

40 minutes

Yield:

6

1

x
4 cups

of cooked corn kernels (about

5

ears)

4

large white potatoes

1

red bell pepper

1

large sweet frying pepper

1 cup

of chopped carrots

1

jalapeno seeded and chopped

2 tablespoons

of butter

1/2 cup

of sherry

4 1/2 cups

of fat free half and half

2 cups

of cheddar or cheddar jack shredded cheese

1

tbs chili powder
salt and pepper to taste

2 tablespoons

of flour*

1/4 cup

of water
---
Instructions
In a large pot, melt the butter over medium low heat.
Chop the peppers and peel and dice the potatoes. Add them to the pot with the butter. Season the veggies with salt, pepper, and chili powder.
Add 2 cloves of pressed garlic.
Cook the peppers and potatoes for about 5 minutes until slightly softened. Stir frequently.
Pour in the sherry. Cook for an additional 5 minutes.
Pour in the half and half and let the veggies come to a simmer.
Whisk together 2 tablespoons of flour and 1/4 of water until it forms a paste. Pour it into the soup and bring back to a boil.
Add in corn. Stir and cook an additional 2-3 minutes to warm the corn through.
Stir in cheese.
Serve immediately. Garnish with more cheese and scallions if desired.
Notes
* I used gluten free all purpose flour.