Coffee Rubbed Ribs
Holy smokes, you guys. Labor Day is knocking on the door. Seriously it's right around the corner.
And I have to be honest, I'm feeling conflicted. I used to be a summer gal. I still am kind of. I love the beach and the sunshine and not being cold all the time. Seriously, I once was cold to the point of goosebumps in Las Vegas. In July. Outside. Truth. My husband still talks about that.
But now… summer and I have been on the outs. Quite frankly, summer just has not been as much fun with an almost threenager. Have you tried to pack up a toddler to go swimming? Not fun. Nope. Or carried a kid that didn't want to wear shoes through the yard when she wants to walk and it's approximately 5000 degrees outside and the air is as soupy as well, hot soup?
Yeah I burned out quick on summer this year. I was #overit real fast. And then… well, last weekend we spent the weekend at the shore with my sister. And you know what? It rocked. (If you follow me on Instagram, then I apologize for blowing up your stories last weekend with all the summertime love.) Then suddenly, I had all this #fomo going on. I feel like I have to cram all the fun into this last stretch of summer.
We need to swim, go back to the beach, take all the long evening walks, eat outside, grill, have all the barbecues right now while the weather is still good.
And we need to have one amazing end of summer barbecue for Labor Day. Where everyone comes over and we all enjoy the sweetness of the end of summer sun and a great meal.
These coffee rubbed ribs are the perfect centerpiece for that end of summer barbecue to end all barbecues. They are smoked on a charcoal grill so they get that smoky flavor that the plays so well with the coffee. The spices and brown sugar bring a little sweet heat to the table. The squeeze of lime at the end? Perfect.
And don't worry about the meat being dry because you used a dry rub. It won't happen with these Smithfield extra tender back ribs the result is perfect. And of course, I'd expect nothing less of Smithfield Fresh Pork products. Smithfield Ribs are hand-trimmed, extra-tender and juicy and conveniently available in the meat case at your local Walmart. But if you are still worried, just periodically brush them with a little olive oil during the cooking process. For more info on Smithfield products or to enter win $5000 in their Get Grilling America sweepstakes, check them out here. For more grilling tips, check out this video.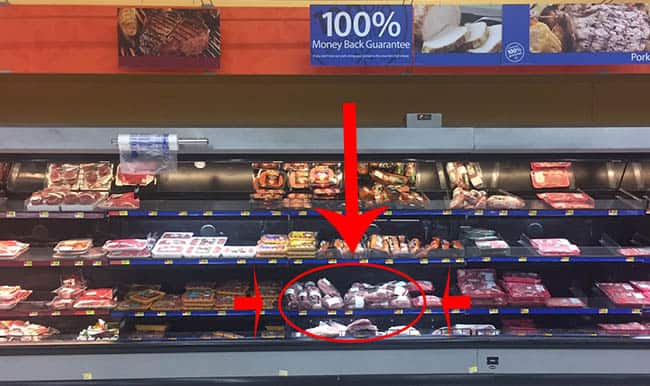 So really, nothing is stopping you from fitting in this delicious meal into all the end of summer fun to be had.
Looking for other fab rib recipes? Check these out here:
Sweet and Spicy Pineapple Ribs
Cranberry Barbecue Ribs
Barbecue Rib Nachos
Print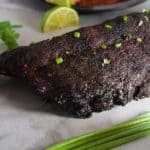 Coffee Rubbed Ribs
---
Author:

Prep Time:

5 minutes

Cook Time:

8 hours

Total Time:

8 hours 5 minutes

Yield:

1

rack; 2-4 servings

1

x
Description
Coffee Rubbed Ribs are easy to prep and make the perfect barbecue meal
---
1

rack of Smithfield extra tender back ribs
lime*
olive oil**
For the rub
2

tbs ground coffee

3

tbs brown sugar

2

tbs chili powder

2 tsp

garlic powder

1 tsp

red pepper flakes

1 tsp

cumin

1 tsp

paprika

1/2 tsp

cayenne pepper

1/4 tsp

salt
---
Instructions
In a bowl combine all the ingredients for the rub and stir them together until thoroughly combined. Press half the rub into one side of the rack, flip the rack over and press the remaining on that side. Make sure to evenly spread out the spices.
Stack the charcoal to one side of the grill to ensure a smokey fire.
Combine all the ingredients for the rub and spoon onto both side of the ribs.
Place the ribs meat side down over the other side of the grill.
Smoke the meat for 6-8 hours, depending on how hot coals are. Brush periodically with olive oil. The ribs are done when the meat begins to fall from the bone or the internal temperature reaches between 190 and 203F for maximum tenderness.
Notes
*Add a squeeze of fresh lime just before serving if desired.
**Olive oil is for brushing, the amount used will vary based on how often you brush the ribs. I used approximately 2 tbs.
Category:

meats and main dishes, barbecue

Cuisine:

American
Nutrition
Serving Size:

2-4 servings