At the start of this week, I was issued a challenge. At least, I took it as a challenge. A certain wife of mine stated: "You can't make Cheesy Southwest Taco Sliders for the blog." Because really the concept of my husband making a little burger is unheard of- especially for a Man Food Friday post. His idea of great food is big food.

So I asked her why.
She replied, "Because your burgers are always huge!"
Challenge, accepted. She may not have known it (or maybe she did), but it was game time for me.
It's not that the evidence is not stacked against me on her point about huge burgers. They are very big, juicy, and quite good. Here's the evidence used against me:
Apparently, in the court of my wife, previous burger posts can and will be used against me when determining future posts. (Jenna's note: dang skippy they will be used against him!)
It's not that she's not right. I do tend to make very big burgers. But not this week. This week was all about small size, big flavor. And why not? Tacos are some of the most flavorable eats around and made from the same meat as burgers.
Taco Seasonings + ground chuck + cheese = Cheesy Southwest Taco Burgers
I had the Goose helping again this week. Since her mama's been a bit under the weather, she has been extra helpful. She wanted to help mix up the ground chuck.
Her problem this week was wanting to feed the dog-GIE every few seconds. Unfortunately, feeding Zoe, our lab, is a common thing for her to do. We don't necessarily encourage it, but we definitely don't discourage it much either.Except, of course, when we need to. Like when the Goose is feeding Zoe raw, seasoned meat. Every few seconds, I had to remind her of what we were trying to do which is not feed the dog-GIE but feed ourselves instead.
Now this may shock you, but the answer she gave me was "NO!" The little stinker would then look me in the eye, grab a clump of meat and toss it to the floor.
The situation became win-win for her. If I jumped to catch it, she laughed like hell. If I let it go and Zoe got it, she laughed like hell. So, my mind jumped to beat the clock, finish as fast as possible.
And that's what I did. As soon as it was adequately mixed, I jumped up with the Goose, washed her hands, and set her down. I finished rolling the seasoned meat into slider-size portions.
P.S. Challenge won. Cheesy Southwest Taco SLIDERS created.
Print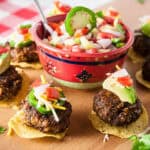 Cheesy Southwest Taco Sliders
---
For Sliders:
1

pound ground beef

2 Tablespoons

chili powder

1 Tablespoon

cumin

1 teaspoon

red pepper flakes

1/2 teaspoon

black pepper

3/4 cup

cheddar or Mexican style cheese

1 teaspoon

garlic powder

2

cloves minced or crushed garlic

1

egg

1/2 cup

crushed tortilla chips

1

medium jalapeno diced
salt to taste
To Finish:
1

–

2

medium jalapenos sliced into wheels

1/2

avocado cut into small pieces
small bag of round tortilla chips

1/4

–

1/2

cup more cheddar or Mexican style cheese
---
Instructions
Crush tortilla chips in a blender or food processor, add until you have about a half cup.
In a medium bowl, add all ingredients for burger.
Mix ingredients until well incorporated (or until your toddler starts to eat or feed the pets with it).
Form half-dollar size patties (roughly a 1/8 to 1/4 cup). Tip: use your tortilla chips as a size guide, the sliders should fit nicely on one.
Cook over medium-high heat or on medium-high grille for roughly 3 – 4 minutes a side.
Top with suggested toppings or add your favorite taco toppings.