This bacon and cheese stuffed bacon burger is recipe you need on your grill this summer. This over the top burger recipe is a variation on a Juicy Lucy and features a cheesy interior and loads of bacon. Post originally published June 17, 2016 and updated on June 5, 2019.
Bacon.
I have not met one bacon fan who has needed any more explanation than the recipe contains bacon to be sold. After all, the bacon could make cardboard taste awesome.
A typical restaurant bacon cheeseburger really limits the power of bacon. A paltry burger with one or two measly strips of bacon. Come on now. These burgers are your call to do better. Add more bacon. You know you want to.
These juicy Lucy burgers are mixed with bacon and cheese, stuffed with bacon and cheese, topped with bacon and cheese, and are grilled in the leftover bacon grease. You literally get bacon in every bite of these overly juicy, sinfully bad bacon burgers.
Don't feel bad. You can eat healthy again tomorrow, but tonight, indulge your inner bacon-loving self.
Ingredients
To make these you need:
Bacon– Can't have a bacon burger without actual bacon. You'll need to dice some of it up to put in the burgers and reserve some for topping the burgers.
Ground beef– Go with leaner ground beef like 90/10. Anything more fatty will make these burgers very greasy and cause the burgers to shrink.
Cheddar cheese– Shredded cheddar goes directly into the burgers and the filling. You could also use a Mexican blend or Jack cheese.
Cream cheese or marscapone cheese– For the base of the molten cheese center, go with cream cheese or marscapone cheese.
Bread crumbs– Bread crumbs both coat the cheese centers and help bind the burger.
Egg– Egg helps bind the burger.
Spices– Chili powder, garlic powder, salt, pepper and fresh pressed garlic give this tons of flavor.
How to Make
Making these bacon and cheese stuffed burgers is a bit more involved than making regular bacon cheeseburgers. Each layer of the burger is filled with bacon and cheesy goodness. There's not just a couple of measly strips of bacon on top of the burger. Instead, there is bacon mixed into the ground beef and mixed into the cheese ball in the center of the burger. So the extra work provides you with huge bacony payoff.
Just break it down into these steps:
Cook the bacon.
First up, cook up a metric ton of bacon. Ok, maybe not that much but enough so that you will have bacon for the cheese ball center and the top of the burgers. In reality, cook 12 total strips of bacon: 4 diced and 8 whole.
Once you've cooked the bacon, you can set aside the strips and the bacon greased skillet. Do not drain the skillet you cooked the bacon in. This is key. You're going to save that bacon greased skillet to cook the burger in.
Make the cheese filling.
Then you can take the bacon bits and mix a quarter of it into the cream cheese along with cheddar cheese, garlic, and salt and pepper. Once all the ingredients are well mixed, set aside in the fridge for about 30 minutes. This gives the cheese the chance to solidify a bit.
Whisk the egg in a small bowl and whisk it until it looks ready to cook for scrambled eggs. Take the breadcrumbs and put them in a slightly larger bowl.
Now, take the cheese mixture out of the fridge. Using a tablespoon as a guide, scoop the mixture and form it into balls. Dip each ball into the egg, giving it a decent coat on top. Then, put the ball in the breadcrumb bowl and roll it around until coated in breadcrumbs. Place on a plate or baking sheet for now. Repeat until all the mixture is used, which should be about 4 to 6 balls. You may find you want to make them bigger or smaller. That's up to you. Set them aside.
Mix up the meat.
Now, mix the meat, cheddar cheese, spices, and bacon bits together in a large bowl. (Note: you can use raw pieces of bacon cut into tiny pieces, but if you do this, make sure you thoroughly cook the burger to make sure the bacon is fully cooked. Otherwise, use cooked up bacon bits.) Set the meat aside.
Assemble and cook the burgers.
Final steps before cooking. Pour or dump the remaining and egg and breadcrumbs into the burger. This step is not crucial. You can skip if you would like. Give the meat a final mix and divide into 4 to 6 roughly equal portions. Flatten each patty. Place a ball into each patty and then work the meat around, massaging it into place. Try not to leave any gaps or holes to help prevent the cheese from leaking during cooking.
Cook time can vary based on how well done you want your burgers, but 4 to 6 minutes per side should cook them up nicely.
Tips and Tricks
Here are some tips and tricks to keep in mind when making bacon and cheese stuffed bacon burgers:
The bacon added to the burger meat can be either precooked or raw. But if you add raw meat, make sure to fully cook the burger – no rare meat for you – to make sure to thoroughly cook the bacon inside. If you insist on eating a rare burger, cook the bacon first. But I can assure you, these burgers are juicy and tender no matter how long you cook them for.
Making the cheese balls is not an exact science. Using a tablespoon as a scoop can help keep the amount relatively consistent. Also keep in mind the size of the burger you want to make. Dividing the cheese into 4 balls will mean the recipe will yield 4 massive burgers. Dividing it into 6 means you will have slightly smaller burgers.
Don't neglect chilling times for the cheese. This will help make working with the cheese balls easier and also help prevent it from leaking out during cooking.
Make sure you fully enclose the ball of cheese with the burger meat. Holes or cracks in the meat will cause the cheese to spill out.
Avoid over-cooking – the longer the burgers cook, the more likely the cheesy center will find its way out of the burger.
Though we certainly encourage cooking the burger in the bacon grease, you certainly don't have to. Use a nonstick pan or (even better) the grill to cook up these bacon monstrosities.
Looking for other burger recipes? Try these:
Print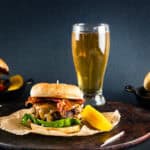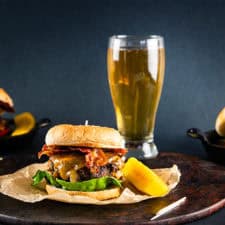 Bacon and Cheese Stuffed Bacon Burgers
---
Author:

Prep Time:

25 minutes

Cook Time:

8-12 minutes

Total Time:

35 minutes

Yield:

5

burgers

1

x
Description
The ultimate bacon cheese burger. These Bacon and Cheese Stuffed Bacon Burgers add bacon everywhere you can think of – on top, in the cheese, in the burger meat, and in the cheesy center.
---
12

slices of bacon

1

pound of ground beef

1 1/2 cup

of shredded cheddar cheese

1 cup

of cream cheese or marscapone cheese

1/2 cup

of bread crumbs*

1

egg

1 tsp

of chili powder

1 tsp

of garlic powder

4

cloves of garlic, pressed
salt and pepper to taste
---
Instructions
Dice 4 slices of bacon. Cook the diced bacon in small pan over medium heat until crispy. Set aside.
In a small bowl, mix together cream or marscapone cheese, 3/4 cup of shredded cheddar cheese, 1/4 of the bacon bits, 2 garlic cloves, and salt and pepper.
Form the cheese mixture into balls that are roughly 1-2 tablespoons in size. Makes approximately 6 balls,
Lightly beat an egg in a small bowl. Dip cheese mixture into egg and then coat in bread crumbs. Set aside.
In a medium bowl add meat, spices, 2 more pressed garlic cloves, the remaining bacon bits and 3/4 cup of cheddar cheese. Add the remainder of the egg and bread crumbs left from the last step. Mix together until combined.
Form patties around the cheese balls.
Cook the rest of the bacon in strips. Set aside.
In the same pan you cooked the bacon in, cook the burgers. Cook until the cheese balls in the center melt- approximately 4-5 minutes per side.
Top with your favorite toppings like barbecue sauce, ketchup, mustard, and so on.
Category:

Burgers

Method:

pan, grilling

Cuisine:

American
Keywords: bacon and cheese stuffed bacon burgers
Shop this recipe
These links are affiliate links. To read my affiliate policy click here.

Lodge Cast Iron Skillet, Pre-Seasoned and Ready for Stove Top or Oven Use, 10.25″, Black

UNICOOK 2 Pack Flexible Silicone Spatula, Turner, 600F Heat Resistant, Ideal for Flipping Eggs, Burgers, Crepes and More, BPA Free, FDA Approved and LFGB Certified