Jenna here. My husband has been bugging me to do a bacon recipe for this little piece of the internet, but I have been dragging my feet. I normally don't eat bacon (hello, cute piggies!). He decided to overthrow me for this one and made cheese and bacon stuffed burgers for you all to enjoy. I let him go to town writing this because I wasn't going to be able to say much about this- but we had them for dinner after I did the pictures. And I hate to say it…I kind of understand why everyone loves bacon. These bacon and cheese stuffed burgers were amazing! They were juicy, cheesy, and had so much flavor- probably from the bacon. Definitely a winner. I'm sorry cute piggies.
Bacon.
I wanted to stop the post right there, figuring that's all it really needs to say… but Jenna didn't quite agree… It would figure that someone that doesn't love bacon would not realize how bacon speaks for itself. (He's right- I loved these cheese and bacon stuffed burgers but still don't think bacon speaks for itself.)
Sure bacon is processed. Sure it has too much salt to be safely consumed by those with heart conditions. And sure, the fat and grease could power a small motorcycle (please don't fact check that). But anything sounds bad when you read it like that. But the real reason Jenna doesn't like bacon is because it comes from a perpetually cute, pint-size piglet. (I want a pet piggy in the worst way!! Would loving these burgers hurt my potential pet piggy's feelings?)
I have not met one bacon fan who has needed any more explanation than the recipe contains bacon to be sold. After all, the bacon could make cardboard taste awesome.
The typical bacon cheeseburger really limits the power of bacon. This is especially true if you get a bacon cheeseburger out – one or two measly, downright scrawny strips of bacon. Perhaps even more mind-boggling is that when people make bacon burgers at home, they control the bacon content and still skimp on the bacon the way the restaurants do.
Really? A strip of bacon cut in half with a slice of American or cheddar cheese? Is that really the best you can do? The answer is obviously no.
These bacon and cheese stuffed burgers are mixed with bacon and cheese, stuffed with bacon and cheese, topped with bacon and cheese, and are grilled in the leftover bacon grease. You literally get bacon in every bite of these overly juicy, sinfully bad bacon burgers.
You can eat healthy again tomorrow, but tonight, indulge your inner bacon-loving self.
I keep telling Jenna calories don't count when the food is this good. (He's probably right. The Bacon and Cheese Stuffed Burgers were really good and I even skipped the extra bacon on top. But if you are a lover of all things bacon, put on that bacon and eat up. And if you aren't a bacon lover like me but still want a huge, juicy loaded cheeseburger check out these jalapeno popper burgers.)

Print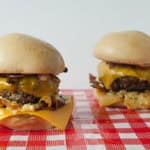 Bacon and Cheese Stuffed Bacon Burgers
---
Total Time:

35 minutes

Yield:

5

burgers

1

x
Scale
Ingredients
12

slices of bacon

1

pound of ground beef

1 1/2 cup

of shredded cheddar cheese

1 cup

of cream cheese or marscapone cheese

1/2 cup

of barbecue sauce

1/2 cup

of bread crumbs*

1

egg

1 tsp

of chili powder

1 tsp

of garlic powder

4

cloves of garlic, pressed
salt and pepper to taste
---
Instructions
Dice 4 slices of bacon. Cook the diced bacon in small pan over medium heat until crispy. Set aside.
In a small bowl, mix together cream or marscapone cheese, 3/4 cup of shredded cheddar cheese, 1/4 of the bacon bits, 2 garlic cloves, and salt and pepper.
Form the cheese mixture into balls that are roughly 1-2 tablespoons in size. Makes approximately 6 balls,
Lightly beat an egg in a small bowl. Dip cheese mixture into egg and then coat in bread crumbs. Set aside.
In a medium bowl add meat, spices, 2 more pressed garlic cloves, the remaining bacon bits and 3/4 cup of cheddar cheese. Add the remainder of the egg and bread crumbs left from the last step. Mix together until combined.
Form patties around the cheese balls.
Cook the rest of the bacon in strips. Set aside.
In the same pan you cooked the bacon in, cook the burgers. Cook until the cheese balls in the center melt- approximately 4-5 minutes per side.
Top with remaining barbecue sauce, sliced cheddar cheese and bacon slices.
Notes
* We use gluten free bread crumbs.