An over the top jalapeno popper stuffed burger combines jalapeno popper dip and juicy cheeseburgers for a delicious, cheesy jalapeno popper stuffed burger. This decadent over the top burger is a treat for burger lovers and a must make during grilling season. Post originally published May 25, 2016 and updated on May 28, 2019.
Jalapeno Popper Stuffed Burgers. You guys, these are a serious thing. We made homemade jalapeno dip and stuffed it into a burger. Let that bit of food heaven just sink in for a second.
Are you mind blown? I sure was. Because it was THAT good.
I'll be honest with you about a few things here: first my toddler didn't eat this version of the burger- I was afraid it would be too spicy for her. And now that I think about it, I'm seeing that as kind of ridiculous. I mean this kid is basically made of Spicy Pad Thai and Panang curry because that's all I wanted when I was pregnant with her. And then there was the day that I literally cried because I didn't get to eat my buffalo chicken burger. Yep. Full on ugly cried because I didn't get my buffalo chicken burger.
It wasn't pretty.
Second piece of honesty, this is definitely not a healthy meal. Nope, not even a little. But it's one of those meals that is so dang epic that calories don't count at all because of the sheer goodness of eating the meal. But if you want to feel all skinny and healthy, maybe check out this Buffalo Cauliflower Quinoa Lettuce Wraps instead. If you want to knock the socks off your guests at your next barbecue, serve them this. It will not disappoint you. It is literally the most perfect combo of jalapeno poppers and burgers ever. We will be eating these guys on Memorial Day, and Fourth of July, and Labor Day, and lots of other days in between.
This burger is juicy and full of three kinds of melty, oozy cheese. It's got a zesty kick from the jalapenos that's balanced by the creamy mix of cheddar and cream cheese. When you bite into it, you get all the flavor of a burger and a mouthful of jalapeno popper dip.
Seriously, if any burger could change your life, it would be this jalapeno popper stuffed burger.
At the very least, it would totally be worth ugly crying over if you wanted one of these and didn't get to enjoy each and every last cheesy, spicy bite.
How to Make Jalapeno Popper Stuffed Burgers
Making these jalapeno popper stuffed burger is a bit more involved than making a plain cheeseburger. The extra work is well worth it though because of the cheesy burger payoff at the end. Plus none of the prep is actually difficult. You just need to go step by step.
Up first, mix up the jalapeno popper filling by combining softened cream cheese or mascarpone cheese with chopped jalapenos, garlic, cheddar, salt, and pepper. Mix it together really well. Then form the mixture into 4 equal size smaller cheese balls and and 4 larger, flat cheese patties. Tip: refrigerate the cheese balls now to let them firm up.
While the cheese balls and patties are firming in the fridge, mix the meat. A lot of people make their burgers with just ground beef, salt, and pepper. Personally we find that a bit bland and spice it up more with diced jalapenos and pressed garlic. We also add some bread crumbs and some egg to bind the mixture together. This helps the burgers stay together around the jalapeno popper dip center.
Once the meat is mixed, portion it out to make 4 burgers and form it into burger patties. Set it aside and wash your hands. At this point, you can get started breading your cheese balls and patties. To bread them, just dip them in a beaten egg and then roll them in breadcrumbs.
Now that you've got breaded jalapeno popper cheese balls (and patties) take a ball and put it into the center of one burger, sort of molding the meat mixture around the cheese ball. Repeat with all the burgers. Then throw the burgers on a skillet or on the grill and cook them until done.
When the burgers are done, lightly fry the cheese patties. Then build your burger by putting one cheese filled burger on a bun and topping it with a cheese patty.
Jalapeno Popper Stuffed Burgers FAQs
Can you freeze these burgers?
Yes. Cook them first and store them in freezer bags. Then when you're ready, just bake them in the oven until they are warmed through.
I like things mild. Can I make them less spicy?
There are a few ways you could make these burgers less spicy. You could remove the seeds and white ribs from the peppers prior to adding them to the cheese or meat. You could add less jalapenos or you could omit them all together if you are more of a fan of mild food.
What would you serve with these burgers?
These burgers are really filling. Sometimes we just have a small salad with them. Other times we make sweet potato fries. This healthy sweet potato salad would also work well with them.
Looking for other burger recipes? Try these:
Print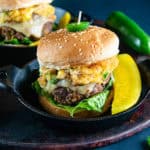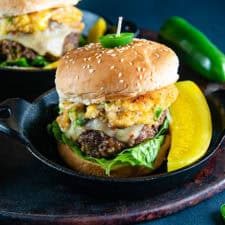 Jalapeno Popper Burgers
---
Author:

Prep Time:

30 minutes

Cook Time:

15 minutes

Total Time:

45 minutes

Yield:

4

1

x
Description
An over the top jalapeno popper burger combines jalapeno popper dip and juicy cheeseburgers for a delicious, cheesy sandwich.
---
For Cheese Balls
1 cup

marscapone* or cream cheese

1 cup

shredded cheddar cheese

6

crushed/minced cloves garlic

2

jalapenos diced**

1

–

2

teaspoons black pepper

1/2 teaspoon

salt (more or less to taste)
dash of red pepper

1 cup

bread crumbs***

1

egg
For burgers
1

pound ground beef

4

cloves crushed/minced garlic

1

jalapeno diced
dash of red pepper (or more to taste)

1

egg

1/4 cup

breadcrumbs

1/2 cup

shredded cheddar

1

–

2

teaspoons black pepper

1/2 teaspoon

salt (more or less to taste)

4

slice of pepper jack cheese
---
Instructions
Combine the cheeses, garlic, jalapenos, and spices for the cheese balls in medium mixing bowl.
Take about a tablespoon of the mixture and form into a ball. Repeat three times, making a total of 4 balls.
With remaining cheese mixture, use a little over a tablespoon to create roughly bun-size 'patties' of cheese.
Lightly beat egg until yolk is crushed in a small bowl. Put the breadcrumbs in a separate small bowl.
Dip the balls and patties one at a time in the egg mix and then the breadcrumbs.
Refrigerate for about a half hour to let them set.
In the same bowl that the cheese was in, add all ingredients for the burger. Also, add in whatever is left of the egg and breadcrumbs for the cheese. Hand mix or use a spoon to combine all ingredients. Mix until well blended.
Divide the meat roughly in four equal balls. WIth hands, flatten out the balls into patties.
Put one cheese ball in the center of the newly formed patty and wrap it completely in the meat. Be careful not to crush the cheese ball and be sure to completely cover the ball – avoid cracks so that cheese does not run out as it gets hot. Repeat for each patty.
On a medium-hot pan or grille preheated, place the patties. Cook on each side until desired level of doneness, but for these patties it is best to let it cook through to get the melted effect of the cheese. Each side should get a good 'sear' on it.
Add slice of pepperjack or another preferred cheese to top and just melt. Remove burgers from heat and let them set aside to rest.
While the burgers are resting, take the remaining cheese patties and cook them over a medium heat in a greased pan for roughly 2 minutes per side or until the patties are lightly golden.
To assemble the burger, stack the burger on a bun, then top with the cheese patty.
Enjoy!
Notes
*You can use either marscapone, which is an Italian version of cream cheese without all the tang, or American cream cheese.
***To cut down on heat, remove the seeds and membranes from the jalapenos.
Category:

Burgers, Sandwiches, Meat and Poultry, Dinner Ideas

Method:

Grilled

Cuisine:

American
Shop this recipe
These links are affiliate links. To read my affiliate policy click here.

Lodge Cast Iron Skillet, Pre-Seasoned and Ready for Stove Top or Oven Use, 10.25″, Black

UNICOOK 2 Pack Flexible Silicone Spatula, Turner, 600F Heat Resistant, Ideal for Flipping Eggs, Burgers, Crepes and More, BPA Free, FDA Approved and LFGB Certified