An easy, foolproof recipe for ground beef tacos with homemade taco meat. Ready in 15 minutes, this taco recipe will keep everyone happy on the busiest weeknight. Perfect for Taco Tuesday.
Taco Tuesday in my house has become a thing.
I know I'm super creative.
But tacos are one of the few foods all of us, including my very picky daughter, will agree on and actually eat. While I love a good creative taco, like these pineapple beef tacos, we make these quick ground beef tacos at least twice a month. Sometimes more if my daughter is on a taco kick.
Why?
Because they get the job done. They are quick, easy, and can be on the table in about 15 minutes, making them perfect for busy nights. We all agree on them, that's key. When it is beef taco night, my hubby or I don't have to make a deconstructed version for our picky daughter. And best of all, we can all eat them as we choose.
Taco Night for Everyone!
While we all agree on tacos, we all eat our tacos differently. My daughter prefers a crunchy taco shell, my husband likes them in a tortilla, and I prefer a taco salad.
Plus you can use whatever toppings you like. Avocado, tomatoes, salsa, all the cheese… unless your my daughter. No cheese for her. I'd swear my hubby cheated on me, but it doesn't quite work like that when I'm the one that popped her out.
But if you like cheese like us normies, what if you made a side of this beer cheese queso and dunked the tacos into it? YES.
Why ditch the packet of taco seasoning?
Read the label on most taco seasonings. Go on. I'll wait.
Most of them have tons of sodium. For example, McCormick taco seasoning has 380 mg of sodium per serving. That's a ton of unnecessary sodium.
I'm really sensitive to sodium. It makes me really thirsty and puffy. And I know I'm not the only one. Live Science lists the negative effects of sodium like heart disease, high blood pressure, and kidney problems. No thanks. Talk to your doctor to make sure sodium is safe for you (sorry, the hubby thought I should add a drug commercial warning there)
Making homemade taco seasoning gives you all the taco flavor without tons of added sodium so you don't get puffy, thirsty, weepy, oozy, melodramatic, or worse.
What's in homemade taco seasoning?
The homemade taco seasoning is pretty simple. It's a combination of chili powder, cumin, garlic powder, and a pinch of salt and pepper. If you want to add some heat, you can also add cayenne pepper or crushed red pepper flakes.
Also, while technically not part of the spices, I like adding the juice of a lime for some freshness and some fresh garlic for added flavor… and because my deceased Italian relatives will smite me if I don't. Do you want to get smote? You don't have to add the lime and the garlic, but if you're Italian, you kinda do. Besides, these two ingredients definitely add freshness and more flavor.
That's it. You can mix the taco seasoning ahead of time and store it in a spice jar for future use or you could do what we do and make it each time we make these tacos.
Making the easiest ground beef tacos ever!
Part of the reason we make these tacos so often is because they are super easy. This is one of those recipes I have never screwed up even on my worst sleep deprived, distracted days.
Just heat up a skillet over medium heat, and then add the beef. Season them with the seasoning and let them cook until brown, breaking up the beef with a spatula or wooden spoon.
Sometimes, when my hubby makes them, he will turn up the heat to high at the end when the meat has browned through. He will cook them on high for about 5 minutes, giving them a stir every few seconds. He basically crisps the meat, which gives it a bit of a smoky flavor even though they are cooked on the stove top.
If you do somehow screw these up, I'd love to see and hear about it. Post a picture, your story, and tag me on. You get an award from me, the woman who once forgot she was making a hard boiled egg and burned it. I'd rather be tagged in a taco success story though!
How do I make these ground beef tacos spicy?
The recipe as written isn't spicy. We need to keep it kid friendly for my 4 year old who has been known to spit out food she deems to spicy, melodramatically cough, act like her tongue is on fire, and demand a drink… but she will still lick buffalo sauce off of wings. Go figure.
Anyway, if you want to add more heat, you have a few options here:
add some diced jalapenos or chipotle peppers in adobo sauce when you cook the meat – unless you like hell's fire in your mouth, you really only need a half to one full chipotle pepper, otherwise, have it
mix cayenne pepper or red pepper flakes into the seasoning – 1/4 teaspoon on up, again, depending on how much you want your mouth, stomach, or next day's bowel movement to burn
add a dash of hot sauce
We prefer to saute peppers with the beef and add a bit of cayenne to the mix if we are making these spicy for just us. This method adds the best depth of flavor while still giving us some heat.
What other recipes can I use this taco meat in?
You can use this taco meat in so many ways. It would be fantastic to add a bit of beef in a taco salad. You could also use it to top nachos like these. Or how bout a crunch wrap supreme? You could also use it to make an easy skillet beef and quinoa taco casserole to bring to a friend. And you could definitely serve it up with some Mexican rice and make a burrito and a side of Mexican street corn.
Looking for more creative tacos? I got ya!
I know sometimes I want interesting tacos. These are some of my favorites:
Print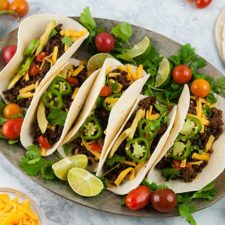 Ground Beef Tacos
---
Author:

Prep Time:

5 minutes

Cook Time:

8-10 minutes

Total Time:

13-15 minutes

Yield:

5

-

6

tacos depending on how much meat you put in each

1

x
Description
Skip the premade taco seasoning with my easy recipe for ground beef tacos – no spice mixes needed to make the easiest taco meat recipe ever. Only a few minutes stand between you and this classic quick dinner staple.
---
1 pound lean ground beef (if you use anything less than 85% fat beef, you will probably need to drain it or it will be too greasy)
3 Tablespoons chili powder
2 Tablespoons cumin
1/2 Tablespoon garlic powder
salt and pepper to taste
1/4 teaspoon cayenne pepper (optional)
1/4 teaspoon red pepper flakes (optional)
2 – 4 cloves fresh garlic (optional)
juice from 1 lime
---
Instructions
Preheat cast iron skillet over medium heat.
Add meat – you can crumble it like my husband does as he adds it OR break it apart in the pan if you don't like touching the raw meat
Add the spices.
Mix the spices and meat.
Cook over medium heat for about 8 to 10 minutes or until the meat is cooked through.
Notes
Extra heat is optional and depends on your desired spice level.
You can crisp the beef once you cook the meat totally by heating the burner to a medium high setting. Cook, stirring frequently, until the beef gets a darker color and some of the liquid is cooked down. This only takes about five minutes.
Category:

meats and main dishes, beef

Method:

stovetop

Cuisine:

Mexican - Southwest
Keywords: ground beef tacos, taco meat, taco recipe, taco seasoning
Shop this recipe
These links are affiliate links. To read my affiliate policy click here.

Lodge Cast Iron Skillet, Pre-Seasoned and Ready for Stove Top or Oven Use, 10.25″, Black

Healthy Cooking Utensils Set – 6 Wooden Spoons For Cooking – Natural Nonstick Hard Wood Spatula and Spoons – Uncoated and Unglued – Durable Eco-friendly and Safe Kitchen Cooking Tools.

Top Rated Zulay Premium Quality Metal Lemon Lime Squeezer – Manual Citrus Press Juicer