When it comes to burgers in our house, we all love them. OK. So the Goose only loves one or two bites. But she still eats them and that's something. And she did try and enjoy these Pineapple Barbecue Burgers if only a few bites.
When it comes to cooking burgers, I'm pretty much the only one who makes them. The Goose has gone through periods of helping mix, but lately she loses interest pretty quickly in favor of twirling like a princess or just wreaking general havoc.
With this last set, she was too busy watching Moana to really care. I suppose happily screaming "every step I take" over and over is more appealing than touching raw meat.
For Jenna, suffering through another round of Moana may also be more appealing than mixing the burgers. I'm not sure. But regardless, she is happy to let me mix and make burgers so she doesn't have to massage seasonings and burger altogether. (Note frome Jenna: Ummmm… I am totally happy to just not cook at the end of the day when I am pooped. Watching the same Disney movie for the 5000 time is totally better some nights than actually getting dinner on the table. And I am just so thrilled we are out of the Zootopia phase.)
And that's is fine with me. I don't mind the process of mixing them by hand. I've tried a spoon with little luck. Ingredients often spill and the burgers aren't well incorporated. But mixing by hand spreads the spices out evenly. The end result is always worth it. Everyone happily eats them.
These Pineapple Barbecue Burgers take our love of burgers and combines them with our general affinity towards Asian cuisine. If you have read any of Jenna's previous posts, you'll know the Goose was made from Thai food. And she still eats it regularly. (Jenna's note again. Except when my husband goes on man dates to one of my favorite places and doesn't bring me any Panang curry home. Grumble, grumble, grumble.)
Naturally, as foodies tend to do, we did a fusion of Asian inspired barbecue sauce and a southwest style burger. The combination makes an excellent melding of sweet and spicy flavors. These burgers are well worth the sticky hands that come from mixing the ingredients together. Topping them with a slice of juicy, sweet grilled pineapple and a crunchy cheddar cheese crisp. Well, that's the icing on the cake. Or in this case, the pineapple on the burger.
Looking for other amazing burger recipes? Try these:
Print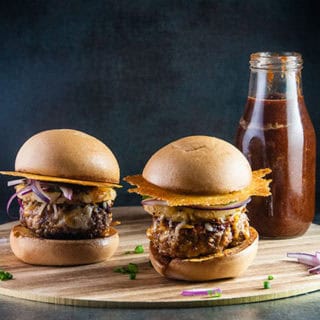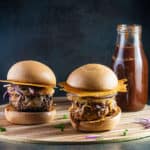 Pineapple Barbecue Burgers
---
For Sauce
1

large can of crushed pineapple

2

adobe peppers

5 teaspoons

chili powder

1 teaspoon

cayenne pepper

3 teaspoons

garlic powder

1/2 teaspoon

salt

1 teaspoon

black pepper

2 teaspoons

cumin

1/2 cup

molasses

2 teaspoons

vinegar

1/3 cup

brown sugar

1/4 cup

soy sauce
For burgers
1

pound ground beef

1/2 cup

cheddar cheese

1/2 cup

bread crumbs

1/4 cup

soy sauce

1 Tablespoon

garlic

2 Tablespoons

chili powder

1 Tablespoon

cumin

1

large egg
For Garnish
4

–

6

slices of cheddar cheese

1/2 cup

cheddar cheese

1/8 cup

breadcrumbs

1 teaspoon

garlic powder
sprinkle of salt and pepper
scallions (optional)
sliced pineapple slices
---
Instructions
For Sauce
Combine all ingredients in a blender or food processor. Mix until smooth.
Pour content into medium pot.
On low heat, cook for a minimum of 1/2 hour or until sauce thickens. You may cook it for several hours if desired.
Stir occasionally.
For burgers
In a medium bowl, combine all the burger ingredients.
Mix until well combined.
Form into 4 to 6 patties depending on the desired size.
Heat a large skillet, cast iron, or grille to medium high heat.
Cook each side for 3 – 6 minutes. The longer each side cooks, the better done the burger will be.
Melt sliced cheese over burgers.
Remove from heat.
For garnish
Preheat oven to 400.
In a small bowl, combine the cheese, bread crumbs, garlic powder, salt and pepper.
Spray a cookie sheet with non-stick spray or use a non-stick pan.
Place about 1/4 cup of the cheese mixture and flatten out.
Cook for about 2-4 minutes or until it starts to turn brown.
To assemble the burger
Place burger on bun.
Place pineapple slice on top of burger.
Spoon or pour barbecue sauce over top.
Shop this recipe!
*These links are affiliate links. To read my affiliate policy click
here.