A Italian cucumber tomato salad is a delicious light lunch or side dish and a lovely way to use up all those fresh summer tomatoes. It pairs well with a crusty piece of bakery bread or any grilled entree.
Growing up with an Italian grandma, there were a few food staples I could count on. Obviously Sunday bolognese sauce was one of those things and classic lasagna another, but in the summer so was this Italian cucumber tomato salad. For us, it was more of a staple than red potato salad with dill. It surfaced at every single event ever. Breakfast? Tomato cucumber salad. Fourth of July? Tomato cucumber salad? Scraped your knee? You guessed it. Tomato cucumber salad.
When I was really little my uncle, who lived with my grandma, used to grow his own fresh tomatoes and basil. Doing so, he issued a challenge to my grandma: use them all up as fast as he could grow them. So this easy tomato salad was born.
Later on, when my grandma moved in with my family, she would make this salad almost every summer day. We'd often have it with dinner but many times I can remember my sister and I eating it with fresh bakery bread midday. The bread sops up all the yummy dressing goodness and the juices from the tomatoes.
What kind of tomatoes should I use in this cucumber tomato salad?
Any kind of tomatoes will work well in this cucumber tomato salad. I'm always partial to cherry or grape tomatoes because I like the firmer texture and the sweetness. However, you could definitely make this with Roma tomatoes or any little plum tomatoes. I do recommend getting your tomatoes either from your own garden or from a farm stand or farmer's market rather than in the grocery store. The difference in quality is huge and you want to use the best ingredients in this simple salad.
To make this salad, you only need a handful of ingredients:
cucumber and tomatoes
red wine vinegar
a drizzle of olive oil
a small piece of onion
fresh basil
a clove of pressed garlic
a sprinkle of Italian seasoning
salt and pepper
That's it! You just slice up your veggies and toss them with a couple tablespoons of red wine vinegar, olive oil, and the seasonings.
And then you're ready to enjoy. And by enjoy I mean use a crusty piece of bread to soak up all the juicy goodness of this salad.
Making the best cucumber tomato salad!
To make this salad really shine, a couple of tips and tricks. First make sure you cut the vegetables into small, fairly uniform pieces so that you get a bite of fresh tomatoes and refreshing cucumber in every bite. I recommend cutting the cucumber slices fairly thin and cutting them into quarters.
For the best salad, make this salad just a bit ahead of time, adding everything but the fresh basil. I like to make it about a half an hour to hour prior to serving and cover it to let the acid in the vinegar break the tomatoes down just a bit, resulting in deliciously saucy dressing just begging you to drag a hunk of bread through it. Then I leave it sitting on the counter until I serve it.
Why don't you refrigerate this salad as it sits?
The fridge is not a friend to tomatoes. In fact, the fridge is probably the arch enemy of all tomatoes. When you refrigerate them the tomatoes get gross and mushy. By gross I mean flavorless.
I'm not the only one that thinks this. According to the Washington Post, there is science backing up that refrigerating tomatoes results in "insipid" tomatoes.
Now I'm not entirely sure how a tomato can be insipid although I bet hands down Gordon Ramsey would know, but what I do know is that science proves that storing tomatoes below 12 degrees Celsius slows down the ripening process and alters the genetic make up of the tomato.
So in short, don't refrigerate your tomatoes or your cucumber tomato salad because science.
Science says don't mess up your dipping opportunity. I trust science. And I know how delicious this salad is if you just leave it sit.
What to Serve with It
This salad works well on its own with a nice crusty hunk of bread for lunch. You could also pair with this Greek chicken recipe or use it at as a starter for any pasta. Some of my favorite pastas to pair with it are:
Print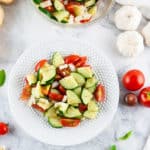 Italian Cucumber Tomato Salad
---
Author:

Prep Time:

10 minutes

Cook Time:

10-30 minutes of sit time

Total Time:

20-40 minutes depending on how long you let the salad sit

Yield:

2

lunch portions, 4 appetizer portions

1

x
Description
An easy summer salad, this Italian cucumber tomato salad is a delicious light lunch or side dish. It pairs well with a crusty piece of bakery bread or any grilled entree.
---
1

cucumber, sliced with slices cut into quarters

1 pint

of cherry or grape tomatoes
about

2

tbs of diced sweet onion

1

clove of garlic pressed

2

tbs olive oil

2

tbs red wine vinegar

1/4

–

1/2

tsp Italian seasoning blend*
salt and pepper to taste
fresh basil for garnish
---
Instructions
Slice the cucumber and cut the slices into quarters. Quarter the cherry tomatoes. Add the cucumbers and tomatoes into a bowl with diced onion, pressed garlic, salt, pepper, and a quarter to half a teaspoon of dried Italian seasoning blend. Dress with two tablespoons each of olive oil and red wine vinegar. Let sit for at least 10 minutes prior to serving. Garnish with fresh basil. Serve alone or with crusty bakery bread.
Notes
Adjust the amount of Italian seasoning to suit your taste.
Category:

salad, vegetarian

Method:

salad

Cuisine:

Italian, American
Keywords: cucumber tomato salad, Italian cucumber tomato salad, tomato salad, cucumber salad