Burrata panzanella salad is the best kind of salad! This rustic salad is one made solely of creamy burrata, toasted pieces of Italian bread, bright tomatoes, and slathered in tangy, sweet balsamic.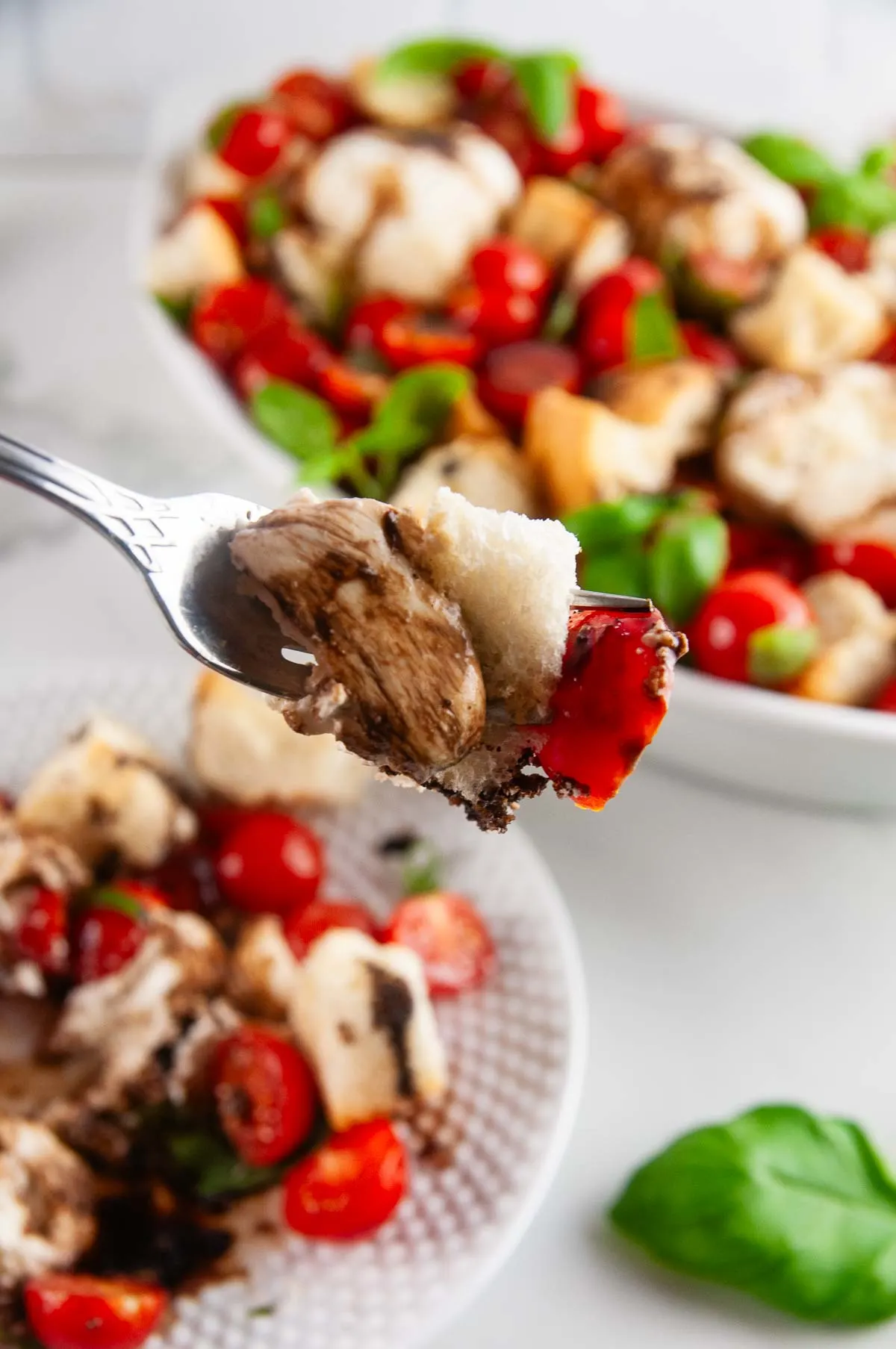 Post may contain affiliate links. As a member of the Amazon affiliate program, I may earn a small commision from qualifying purchases. To read my affiliate policy, click here.
Cheese is my love language.
Full stop.
And nothing makes me more starry eyed than burrata.
Mozzarella on the outside, creamy goodness on the inside.
Yes please.
And when you have toasted hunks of bread, sweet tomatoes, and fragrant basil with it to make a panzanella salad with burrata?
I full on swoon like a preteen at a boyband concert.
Burrata Panzanella Ingredients and Kitchen Supplies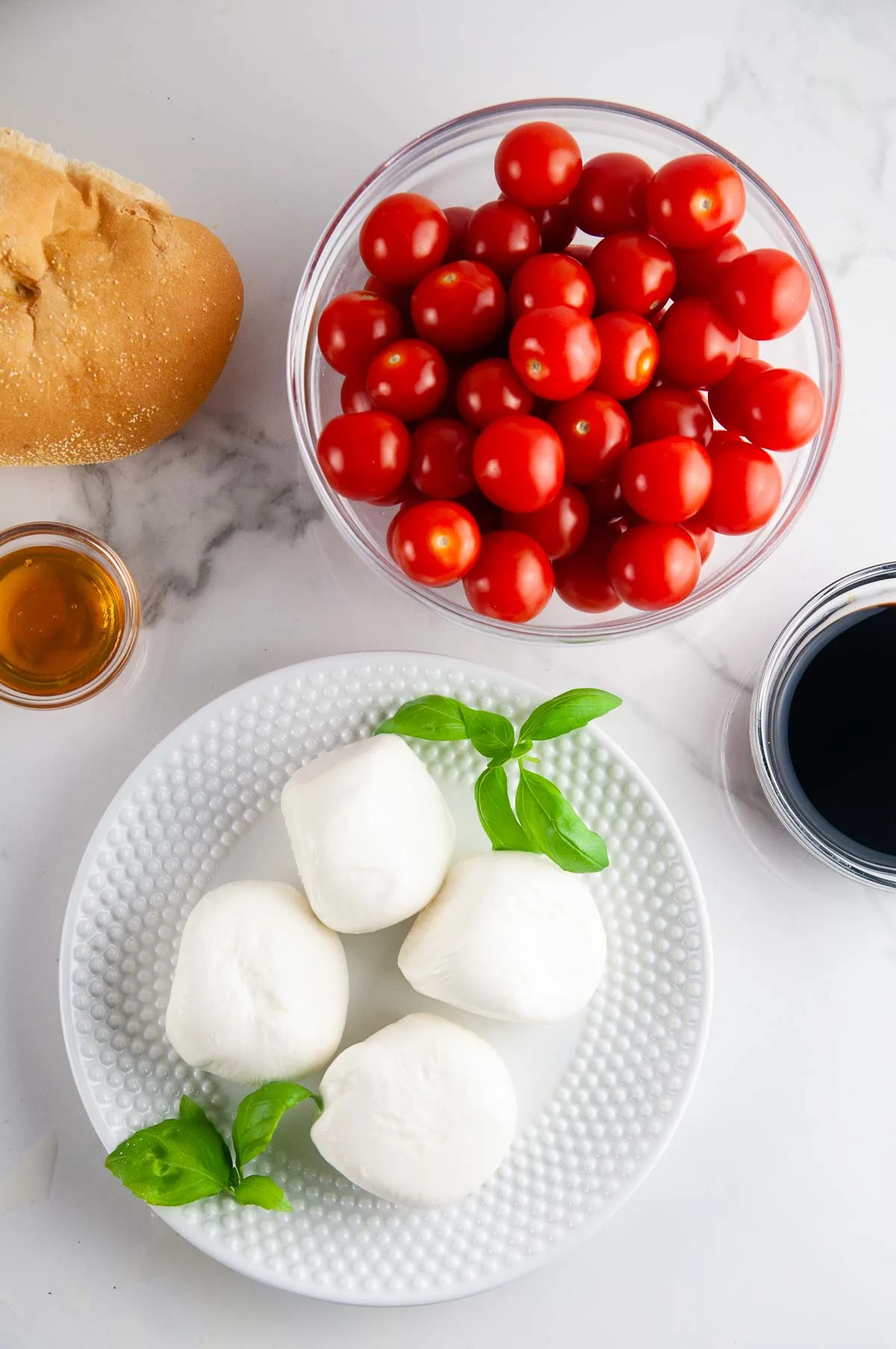 You only need a handful of ingredients to make this hearty salad:
Bread– A loaf of bakery Italian bread. It doesn't have to be fresh! Cut it into cubes and toast them up in the oven.
Tomatoes– Cherry tomatoes cut in half or roma tomatoes quartered.
Burrata– Find this in the specialty cheese case.
Basil– Optional but recommended! Use fresh basil if you can!
Olive oil
Dressing– You have options here and could use your favorite storebought balsamic viniagrette or Italian, but we like to make a quick reduction with balsamic and honey.
Kitchen supplies you'll need include:
How to Make: Burrata Panzanella Recipe
1. Toast the bread.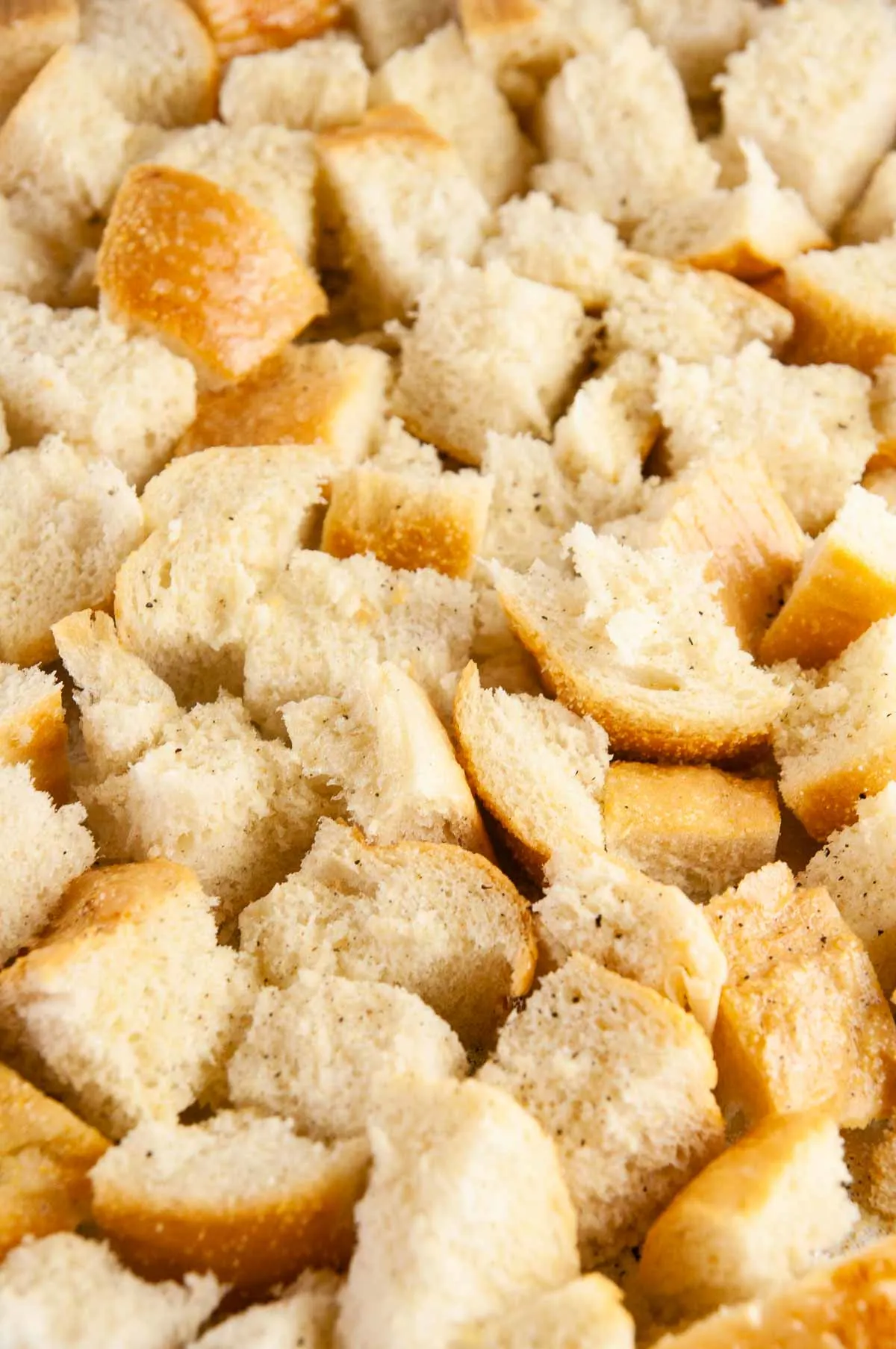 Cut the bread into pieces.
Then toss the bread cubes with olive oil and spread the coated bread out on a cookie sheet.
Toast the bread for 5-8 minutes at 350 degrees, tossing once in the middle.
2. Prep the tomatoes.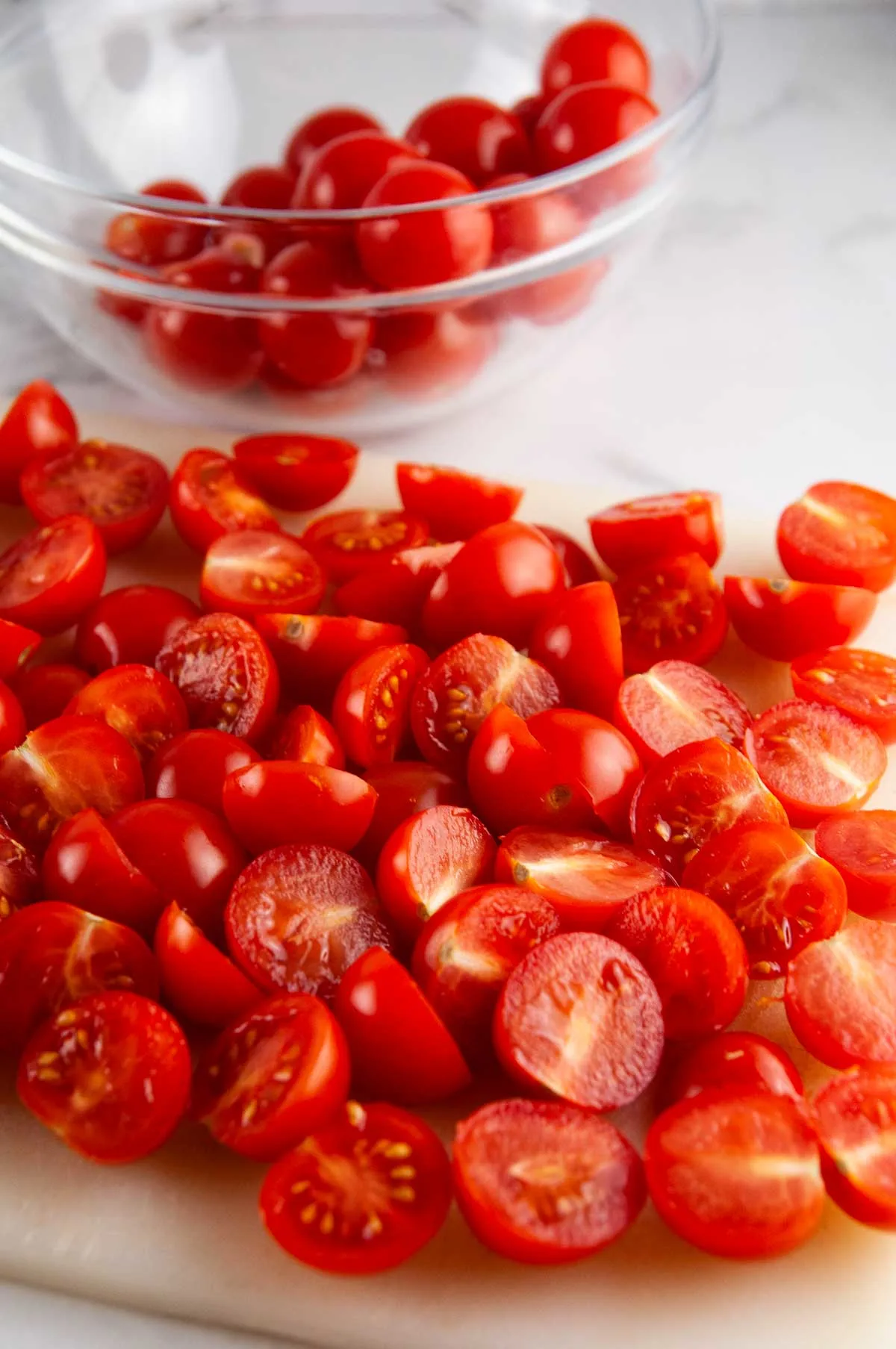 While the bread is toasting, cut the cherry tomatoes in half. Set them aside.
3. Make the reduction.
Whisk the balsamic and honey together in small saucepan set over low to medium low heat. Bring the mixture to a simmer and let it reduce for about 5 minutes or until it thickens to the point where it will coat the back of a spoon. Immediately take it off the heat.
4. Avengers, assemble (the salad)!
Spread the bread cubes, cut tomatoes, and basil leaves out onto a serving platter and gently toss them together until they are combined.
Add the burrata to the center of the platter or gently break it apart and spread it throughout the salad.
Drizzle the reduction over top.
Serve and enjoy!
Storing Leftovers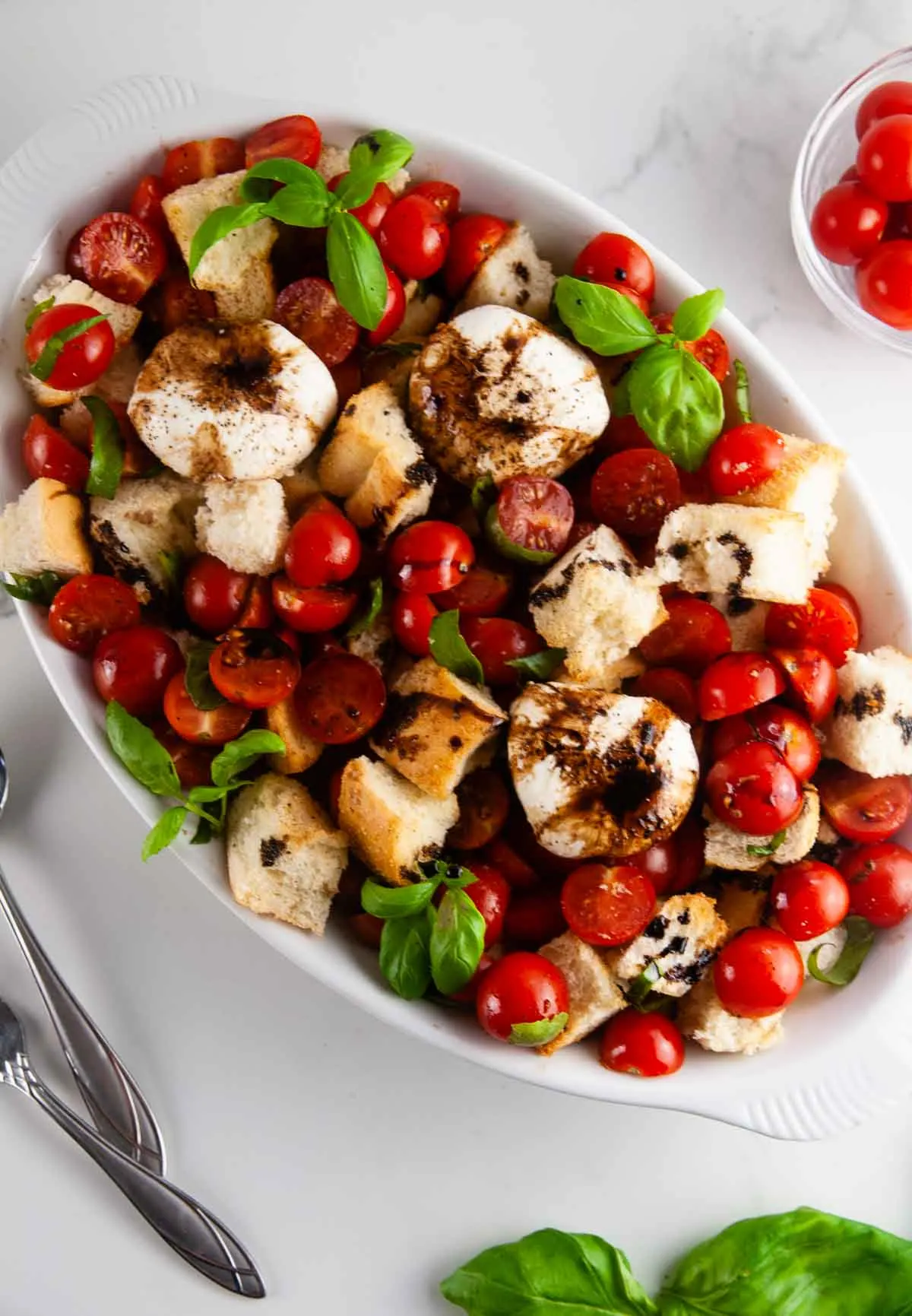 I don't recommend planning for leftovers.
The bread cubes won't hold up well and the cheese has a fairly short shelf life once opened.
FAQs
What is panzanella?
Panzanella is a traditional rustic Italian recipe popular in the Tuscan region. It came about as a way to use up older bread and still have a delicious meal.
What do you serve with panzanella?
We enjoy this as a complete meal but it does pair well with grilled chicken, fish, melon, ect.
Can I add other vegetables?
Yes! You often see panzanella salad with cucumbers, bell peppers, and red onions as well. But really anything goes.
What is burrata? Can I just use mozzarella?
Burrata is similar to fresh mozzarella in appearance. The inside of fresh mozzarella is solid while buratta has a fresh mozzarella exterior filled with cream for a richer flavor.
Tips and Tricks
This is fabulous with other veggies added. Toss in cucumbers and sliced red onions for more veggie action. Grilled zucchini would also be delicious!
Or substitute the tomatoes for fruit. Stone fruits like peaches or fresh, pitted cherries would work well. Fresh melon balls also pair nicely with this.
Almost any fresh Italian herb will be fantastic in this so if you have a garden full of parsley, chives, oregano, etc. feel free to add it in!
For a little extra something, rub the bread with some fresh garlic before toasting it. This will give just a touch of garlic flavor without it being overpowering.
Other Recipes with Burrata
Other Italian Salad Recipes
Did you make this? Let me know!
Did you make this burrata panzanella salad recipe or any other recipe on my site? Leave me a comment below and let me know how you liked it. And make sure you follow along with me on Facebook, Pinterest and Instagram to see everything we've got going on.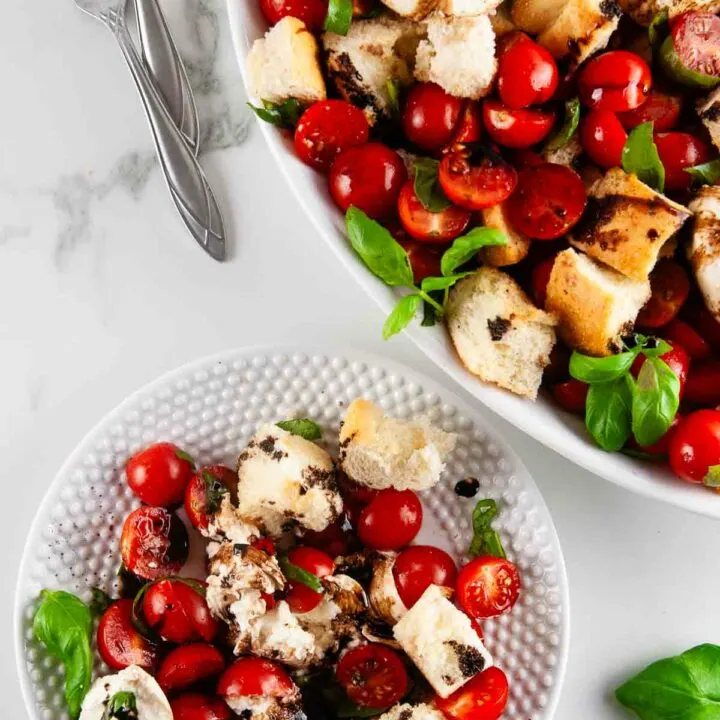 Burrata Panzanella Salad Recipe
Burrata panzanella salad is the best kind of salad! This rustic salad is one made solely of creamy burrata, toasted pieces of Italian bread, bright tomatoes, and slathered in tangy, sweet balsamic.
Ingredients
1 loaf of bakery Italian bread, cut into cubes
1/4 cup of olive oil
1 pint of cherry tomatoes washed and cut in half
8 ounces of burrata cheese
1/4 cup of loosely packed fresh basil leaves
For the balsamic reduction
1/2 cup of balsamic vinegar
1 tablespoon of honey
Instructions
Preheat the oven to 350.
While the oven preheats, cut the bread into roughly 1 to 2 inch cubes.
Toss the bread with olive oil.
Spread the coated bread cubes out on a cookie sheet lined with aluminum foil and sprayed with nonstick spray.
Toast the bread for 5 to 8 minutes.
While the bread toasts, cut the tomatoes in half.
Then, whisk the honey and balsamic vinegar together in small saucepan over low to medium low heat.
Simmer the balsamic mixture until it reduces by a third and remove it from the heat.
Toss the toasted bread, cut tomatoes, and basil leaves together on a serving platter.
Add the burrata to the platter.
Drizzle with the balsamic glaze.
Serve and enjoy!
Nutrition Information:
Yield:

4
Serving Size:

1
Amount Per Serving:
Calories:

656
Total Fat:

30g
Saturated Fat:

9g
Trans Fat:

0g
Unsaturated Fat:

18g
Cholesterol:

45mg
Sodium:

992mg
Carbohydrates:

71g
Fiber:

5g
Sugar:

15g
Protein:

24g