Show of hands, how many people are guilty of browning some inadequately seasoned ground beef and pouring a pre-made sauce like Ragu or Prego into the pan and calling it "meat sauce." Yeah, for those of you that raised your hand, it's time you put that hand to better use. This amazing crock pot bolognese sauce will make your mouth water as it slowly cooks and comes together.
This slow cooker sauce gives you that anticipation all day of what is to come. And the best part is that this crock pot Bolognese sauce is only slightly more changing than popping open a can of the premade stuff.
Let's talk about this. I rough chopped all the veggies in it. Then, because I prefer a smooth sauce, I ran them through a blender. It took, with the Goose hanging out near my feet, about 10, maybe 15, minutes to get all the ingredients into the slow cooker. And then, it was the wait.
Now, normally, a 24 hour wait might seem horrendous. But the aroma from this sauce as it slowly boils down will make your whole house smell appetizing. A good food smell is one of the nicest things to come home to any given day.
All you would have to do for the sauce to be ready to serve is boil a pot of water for about 10 more minutes.
True story. The day we served the sauce, we took the Goose on a walk with us. She was in a pleasant mood so the walk was enjoyable. When we came home, and opened the door, the Goose, in her two year old voice, said, "Mmmmm, 'mells good!" Keep in mind this kid's preferred activity at a store is to hang out by the "smelly candle" section. And, believe it or not, she will only say something smells good if she actually thinks it smells good. Her second favorite activity is to shove her feet in our faces and make us smell them and tell her house stinky she they are. She thinks its hysterical. We think they actually stink.
And this great smelling sauce did not disappoint when we finally got to eat it. The slow cooker bolognese sauce will make you question whether you will ever want to just pop open a bottle of premade stuff again.
Check out this other easy crock pot recipe!
Easy Crock Pot Asian Barbecue Wings
Print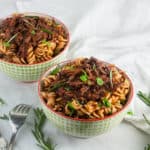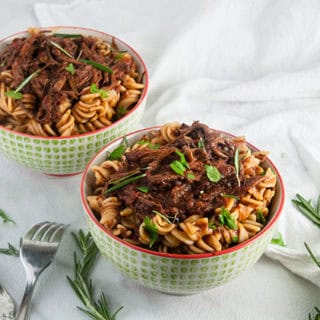 Slow Cooker Roast Beef Sauce
---
Prep Time:

10 minutes

Cook Time:

24 hours

Total Time:

24 hours 10 minutes
8

–

10

pound roast

7 cups

of tomato puree

3 1/2 cups

of red wine or sherry

4

–

6

bay leaves

6

garlic cloves

2

bell peppers

2

onions
salt and pepper to taste

2

sprigs of fresh rosemary or about

2 Tablespoons

2 Tablespoons

garlic powder

4 Tablespoons

dried basil

1 teaspoon

red pepper

1/4 cup

olive oil
---
Instructions
Rough cut the peppers and onions.
Place peppers, onions, garlic, and rosemary in blender with most/all the wine and blend until smooth (this is optional, for a thicker sauce, you can leave these rough or fine chopped)
Clean off excess fat from beef if any.
Pour olive oil into bottom of the slow cooker.
Place beef in olive oil.
Add all the remaining ingredients to the pot and stir just to combine.
Set the slow cooker on low and cook for about 6 hours. When the beef starts to pull apart turn the slow cooker down to warm and continue to cook for 12-15 hours. 1-2 hour prior to serving, turn the slow cooker back up to low and cook with the lid cracked. Stir occasionally.
Fork the beef apart.
Serve over pasta.
Notes
1) This produces a lot of sauce good for a large family or if you want to freeze some for later. Consider halfing the recipe if you only want a small amount.
2) Beef is done when you don't need a knife to pull it apart.