Ohhhh Thai food. How I love you. Seriously, Thai food, you are better than so many good things… better than wine, better than chocolate, and dare I say it sometimes even better than coffee? If I had made way about it, I'd eat Thai food from my favorite Thai restaurant at least 3 times a week. I've always been a fan of Pad Thai, but when I was pregnant with the Goose I couldn't get enough Vegetarian Panang Curry, extra spicy please.
Unfortunately, when I was pregnant, I had big time food aversions. Seriously huge. I pretty much existed on air, lemons, ice, and Thai food minus a brief infatuation with Cheddar Cheese and Barbecue Pringles. I could not get enough. I ordered takeout like twice a week. I'd get a quart of Panang curry and I'd eat it for breakfast. No kidding. So in effort to keep myself from going broke, I tried to teach myself how to cook Thai food.
It did not go well.
In fact, I botched a batch of homemade Pad Thai noodles so badly, I ugly cried in the kitchen for about an hour. My poor husband. It was the first of my many pregnancy induced food meltdowns. (Don't even get me started on the food cravings I had after bed rest started, and how cranky I'd get over things like spicy chicken sandwiches. It was a violent time that is best not spoken of. Ever.)
Fortunately, this was almost 3 years ago now. I have had a lot of time to master the ins and outs of Thai cooking. Sanely. With no ugly crying in the kitchen, unless you count Goose, who might have been standing at my legs while I cooked up this super easy Thai chickpea curry. She was out of sorts because I refused to turn on Frozen for the third time that day. I mean seriously, can't she just let it go?
Womp. Womp.
(Side note: can we all just agree that Olaf is the best Disney sidekick ever?)
Anyway, back to Thai cooking. I've done a pretty good job reading every Thai recipe I can get my hands on and coming up with a few winners like my Thai Chicken Salad with Creamy Peanut Dressing and Thai Fried Quinoa Bowls. The secret to Thai food is pretty much the secret to life: It's all about balance.
How's that for deep?
But seriously, the best Thai food balances sweet, salty, spicy, savory, and a little fresh sourness. That said, don't skip on the little bit of sugar in this recipe. Trust me: the bit of brown sugar is so necessary to balance the heat from the red curry paste and the tart, sour of the lime. Plus, it's only 2 teaspoons in the whole recipe, which feeds 6. The little sugar does not change the fact that this is a super healthy recipe to start the New Year. It's vegan, but full of fabulous protein from the chickpeas, and gluten free.
Don't let that scare you though. This easy Thai chickpea curry is as delicious as it is easy and it is ready in under 20 minutes from start to finish. And as soon as you taste it, you'll understand why I wanted Thai round the clock, and how now I could eat this every day for lunch for a week straight and not get sick of it.
It's that good. I just can't let it go.

Other Recipes with Chickpeas
Other Thai Recipes
Print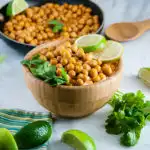 Easy Thai Chickpea Curry
---
Author:

Prep Time:

5 minutes

Cook Time:

10 minutes

Total Time:

15 minutes

Yield:

6

servings

1

x
---
2

cans of coconut milk- about

3

and 3/4 cups

4 tablespoons

of Thai red curry paste*
Juice of

1

lime

1

tbs of tamari or soy sauce**

2

15 ounce cans of chickpeas, drained and rinsed

2 teaspoons

of brown sugar

1/2

package of brown rice noodles***
Fresh cilantro to taste
---
Instructions
Cook the rice noodles according to instructions on the package. Set aside.
While the noodles are cooking, heat a medium sauce pan over medium heat. Lightly heat the curry paste for a minute or two. Add the coconut milk and sugar, stirring to thoroughly incorporate the curry paste. Bring the coconut milk up to a slow simmer. Add the chickpeas and allow them to simmer in the coconut milk for 2-3 minutes. Stir in the tamari sauce and lime juice. Serve over rice noodles and garnish with fresh cilantro and lime wedges.
Notes
*Thai red curry paste is spicy. Adjust the amount to suit your spice level. This curry was somewhere between medium and medium hot.
**Use tamari to keep it gluten free.
***You could substitute white rice noodles or quinoa if desired.
Category:

lunch, dinner

Cuisine:

Thai
Shop this recipe!
*These links are affiliate links. To read my affiliate policy click
here.