Cranberry Almond Granola
Have I told you all I am not a morning person?
Actually, that's a wee bit of an understatement. If I had my way about it, I would not be bothered to be a functional human being until after 10 am. As it is now, I get up pretty early so I can actually attempt to adult before my daughter gets up. Unfortunately, the first little bit of my morning is always spent staring half asleep into my coffee (or as she says "coppee") cup wishing I was still horizontal.
And though hunger is my normal state of being after noon, first thing in the morning I rarely want breakfast. It's such a bad habit. I will mainline coffee like I am a sleep deprived Gilmore girl, but I won't touch food for a few hours. I missed the whole memo of "breaking the fast."
Of course, a few hours after getting up, I am in full on mom mode. Sure I feed Goose, but have you ever tried to eat with a toddler? It goes something like this:
Ask toddler if she is hungry.
Interpret toddler gibberish as meaning either she needs a new flux capacitor or she would like cereal stat.
Chase toddler around the dining room and kitchen. Burn approximately 5000 calories while doing so.
Catch toddler.
Negotiate with toddler over eating in her high chair where she can be strapped down (aka safe).
Wrestle toddler into high chair.
Get toddler chocolate milk and crayons so I can have 10 seconds to get toddler a breakfast.
No mama, wrong cup.
Find the blue lid for the cup instead of the red lid.
CEREAL MAMAMAMAMAMAMAMA CEREAL!!!!!
Take deep breath, ask toddler to say please.
Take in look of defiance.
Count to 10 in head.
Hear a little tiny voice say, "Peas mama, may I have some cereal?"
Melt into puddle because she's so stinkin cute.
Get cereal and give cereal to toddler.
Get toddler spoon.
MINNNNNNNIIIIIIEEEEEEE 'POOOOOON!
Hold up different Minnie Mouse spoons until toddler approves of using a spoon.
Get ready to get my own breakfast- either an egg or yogurt.
Toddler tosses cereal to dog.
Hysterical laughter followed immediately by MORE 'REAL MAMAMAMAMA!
Get more cereal.
Finish putting together my breakfast.
Pour a cup of coffee.
Sit down.
UPPIES MAMA!
Bargain for a minute and inhale my breakfast as fast as possible.
UPPIES MAMA! *tears*
Get toddler out of high chair. Follow her as she leaves the room and goes running though the house. Leave remainder of breakfast sitting forgotten on the table.
Experience HANGER about an hour later when I realize I have only eaten three mouthfuls of food all day.
It's not a good situation. And one of my goals for 2017 is to make self care a priority. And that includes eating regularly despite having my hands full with a 2 year old and running a blog and writing business. So premade snacks and breakfasts are key to me. Even better if those snacks are healthy. So I love making granola like this pumpkin granola or this peanut butter chocolate chip granola for that reason.
This cranberry almond granola fits the bill. It's easy to make, full of whole grain, can easily be gluten free, and best of all: can easily be shoved into my mouth at any point during the day whether I'm at my desk writing or running around after my very energetic little Goose. Or you know, if you can eat like a sane individual and not like the time and sanity strapped parent of a toddler, you could sprinkle it onto yogurt for some crunch or eat it like cereal with milk. Oh the luxuries of pre parent life.
And I love the flavor combo for this time of year. Something about cranberry almond just screams winter to me. It's a nice way to come down from eating all the cranberry apple crumble and butter bars from the holidays while keeping those healthy goals in mind. It's one of those treats that makes the dead of winter doable for me.
Print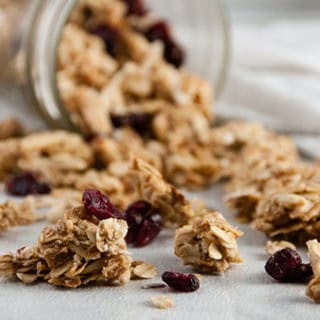 Cranberry Almond Granola
---
Author:

Prep Time:

5 minutes

Cook Time:

8 minutes

Total Time:

13 minutes

Yield:

6

-

8

servings

1

x
---
3 cups

rolled oats

1 cup

of slivered almonds

1/2 cup

of creamy, natural almond butter*

1/4 cup

of honey

1 teaspoon

of vanilla extract**

1

pinch of salt

1 teaspoon

of cinnamon

3/4 cup

of dried cranberries
---
Instructions
Preheat the oven to 375.
In a microwave safe bowl, combine the almond butter and honey. Microwave for 30 seconds increments, repeating until the almond butter is melted. Stir in the vanilla.
In a large bowl, mix together 3 cups of rolled oats with 1 cup of slivered almonds, the cinnamon and a pinch of salt.
Pour the almond butter mix over the oat and nut mixture and stir together until clumps form. Pour the mixture over a cookie sheet lined with aluminum foil and sprayed with nonstick spray. Bake in a 375 degree oven for 6-8 minutes or until the oats are lightly golden.
Let cool, toss with dried cranberries and store in a container. Serve for breakfast over yogurt or with milk. Or enjoy dry any time as a snack!
Notes
* You can substitute in peanut butter for the almond butter.
** Use almond extract for an even more intense almond flavor.
Tip: to keep the recipe gluten free look for gluten free oats.
Category:

breakfast

Cuisine:

American
Nutrition
Serving Size:

6-8 servings
Shop this recipe!
*These links are affiliate links. To read my affiliate policy click
here.