Weird but true: growing up vegetable soup was one of my favorite foods. I mean, what little kid wants to eat veggie soup when they could be noshing on things like chicken nuggets? Apparently, me. And this vegetable soup with quinoa is a take on my childhood favorite.
My Nana lived with us while I was growing up. She used to make a vegetable beef soup totally from scratch- homemade broth and all. It was a full day affair. I used to climb up the cabinet drawers and sit on the kitchen counter and watch her while she worked. I used to beg her for tastes at all different stages: after the broth was done, while the turnips and barley were cooking…
I'm sure I was very annoying. I was am gifted at that. My poor Nana.
I annoyed her so much. My family used to go on these vacations to the beach. We'd often pick a spot that was at least a 10 hour drive away. My family would pile in the minivan with my parents driving, my sister and brother and Nana in the middle row, and me in the way back often next to all the luggage. One year, I brought a couple Barbies to play with on the ride. I staged a Barbie fashion show on my Nana's head.
When we got out of the car to stretch her legs, she took me aside, and said very seriously, "Jenna. I know Santa. If you keep dancing those dolls on my head, I will tell him not to bring you anything for Christmas."
I just looked at her. At this point I was maybe 9 or 10. My little smart aleck self said, "Santa doesn't bring presents."
My Nana was sharp. She didn't even skip a beat. She just calmly said, "But I do. And I only bring them for grandchildren that deserve them."
My jaw dropped open as I thought about the amazing presents she did in fact give every Christmas. The year before she had given me this amazing faux fur coat with a muff. It was my early 90s dream. I loved it so much. She did the grandmother version of a mic drop and just calmly walked away. I'm sure she was smirking at me and congratulating herself while I just stood there stunned.
Needless to say, I got back in the car and tried very hard to not annoy my Nana for the rest of the trip. I'm pretty sure I only lasted about 30 minutes before I decided that I needed to start singing any song I could think of to pass the time.
Told you: annoying.
My poor Nana. But despite me being the most annoying child ever, she still made her vegetable soup for me even in the summer. She was the best.
I have to say, while I have changed some things about the way the soup is made, it tastes very much like her original version. In my version, I take a few short cuts. I use premade broth instead of making my own because really who has time? I switched the barley to quinoa to add protein and keep it gluten free. I also made this vegetarian instead of using stew beef in it to lighten it up a little more. None of the changes take away from the comforting goodness that is homemade soup.
I've served this version of the soup to my dad and my aunt on different occasions, and both of them agree: Nana would be proud of my efforts. The soup is spot on. If you are looking for a different soup recipe check out these: Roasted Butternut Squash Soup, Tuscan White Bean Soup, Cheddar Apple Soup, or Cheesy Vegetarian Corn Chowder. All delicious, however none of them made originally by my awesome Nana.
Print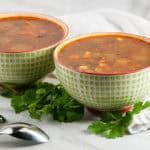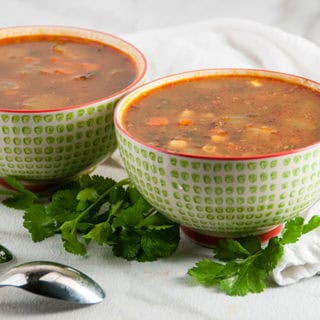 Vegetable Soup with Quinoa
---
Author:

Prep Time:

10 minutes

Cook Time:

1 hour

Total Time:

1 hour 10 minutes

Yield:

8

servings

1

x
Description
Easy homemade vegetable soup with quinoa, vegetarian and gluten free
---
2 tablespoons

of olive oil

1/2

of a small can of tomato paste- 3 ounces total

1

large yellow onion

4

–

5

pressed garlic cloves

2

purple turnips, peeled and cubed

2

16 ounce bags of frozen mixed vegetables

1.5 cups

of quinoa

8

–

10

cups of low sodium vegetable broth

3

dry bay leaves
salt and pepper to taste
---
Instructions
Heat two tablespoons of olive oil in a large soup pot over medium heat. Dice the onion and season with salt and pepper and bay leaves. Cook the onion in the olive oil for 2-3 minutes, until slightly soft. Add pressed garlic. And stir.
When the onions have softened slightly, add the peeled, diced turnips. Season with a lay Cook an additional 5-6 minutes, until the edges start to brown slightly.
Add the tomato paste and about half a cup of the broth. Stir until the tomato paste dissolves.
Pour in the rest of the broth. Bring to a simmer and let simmer for about half an hour. Add in the quinoa and continue to simmer for an additional 20 minutes. When the quinoa is done, add in the frozen veggies. Return soup to a simmer and let simmer for about 5 minutes. Serve hot and garnish with Parmesan cheese and fresh parsley if desired.
Notes
*This is the soup that keeps on giving. This recipes always leaves leftovers for us. When I reheat the soup, I often add more veggie broth or stock since the quinoa and veggies do soak it up. One pot of this soup can feed our family of three for 3 days.
Category:

soup

Cuisine:

American