Thai Pumpkin Curry with Butternut and Chickpeas
Is it weird that I think I like savory pumpkin recipes more than sweet pumpkin recipes?
Don't get me wrong, I love a good PSL as much as the next girl in leggings and boots does. And a good no bake pumpkin cheesecake or easy pumpkin donuts? Yes please. I'll eat both. Very happily. While wearing leggings. And boots. And full disclosure I'll probably be sipping on a PSL. Sorry not sorry.
But I'd almost rather dig into some sort of savory pumpkin concoction. Pumpkin mac n cheese with pancetta and peas makes my heart sing. And this pumpkin pizza with brown butter caramelized onions? Seriously shut the front door right now.
And because I'm a basic fall girl, I, of course swoon over all things butternut. And then last week one day, I just felt like I had to do something with the butternut. It was like this little voice whispering at me to go play with some squash. In actuality, there was a little voice only it was whispering at me to go turn on the Little Mermaid. Incessantly. And the whisper was more of a shrill whine.
Side bar: can we all just take a moment to agree that The Little Mermaid is the most 80s Disney movie ever? That hair, Ariel's wedding dress. I mean have you guys checked out those sleeves? And second sidebar: it makes me feel really old that I snorted in laughter when Ariel tells her dad that she's not a child, she's 16. No. Sit down, child.
And this actually happened as I was contemplating what I was planning to do with my big old hunka hunka butternut squash. Salad? Nah, I was feeling comfort foody. Soup? Potentially.
Then the same little voice that whined for Ariel asked me for chickpeas, which I happily agreed to give her. Anytime my child actually wants to put something reasonably healthy in her mouth is super exciting for me.
Those chickpeas, though, made me think of making my easy chickpea curry. And bam, suddenly, I just knew. I had to throw all the fall ingredients I had into a curry. Pumpkin, butternut, some sweet potato noodles. Basically, if it was orange, it was going in the pot along with coconut milk and a healthy dose of panang curry paste. (Today's curry brought to you by the color orange)
The result? This delicious Thai pumpkin curry with butternut and chickpeas. You guys, so good. It hits all the flavor feels. Savory, spicy, sweet, creamy, and a little crunchy. Just so much yessss.
Even better than how delicious it was? It made me enough to last for a whole week of lunches and it was so easy to boot. If you buy peeled and cut butternut squash, there's no cutting except to cut a lime in half to juice. Just opening some cans and bottles throwing stuff into a large pan.
That's pretty much how I make I curry. I just toss canned coconut milk with a couple tablespoons of tamari or soy sauce, a little brown sugar, some curry paste and some lime. And before Ariel can finish singing Part of Your World, this pot of goodness is on the stove, simmering away, getting ready to be enjoyed and enjoyed guilt free. This particular recipe is loaded with healthy veggies, gluten free, and vegan. So winning all the way around.
Print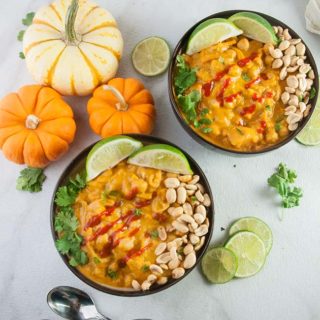 Thai Pumpkin Curry with Butternut and Chickpeas
---
Author:

Prep Time:

5 minutes

Cook Time:

25 minutes

Total Time:

30 minutes

Yield:

6

servings

1

x
Description
Thai Pumpkin Curry with Butternut and Chickpeas is the perfect fall curry recipe. Vegan, gluten free, and hearty and comforting.
---
1

small butternut squash, peeled and cubed*

1

15 ounce can of pumpkin puree

1

28 ounce can of chickpeas, drained and rinsed

1

sweet potato, spiralized or cut into cubes

1

tbs coconut oil

2

15 ounce cans of coconut milk

4

cloves of garlic, pressed
the juice of 1 lime

2

tbs soy or tamari sauce**

2

–

3

tbs of Panang curry paste

2

tbs brown sugar

2

tbs of Siracha***
crushed peanuts to garnish
cilantro to garnish
---
Instructions
Heat a large pan over medium heat. Add the tablespoon of coconut oil, sweet potatoes, and squash. Press garlic into pan and cook veggies until they begin to soften, about 5 minutes. Add curry paste, tamari, brown sugar, and siracha to pan. Cook, stirring constantly until sugar dissolves. Add coconut milk, pumpkin, and chickpeas. Bring to a simmer and simmer for about 15 minutes or until the squash is fork tender. Finish by squeezing in the juice of one lime. Serve hot, garnish with cilantro, more siracha, and crushed peanuts if desired.
Notes
*feel free to use a small package of prepeeled and precut butternut
** to keep it gluten free look for gluten free tamari
***Siracha is optional
Category:

soup, dinner, lunch

Cuisine:

American, Thai
Shop this recipe!
*These links are affiliate links. To read my affiliate policy click
here.