This post is sponsored by McCormick® but the content and opinions expressed here are my own.
Classic homemade stuffing is easier to make than you think! Minimal ingredients and quick prep make for a homemade stuffing recipe that yields delicious results. This classic stuffing recipe will wow during Thanksgiving and deserves a spot on any holiday table.
Warning. Skip ahead if you hate when food bloggers wax poetic about cooking with their grandparents. Because that's exactly what I'm about to do. You have officially been warned.
See, I can't talk about making stuffing without first telling you that one of my earliest memories of being in the kitchen was being maybe 3 or 4 years old and helping my Nana make the Thanksgiving stuffing. We would sit at the kitchen table and tear up loaves of bread together and put them in a big bowl. I used to love it because it was something I could help with. When I got older, I'd help cut the veggies and the parsley. Now, my daughter, who is 5, likes to help me tear up the bread and season the ingredients. And I love doing it with her. It feels like I am passing on a family tradition.
That's it, I'm done being *that* food blogger. You can stop rolling your eyes now.
To this day, I make my holiday stuffing recipe exactly the way my Nana did. And just like my Nana's homemade stuffing recipe, my classic homemade stuffing gets rave reviews.
Classic Homemade Stuffing Ingredients
There are tons of variations on stuffings just like there are so many mashed potato variations. Just take a walk down the stuffing aisle in the grocery store and you'll see so many different varieties. My version of homemade stuffing has a few basic ingredients:
a loaf of sliced sandwich bread
onions, carrots, and celery
garlic
butter and olive oil
fresh parsley
a bit of turkey or chicken broth
the spices
That's it. Pretty basic. Each of these ingredients are very easy to find in the grocery store.
Seasoning Your Classic Homemade Stuffing
This is the most important part of making homemade stuffing in my opinion. I use two fresh ingredients to season it: garlic cloves and parsley. But the dried spice blend makes this stuffing fantastic. Because the success of my classic homemade stuffing depends so heavily on the seasoning, I use McCormick®  spices for the dried spices. The quality of their spices is always spot on and it's always easy to find them in my local Giant in the spice aisle. To make my stuffing I use the McCormick®  Poultry Seasoning Blend and McCormick®  Dried Marjoram.
McCormick®  Poultry Seasoning Blend is a mix of thyme, sage, and other spices. It has a nice herby flavor that pairs really well with the roast turkey centerpiece. It also just sort of smells like all the savory fall and holiday smells. Ahhh so good.
Marjoram isn't an herb that is used as often as the poultry blend is so you might not be familiar with it. It has a piney flavor sort of similar to rosemary with a hint of citrus. Marjoram is lovely and fragrant. You absolutely don't want to skip it in this recipe because you will miss out on a depth of flavor that is just incredible.
How to Make Homemade Stuffing
Making homemade stuffing isn't hard but it does take a bit more prep than most of the side dishes I make any night of the week. However, the prep involved in making homemade stuffing isn't so much that it makes it worth it to use a box mix for me because homemade stuffing is just so much yummier.
Let's break the prep down into these basic steps:
prepping the veggies
cubing the bread
assembly
Prepping the Veggies for Stuffing
For your vegetables, you need to chop your onions, carrots, and celery. For this smaller recipe that serves 4,  I'm using 2 onions, 2 carrots, and 2 celery stalks. When I double the recipe to serve 8 or even triple it for 12, I just peel the carrots, cut everything into quarters and pulse them through the food processor to save time. But for a smaller batch, it doesn't take long to peel and chop the veggies.
Once you have the veggies cut, I heat up some butter and olive oil in a large oven safe skillet on the stove. Then, when the butter melts, I add the veggies into the warm skillet and season them with the pressed garlic cloves, salt and pepper. I let them cook for about 5 minutes, until they have started to soften. Then I season them with the Poultry Seasoning and Marjoram. I pull them off the heat now.
Cubing the Bread
You could buy bread cubes, however I find them hard to find in stores even around the holidays. Also, the pre cubed bread tends to be a bit more on the stale side and doesn't absorb the flavors as well.
To cube the bread, you could cut it into neat little squares or you could go for the rustic, old fashioned approach and just tear it into more or less bite sized pieces, which is what I do. As I rip the bread up, I normally just toss it into a big bowl.
Assembling the Stuffing
Now we've got the bread ready to go and the veggies are soft and seasoned. Normally I just pour the veggies over the bread cubes, add some chopped parsley and mix it until it's evenly incorporated. During this part of the process, I will add about 1/2 cup of poultry stock. If I have made a turkey or a roast chicken at the same time, I will use the pan juices. Then I pour everything back into the oven safe skillet I cooked the vegetables in and add slices of butter across the top. Then I cover it and bake it until everything is warm. To let it brown, I will pull the foil off the pan and let it cook an additional 10 minutes to toast up the bread.
Stuffing Variations- Make this Classic Stuffing Recipe Your Own!
This recipe is a classic homemade stuffing recipe with the basic seasonings. It's like the little black dress of stuffings. You could change it up to suit your personal preferences. For example, sometimes, I will add sliced mushrooms to this for an extra bit of earthiness. I've also used cornbread in place of sliced bread. I particularly like this cornbread in it. Other delicious additions for this classic stuffing include:
ground sausage
bacon
tart apple pieces
sage
chestnuts or walnuts
Whatever you like. The sky's your stuffing limit!
Print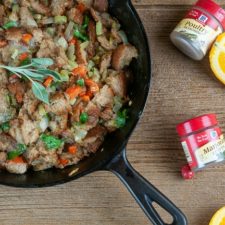 Classic Homemade Stuffing
---
Author:

Prep Time:

10 minutes

Cook Time:

35 minutes

Total Time:

45 minutes

Yield:

4

servings

1

x
Description
Classic homemade stuffing is easier to make than you think! Minimal ingredients and quick prep make for a homemade stuffing recipe that yields delicious results. This classic stuffing recipe will wow during Thanksgiving and deserves a spot on any holiday table.
---
1

small loaf of bread

6

tbs of butter, divided

2

tbs olive oil

2

small yellow onions, diced

2

celery stalks with tops, diced

2

carrots, peeled and diced

4

cloves of garlic, pressed
salt and pepper to taste

1 tsp

of McCormick® Poultry Seasoning

1 tsp

of McCormick® Marjoram

1/4 cup

of chopped parsley

1/4

–

1/2

cup of turkey or chicken stock OR the pan drippings from a roast turkey or chicken
---
Instructions
Rip up one loaf of bread into smaller pieces. The pieces don't have to be perfectly square. Put it in a large bowl and set aside.
Heat a large skillet over medium heat. Add 2 tbs of butter and 2 tbs of olive oil. When the butter has melted, add the onions, celery, carrot, and garlic to the pan. Season with salt and pepper. Cook the veggies for about 4-5 minutes or until the onions are translucent. Once the veggies are soft, remove from heat and season with McCormick® Poultry Seasoning and McCormick® Marjoram. Pour the veggies over the bread cubes and stir to combine. Add the chopped parsley. Pour on the stock or pan drippings. Stir to combine. Pour the the stuffing mixture back into the skillet. Top with the remaining butter. Cover and bake in 350 degree oven covered for 20 minutes. Remove foil and bake for an additional 5-10 minutes or until the top browns slightly. Enjoy!
Notes
Make chopping easier by using a food processor to chop your veggies.
Category:

side dish, Thanksgiving, Holiday

Cuisine:

American
Keywords: classic stuffing recipe, homemade classic stuffing recipe, herb stuffing, bread stuffing