Mascarpone Mashed Potatoes with Rosemary Butter
There's something I need to tell you all. A deep dark confession. A secret from my inner person. Are you ready for it? Here goes.
I love mashed potatoes. I love them so much. I have never met a mashed potato I didn't like, and if my pants were cool with it, I'd totally eat mashed potatoes every single day of my life. Especially these mascarpone mashed potatoes with rosemary butter. Because they are so good. SO GOOD.
I need them every single day from now til forever.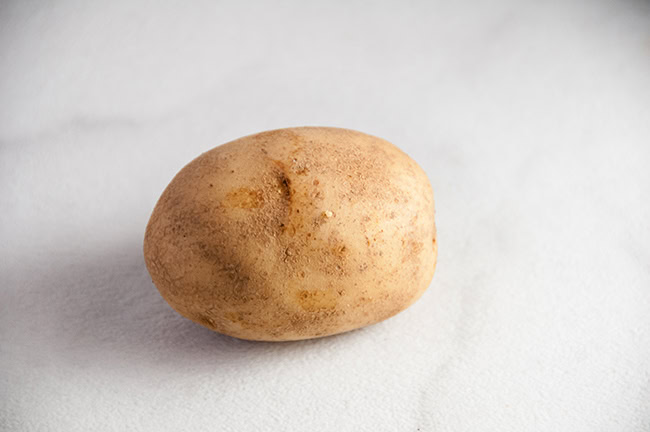 I say that a lot about potatoes. I definitely feel that way about my parmesan garlic twice baked potato casserole, which is also really good. In fact, a perfect meal for me might involve both of these potato dishes and maybe some potato gnocchi and a big hunk of bread to drag through the potatoes and mop up all of that goodness. Because carbs. Carbs are delicious.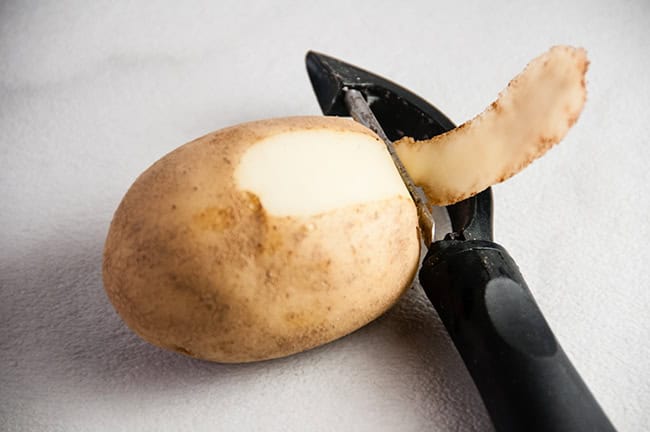 And clearly I have a thing not just for mashed potatoes but really my sweet spot is mashed potatoes with cheese. Because cheese makes carbs even more delicious. These mascarpone mashed potatoes are no exception to that rule.
Have you had mascarpone cheese? I use it a ton when a cook and bake. It makes for some killer Italian style cheesecake. It's a more mild cream cheese that doesn't have the tang of American cream cheese but is really rich and decadent feeling, sort of buttery tasting and sweet. I could eat it as is and sometimes spread it on toast because yum. You can normally find it in the specialty cheese case in the grocery store. 
Anywho, mascarpone cheese gives these potatoes an extra creamy finish and a little sweetness. Plus it makes them so creamy. And let's talk about the rosemary butter. It is so fragrant and flavorful. It ties it to the flavors I cook my holiday turkey and roasts with and makes it the perfect side for Thanksgiving and Christmas.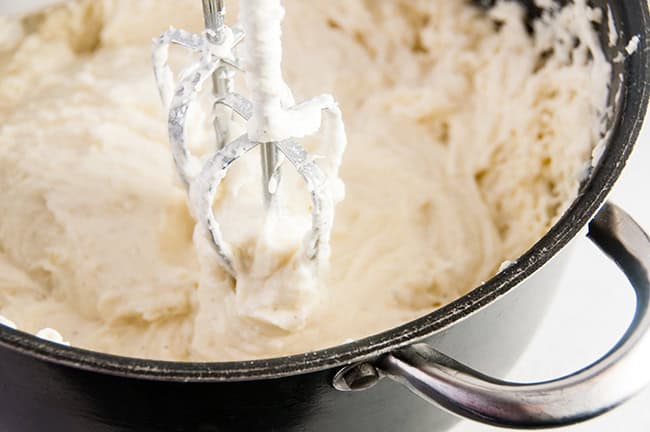 Of course, you could totally eat these mascarpone mashed potatoes any day of the year. I wouldn't judge.
As long as you don't judge me for the method I use to make mashed potatoes. I do things the way I used to with grandma. I used to sit on the counter when I was a little girl and taste as she would mix. If the potatoes were too dry, more milk and butter went in. If they were too bland, more salt and pepper. And if they were too lumpy, she mixed them more.
I was totally fine with this method because more for me to taste. Though I have my measurements written for you all to make these potatoes, I highly recommend that you taste as you go and add the half and half a quarter cup at a time and the butter two tablespoons at a time. It'll give you the texture you prefer that way. Some people like their potatoes to be more smashed and a little on the less creamy side. I'm a fan of a creamier more mashed and less smashed potato. The taste method lets you get it just right.
Plus, more potato for you!
Print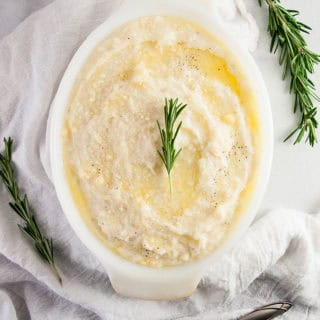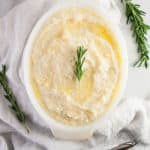 Mascarpone Mashed Potatoes with Rosemary Butter
---
Author:

Prep Time:

15 minutes

Cook Time:

25 minutes

Total Time:

40 minutes

Yield:

6

side servings

1

x
Description
Mascarpone mashed potatoes with rosemary butter make a delicious side dish for the holidays or any time of the year
---
2 1/2

pounds of Idaho or Russet potatoes

1 cup

of mascarpone cheese

1 cup

of half and half

1/2 cup

of butter

1

fresh sprig of rosemary

1/3 cup

grated Parmesan cheese

1/2 teaspoon

garlic powder
salt and pepper to taste
---
Instructions
For the Rosemary Butter
Add a stick of butter to a small saucepan. Heat over low heat with a sprig of fresh rosemary. When butter is melted, pull out the rosemary sprig and set butter aside.
For the Potatoes
Peel the potatoes and wash them to remove the remaining dirt. Cut into two inch cubes. Put the cubes into a large pot filled 1/2 way with water. Salt liberally to season the cooking water. Bring to a boil over high heat. Cook until the potatoes are fork tender, about 20 minutes. Drain and put potatoes back in pot on burner with heat turned on low to let remaining moisture cook off. Add in the mascarpone cheese and begin mashing. Add the butter and half and half about a quarter at a time, mixing with an electric mixer as you go. Keep adding until the potatoes are your desired consistency. When you are satisfied with the potato consistency, add the parmesan cheese, garlic powder, and salt and pepper. Serve hot, and drizzle with more melted butter and sprinkle with extra parmesan cheese if desired.
Notes
I encourage you to taste as you go
Category:

side dish

Cuisine:

American
Nutrition
Serving Size:

6 side servings
Shop this recipe!
*These links are affiliate links. To read my affiliate policy click
here.