Baste for a turkey will give you the most moist and flavorful bird ever. Learn how to for a can't miss main course this Thanksgiving and Christmas.
Post may contain affiliate links. As a member of the Amazon affiliate program, I may earn a small commision from qualifying purchases. To read my affiliate policy, click here.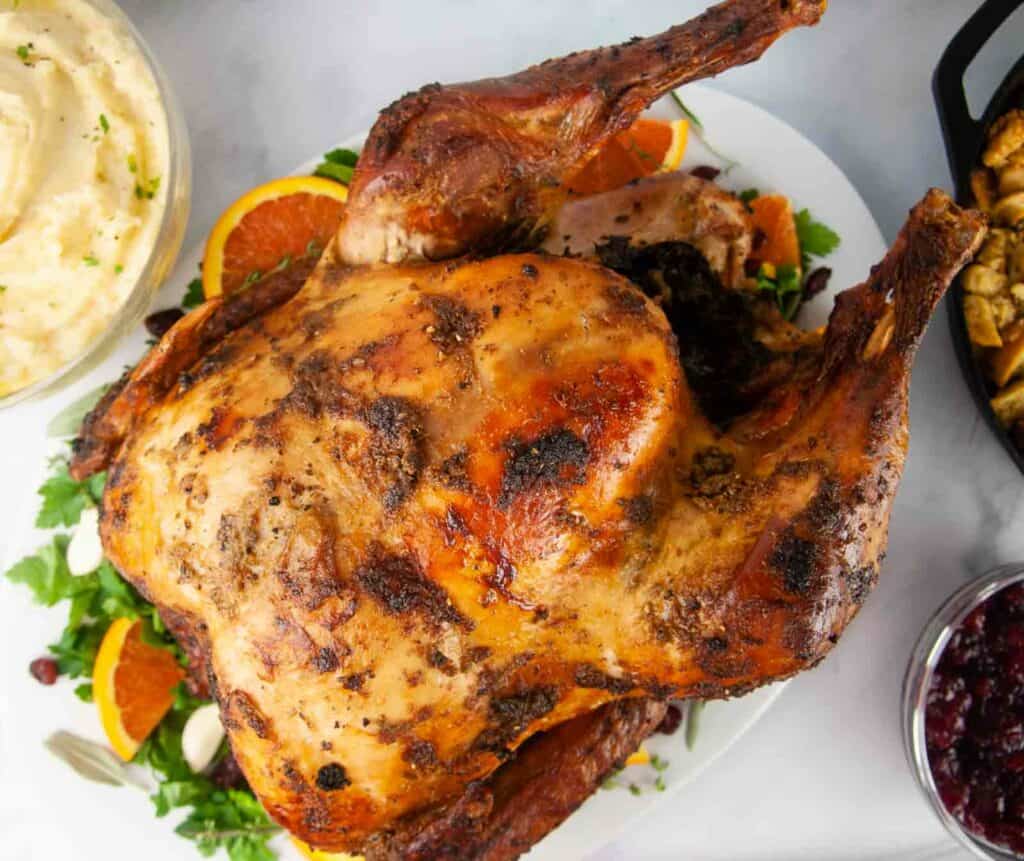 Hello holiday season!
It's just about time to defrost Mariah Carey and rescue Michael Buble from the underground cave he inhabits 10 months out of the year.
Which means it's also time to talk turkey!
This year we're stepping up and not just roasting a turkey breast but doing the whole shebang instead.
We decided we're skipping the brine and making a baste for the turkey with butter.
The result? The most flavor packed, tender main dish you could imagine. You'll be proud to serve this on your holiday table!
What does basting mean anyway?
Basting means spooning, pouring, or brushing liquid over meat as it cooks.
The technique is supposed to keep the meat from drying out as it roasts in the oven.
Sometimes, it involves coating the meat in something like butter that will release fat as it cooks.
Ingredients for Turkey Baste
Butter– Use unsalted butter and let it soften.
Garlic– You can adjust the amount if you like less garlic or if you have any vampires in your midst. Make sure to peel it first. I recommend using a handy garlic peeler.
Herbs– Fresh thyme, fresh rosemary and fresh parsley
Citrus zest– Totally optional but a tablespoon of fresh lemon or orange zest really brightens up the baste.
Salt and pepper
How to Make
Make the garlic butter baste.
Add the softened butter, the peeled garlic cloves, herbs, salt, pepper, and citrus zest together in a food processor. Pulse until combined.
Rub or brush the herbed garlic butter over the turkey.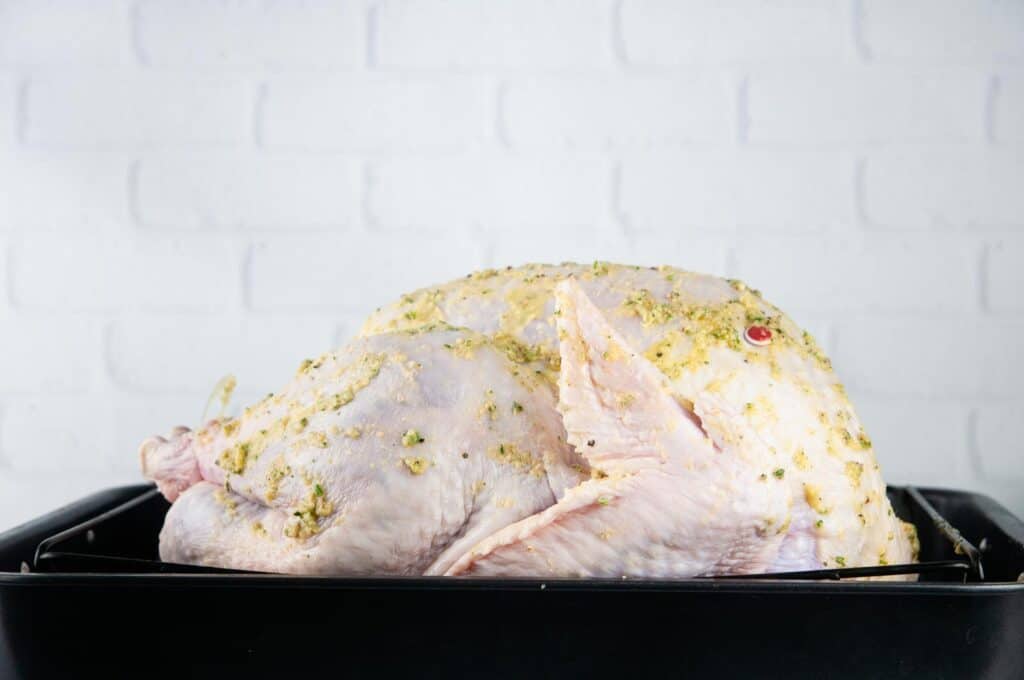 Make sure to cover the breast and the bottom of the bird thoroughly with the butter. Massage the butter and under the skin.
Baste periodically as it cooks.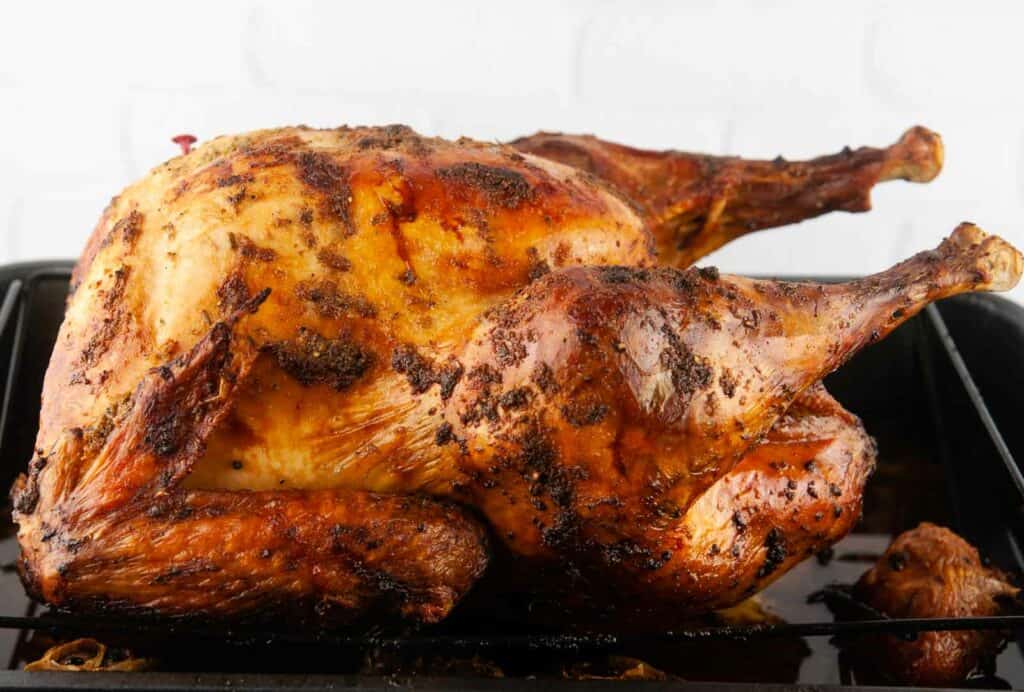 For best results, begin by roasting the turkey uncovered. Spoon the butter on after the first 45 minutes. Then tent the bird with foil and continue to roast the turkey the internal temperature reaches 165 between the breast and the leg. Spoon the buttery pan drippings over the turkey every 30 to 45 minutes, making sure to thoroughly cover the bird in juices each time you do it. Enjoy!
To baste a turkey or not- that is the question!
Experts and cooks are split on whether or not you should baste a turkey.
Some people are all for it because it does create the most flavorful bird that is not at all dry.
However, some people don't want to have to tend to the turkey regularly on Thanksgiving or Christmas day so they choose other methods for making their turkey like brining. (Side note: brining is great too and will give you juicy meat but a softer, less golden exterior. I particularly love Apple Cider Turkey Breast.)
If your goal is moist meat, crispy skin, and lots of flavor, basting is the way to go!
Don't I need to melt the garlic herb butter first to baste the bird?
Not necessarily!
In fact, I find that just softening the butter allows for easier and more even butter application.
Is it possible to baste a bird too often?
Yep! If you overbaste your turkey the skin will be softer and a bit streaky. Do not do it more often than ever 30 to 45 minutes.
Butter vs Oil for Basting
Some people will tell you that one fat is better than the other for basting.
They both will work. It just depends on how you want the taste and texture of the finished meat to be.
Butter has more flavor but also contains water in it. The water content makes for a less crispy skin than oil.
Basting in oil won't give the bird the same richness but will result in an extra crispy skin.
However, you can still get the skin crispy just by basting it less often.
If I don't baste it as frequently won't my meat be dry?
No!
In fact, part of the reason why we rub some of the herb garlic butter under the skin before roasting is to keep the meat nice and- dare I say- moist.
Can I make the butter baste ahead of time?
Yes, you can put the garlic herb butter together the night before. Store it covered in the fridge and then let it come up to room temperature on the counter before you put it on your turkey so it's nice and easy to spread.
Do I need a turkey baster?
No, you absolutely do not! A ladle or spoon will work just fine.
Tips and Tricks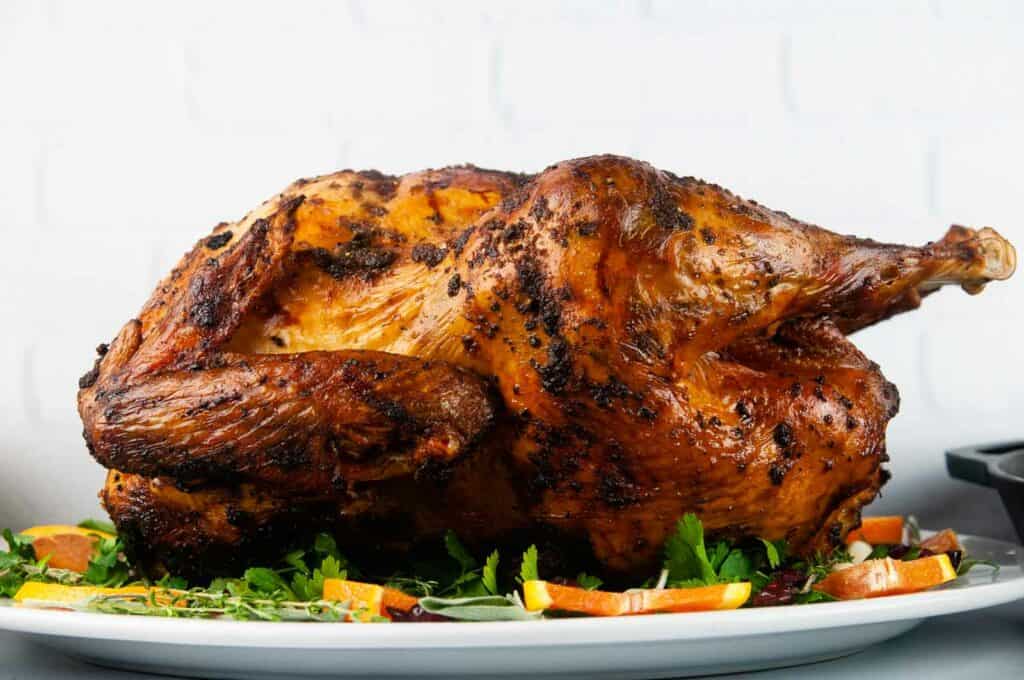 Don't spoon the liquid on more than every 30-45 minutes. Basting more often will soften the skin too much and leave unappealing streaks.
Start with the turkey cooking at higher heat, uncovered before the first baste for extra crispy skin.
After you baste it the first time, turn the heat down and tent the turkey in foil.
Do make sure to rub some of the butter inside the skin to ensure flavor packed, extra tender meat.
Did you make this baste for a turkey or any other recipe on my site? Leave me a comment below and let me know how you liked it. And make sure you follow along with me on Facebook, Pinterest and Instagram to see everything we've got going on.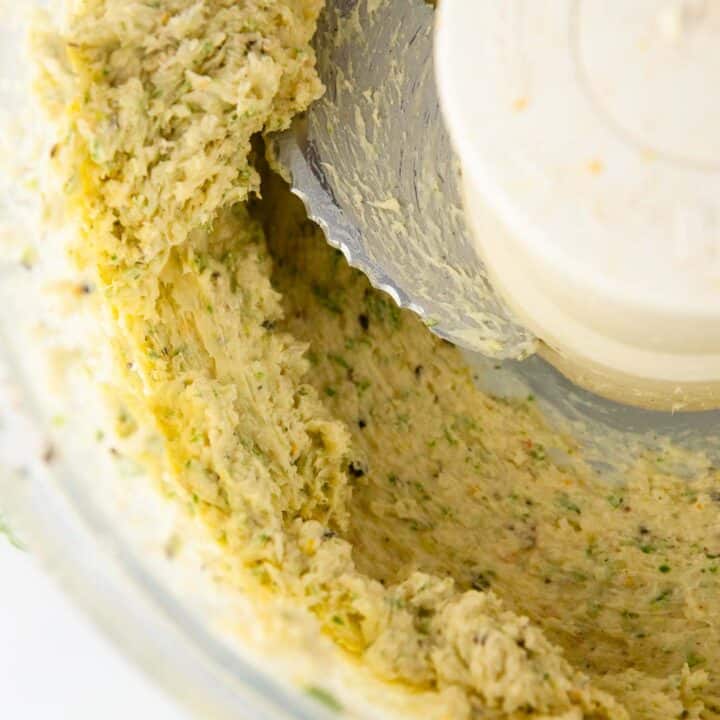 Baste for a Turkey
Yield:
1 1/4 -1 1/2 cups of baste
Baste for a turkey made from butter, garlic and herbs will give you the most delicious holiday main course ever!
Ingredients
8 ounces (1 stick) of unsalted butter, softened
1 head of garlic
.5 ounce of fresh thyme
.5 ounces fresh rosemary
1 loosely packed cup of parsley
1 tablespoon of orange or lemon zest (optional)
sea salt and pepper to taste
Instructions
Pulse the softened butter, peeled garlic cloves, herbs, salt, pepper, and citrus zest together in a food processor until combined.
Rub the herbed garlic butter over the turkey, both on the outside of the skin and under the skin.
Roast the turkey, spooning the melted drippings on top of the turkey every 30-45 minutes until the turkey is cooked through.
Notes
see post for more details