Garlic herb ciabatta stuffing is the very best vegetarian stuffing recipe ever! With a crunchy, golden topping and soft interior, this stuffing is the perfect side dish for Thanksgiving or Christmas dinner.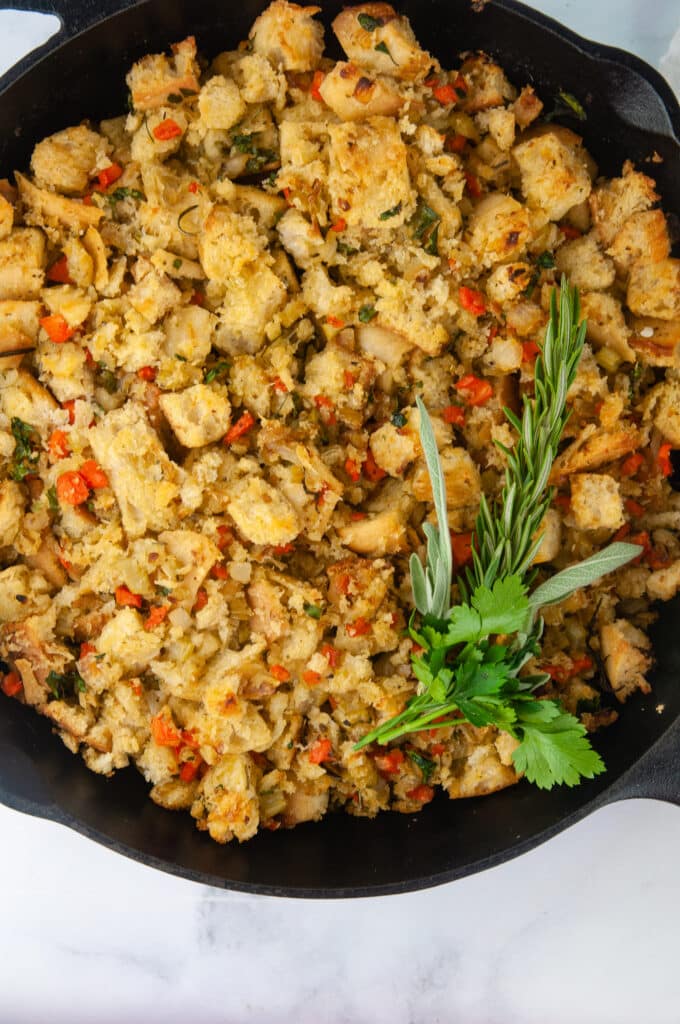 As Charlie Brown says, it seems Thanksgiving Day is upon us.
And while for some people that means turkey, turkey, turkey, for me it means hellllllo carbs.
In my humble opinion and as a person who doesn't eat a ton of meat, carbs are the stuff the meal is all about- from potatoes to stuffing and everything in between.
The Best Vegetarian Stuffing for Thanksgiving: Ciabatta Bread Stuffing
Just because you don't eat meat, doesn't mean you can't partake in some of the best parts of the Thanksgiving (or other holiday) meals.
Besides the stuffing, mashed potatoes, cranberry sauce, baked apples, and side veggies are the best part of the meal anyway.
One of the reasons I love this stuffing recipe is that it has plenty of moisture, but a crispy outer layer.
It uses two kinds of fat, which help keep it moist and crisp up the outside.
You can also do all the heavy lifting a day or two before the big holiday to save some time. All you'll have to do is assemble and bake the stuffing when you are ready to serve it.
Ingredients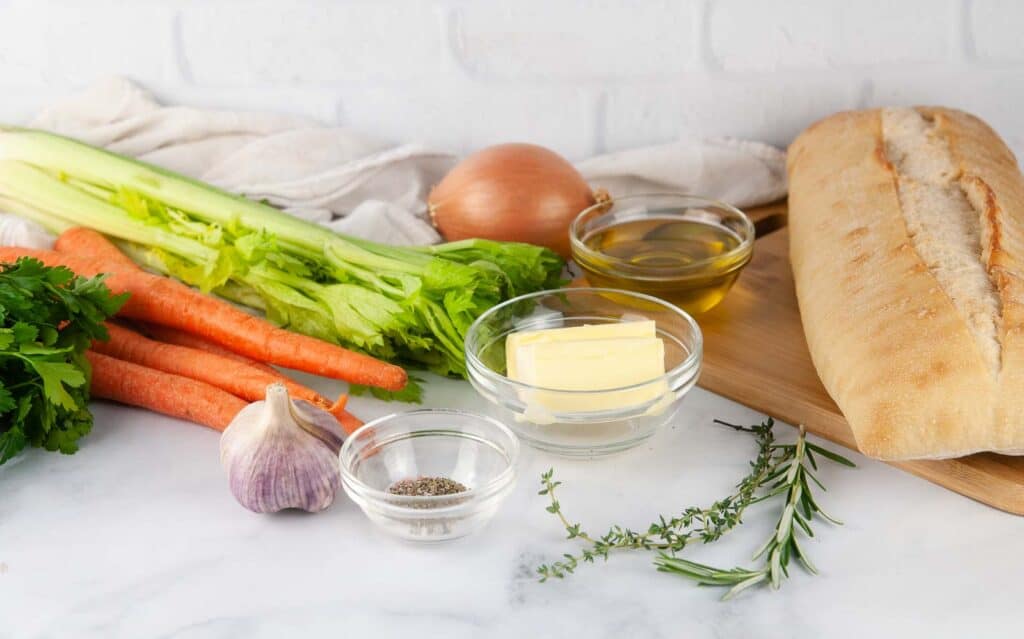 Ciabatta Bread – You need one loaf. You can use either a whole loaf and cube it or already cut ciabatta bread if you can find it.
Butter – You can use unsalted or salted for a bit more saltiness.
Olive Oil – The olive oil helps give moisture to the stuffing. You can use another light tasting oil if you prefer.
Yellow Onions– You could use white onions instead.
Celery – You can get fresh stalks or pre-chopped to save some time in prep.
Carrots – I recommend using either carrots you chop yourself or freshly chopped carrots found in the produce section. In a pinch, you could use frozen, but it won't have the same flavor.
Garlic – You can mince or use a garlic press for the garlic.
Salt and Pepper
Seasonings – You'll need thyme (don't we all need more thyme?), rosemary, Marjoram, and fresh, chopped parsley.
Vegetable stock – You can use your preferred brand and add enough to make the stuffing to your level of moisture.
How to Make
Cube the ciabbatta bread.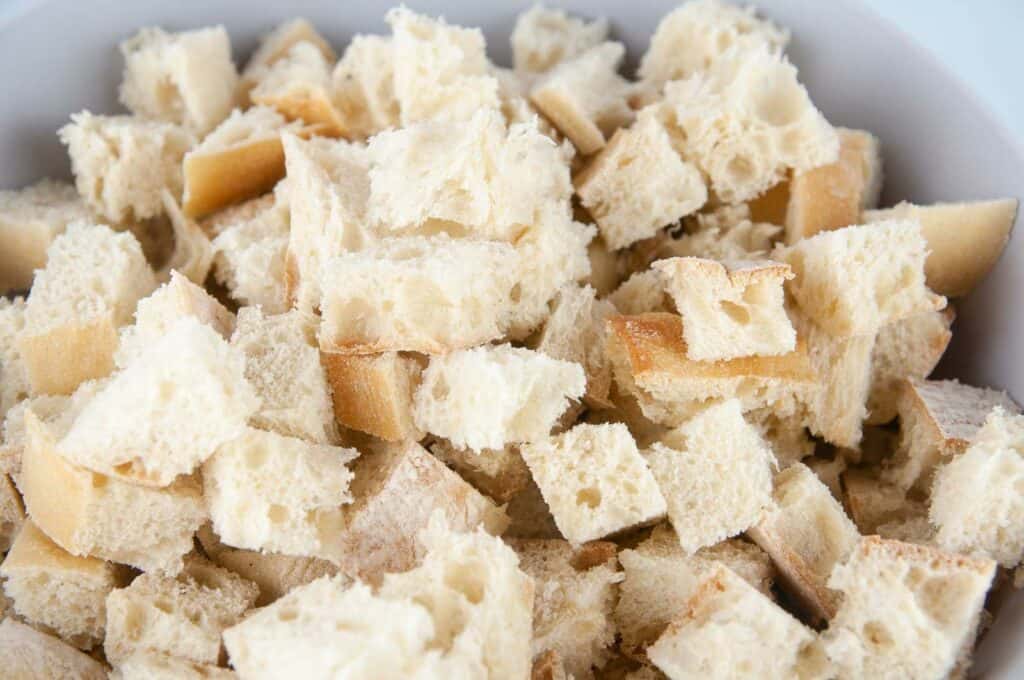 Set it aside.
Prep the veggies.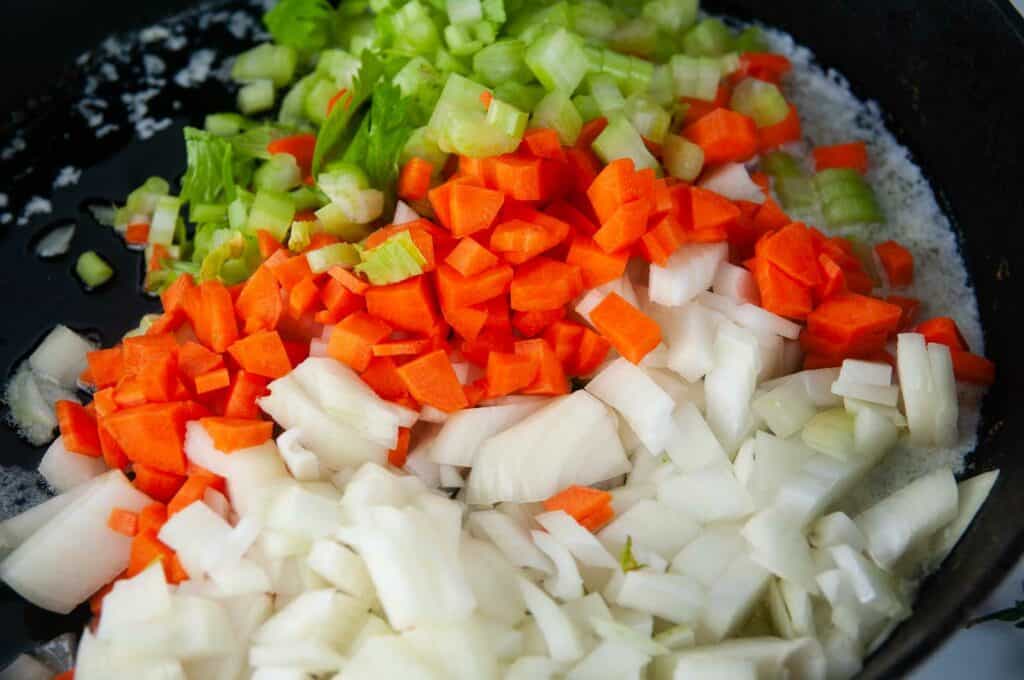 Peel and chop two carrots and dice two onions and stalks of celery (greens and all).
Cook the veggies.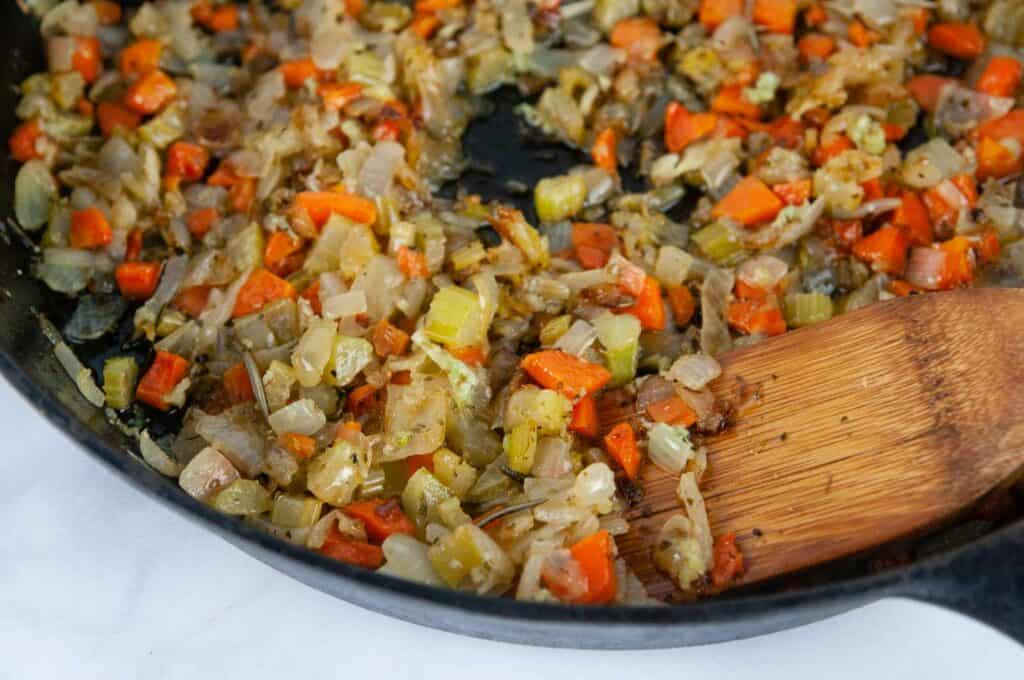 In a large cast iron skillet, melt 1 stick of butter over medium heat. When the butter has melted, add the chopped veggies, pressed garlic, salt, pepper, marjoram, thyme and rosemary to the pan. Cook over medium to medium high heat for between 5 and 10 minutes or until the veggies have softened.
Assemble the stuffing
Toss the softened veggies together with the cubed bread, olive oil, parsley and half a cup of vegetable stock. Toss it all together and taste. If the stuffing is too dry for your taste, add more vegetable stock and stir.
Bake the stuffing.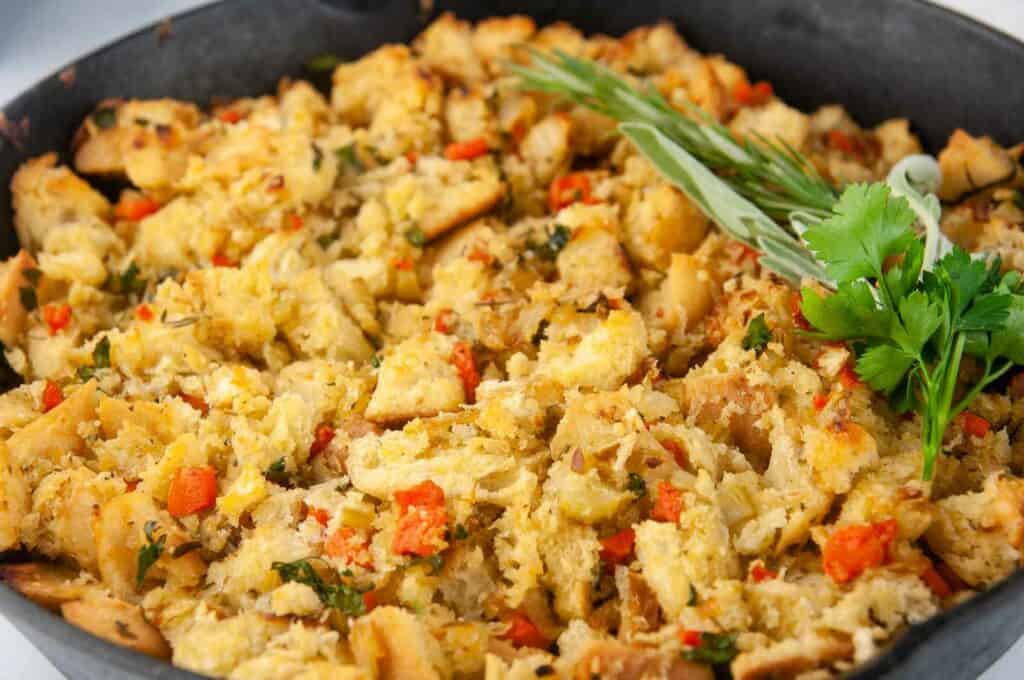 Cover with foil and bake at 350 for 20 minutes. After 20 minutes, remove the foil and divide the remaining butter on top of the stuffing. Bake uncovered for an additional 5 to 10 minutes or until the top is a golden brown color. Enjoy!
Tips and Tricks
Ciabatta bread is fairly dry. Don't skimp on the butter and oil for moisture.
If you don't care if this stuffing is vegetarian, you could substitute the vegetable stock with pan drippings from your turkey or chicken or use chicken or turkey stock instead.
For added flavor, you can substitute some white wine in place of the vegetable stock.
If you like your stuffing loaded with veggies, I recommend adding an extra carrot, celery stalk, and onion. Mushrooms would also taste great in this stuffing.
Storing Leftovers
Storing left over ciabatta stuffing is super easy! To store, all you need to do is:
Allow the stuffing to cool to room temperature. This helps prevent condensation from forming on the lid and making the stuffing super soggy. (Yuck!)
Scoop the stuffing into an air tight container.
Place the container in the fridge.
Stuff should stay fresh for about 3 to 5 days in the fridge.
To reheat, you can microwave an individual serving on high for about 1 to 2 minutes or until warmed through.
If you want to reheat the leftovers in the oven, you can place the stuffing in an oven safe container. Once in the container, put a few pads of butter at different points around the top and add about 1/4 cup of broth to it. The butter and broth will help stop the stuffing from drying out.
Cover the stuffing with aluminum foil and bake at 325 for about 20 minutes or until warmed through.
Don't freeze the stuffing! It won't come out right when you defrost it. Yeah, I've found out the hard way.
What can I substitute for eggs in stuffing?
OK, first of all, who the world puts eggs into stuffing in the first place?
Second, and more importantly, none of my stuffing recipes, including this one, use eggs. I've been making stuffing for most of my life, and I can tell you, you do not need eggs to make stuffing that is crisp on the outside and moist on the inside.
If you want more vegetarian stuffing ideas, check out my Apple Sage Stuffing and Classic Stuffing.
Make Ahead Vegetarian Stuffing
One of the great things about this vegetarian stuffing is that you can easily make it ahead of your big holiday meal.
To make it ahead, I recommend:
Chop the veggies and cook them up per the instructions in the recipe card.
Chop up the bread and store in an airtight container.
Place cooled veggies in separate container and place int he fridge.
When you are ready to make and serve the stuffing, I recommend reheating the veggies gently to release some of their moisture and then pick up the recipe from where you combine the ingredients before baking.
You should be able to store the cooked veggies for up to 3 days in the fridge.
Other Stuffing Recipes
If you love stuffing and want to try something a little different, check out these other stuffing recipes. Both can be made vegetarian, vegan, or with dripping from a roast:
Other Vegetarian Thanksgiving Recipes
Looking to fill out your vegetarian Thanksgiving meal? You don't have to look too far. Check out these tasty, vegetarian options: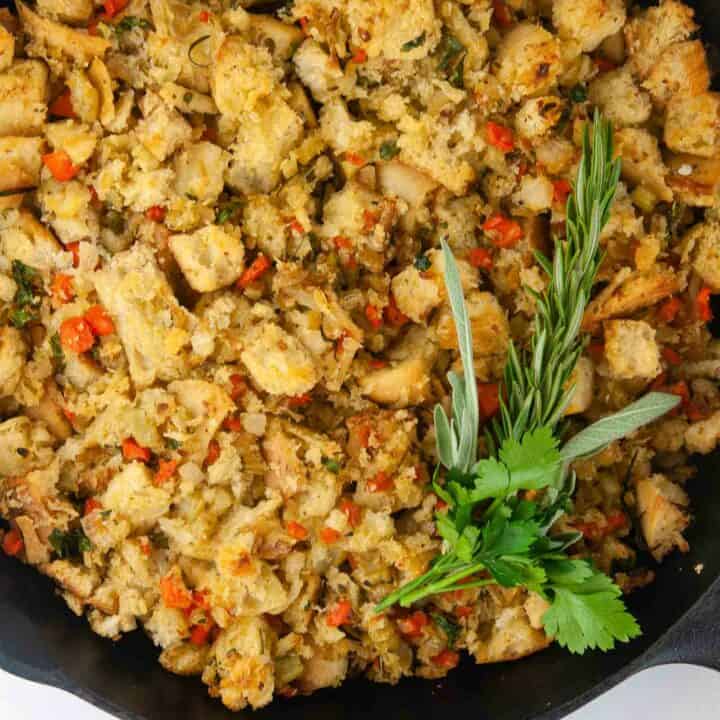 Garlic Herb Ciabatta Stuffing (Vegetarian Stuffing Recipe)
Garlic herb ciabatta stuffing is the very best vegetarian stuffing recipe ever! With a crunchy, golden topping and soft interior, this stuffing is the perfect side dish for Thanksgiving or Christmas dinner.
Ingredients
1 loaf of ciabatta bread
12 tbs of butter, divided
4 tbs olive oil
2 small yellow
onions, diced
2 celery stalks with tops, diced
2 carrots, peeled and diced
4 cloves of garlic, pressed
salt and pepper to taste
1/2 tsp of thyme
1/2 tsp of rosemary
1 tsp of dried Marjoram
1/4 cup of chopped parsley
1/2 cup to 1 1/2 cups of vegetable stock (based on personal preference)
Instructions
Cube the ciabatta bread and set it aside.
Peel and chop two carrots and dice two onions and stalks of celery (greens and all).
In a large cast iron skillet, melt 1 stick of butter over medium heat. When the butter has melted, add the chopped veggies, pressed garlic, salt, pepper, marjoram, thyme and rosemary to the pan. Cook over medium to medium high heat for between 5 and 10 minutes or until the veggies have softened.
Toss the softened veggies together with the cubed bread, olive oil, parsley and half a cup of vegetable stock.
Give the stuffing a taste. If the stuffing is too dry for your taste, add more vegetable stock and stir.
Cover with foil and bake at 350 for 20 minutes.
Remove the foil and divide the remaining butter on top of the stuffing.
Bake uncovered for an additional 5 to 10 minutes or until the top is a golden brown color.
Enjoy