An adult version of the classic combination of lemonade and iced tea, these boozy Arnie Palmer cocktails are the perfect summer cocktail. You'll love these alcoholic Arnold Palmer cocktails!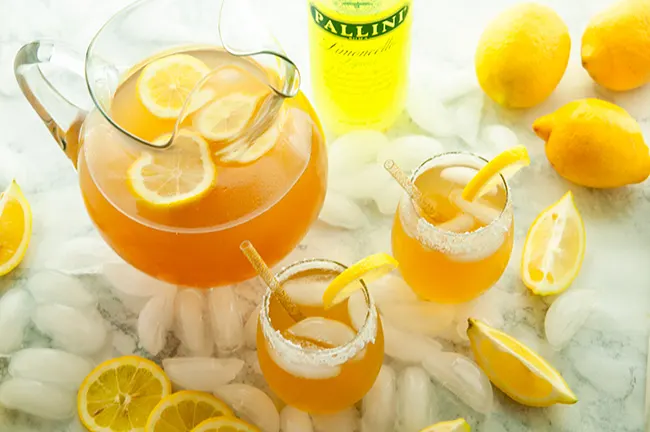 Post may contain affiliate links. As a member of the Amazon affiliate program, I may earn a small commision from qualifying purchases. To read my affiliate policy, click here.
Look! Another cocktail that isn't pink! The world must be ending since I have a serious affinity for all the pink cocktails.
I do mean all of them. There's a 90 percent possibility that any cocktail recipe I share is pink. For example:
See what I mean?
I really like pink cocktails.
But lemon and citrus cocktails give them a run for their money.
I am all about these boozy lemonade slushies , Spiked Lemonade, Limoncello Spritz Recipe (Limoncello and Prosecco Cocktail) and Boozy Strawberry Lemonade Slushies.
This summer? I started off loving frozen pineapple mimosas but I've moved on.
Boozy Arnie Palmer cocktails all the way.
What is an Arnie Palmer?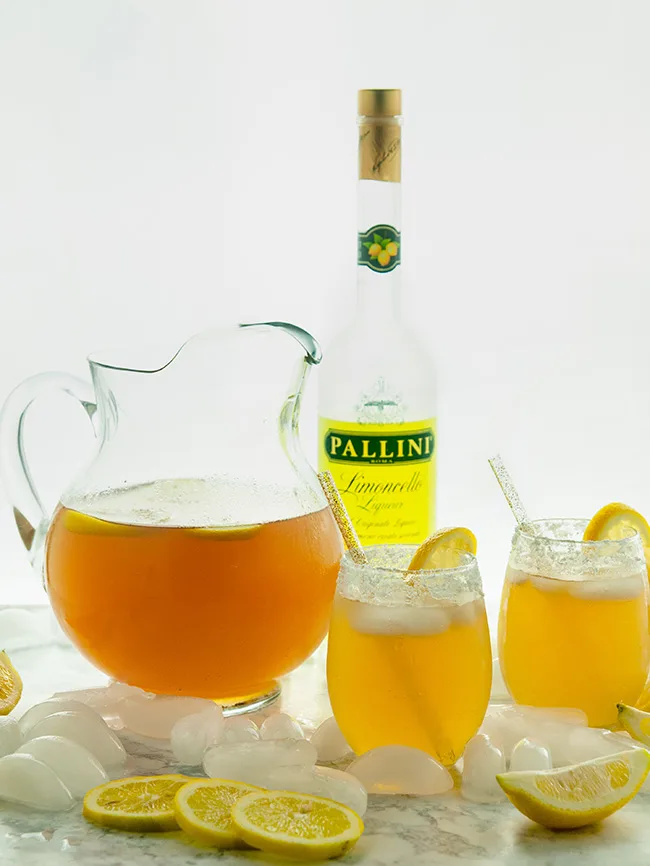 An Arnie Palmer, or Arnold Palmer, is half lemonade and half iced tea.
The golfer Arnie Palmer often ordered this combination to drink, hence its name.
It's like the lemoniest iced tea.
Super yummy.
What is a John Daly?
John Daly is yet another famous golfer and the name inspiration of this spiked Arnie Palmer.
When you order a John Daly from a bar, you'll get lemonade, iced tea, and vodka.
My version is slightly different with limoncello and lemon vodka.
Ingredients and Kitchen Tools
You don't need a whole lot to make this alcoholic Arnie Palmer.
To make it you'll need:
Iced Tea– I highly recommend homemade iced tea. It's very easy to make and so better than store bought. However, if you do use a store bought tea, look for a lemon flavored one.
Liquor– Both limoncello and lemon vodka. If you only have one or the other, just substitute it for the same amount of the other liqueur.
Garnish– Lemon wedges, mint leaves, etc.
Kitchen tools include:
A pitcher– Optional and needed only if you are making a big batch of these.
Cocktail jigger– A measuring cup also works.
How do I make an Arnie Palmer Cocktail?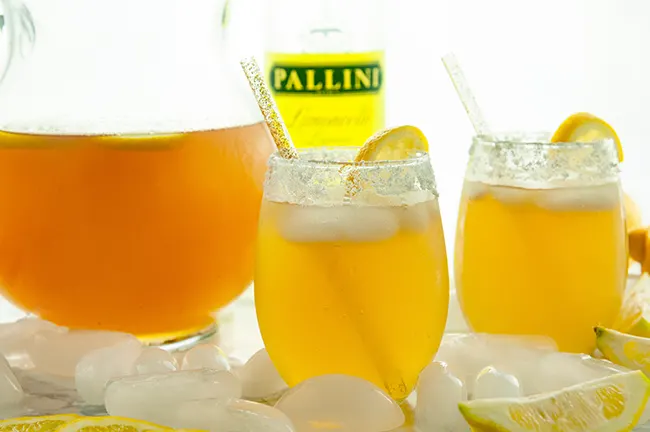 1. Mix the iced tea and alcohol together.
Fill up a glass with 8 ounces of iced tea.
Then I added an ounce of limoncello and another ounce of lemon vodka.
Stir and garnish with a lemon slice if desired.
FAQs
Don't I need to add lemonade?
Well, it depends. My homemade iced tea has a lot of lemon juice in it. If you are using tea that doesn't have lemon in it, then yes, in that case I would do 2/3 cup of iced tea and 1/3 cup lemonade. I wouldn't do half and half because you get lots of lemon flavor from the liquor.
What are other names for a spiked Arnie Palmer cocktail?
You may hear this combination of iced tea, lemonade, and liquor called a John Daly or a dirty Palmer.
Whatever you call it, these boozy Arnie Palmer cocktails are perfect whenever the weather is warm!
What is the base alcohol in a dirty Palmer?
Most versions use vodka as the base. This version uses part vodka and part limoncello.
Tips and Tricks
Make sure your iced tea (and lemonade if using) is nice and cold before you make these drinks.
This cocktail recipe is written for one drink but you could easily double, triple, or more the recipe and serve it in a pitcher or punchbowl for a party!
That's it! There's not much to it before you're enjoying these cocktails outside this summer. Cheers!
Did you make this? Let me know!
Did you make this boozy Arnie Palmer cocktail (John Daly) or any other recipe on my site? Leave me a comment below and let me know how you liked it. And make sure you follow along with me on Facebook, Pinterest and Instagram to see everything we've got going on.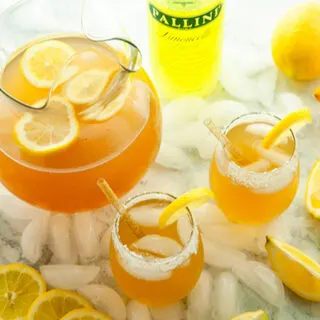 Boozy Arnie Palmers
An adult version of the classic Arnie Palmer combination of lemonade and iced tea, these boozy Arnie Palmers are the perfect summer cocktail.
Ingredients
1 cup of iced tea
1 ounces limoncello
1 ounces lemon vodka
lemon wedges for garnish
Instructions
Add all the ingredients to a glass and stir. Garnish with lemon.
Notes
If you are using a less lemon flavored tea than my homemade iced tea recipe, add 2/3 cup of iced tea and 1/3 cup lemonade.
Nutrition Information:
Yield:

1
Serving Size:

1
Amount Per Serving:
Calories:

232
Total Fat:

0g
Saturated Fat:

0g
Trans Fat:

0g
Unsaturated Fat:

0g
Cholesterol:

0mg
Sodium:

3mg
Carbohydrates:

24g
Fiber:

3g
Sugar:

16g
Protein:

1g