Boozy Lemonade Slushies
It's a momentous occasion on this blog today. I made you guys these boozy lemonade slushies, a drink that is neither pink nor sparkly. (See also: Pomegranate Rose Spritzers, Cranberry Champagne Cocktails, and Raspberry Champagne Cocktails. I have a serious problem.)Weird right? And yes, I'm feeling ok.
Even weirder? This drink is probably my favorite drink that I have ever concocted. It's one of those drinks that doesn't feel like you are actually drinking alcohol. No burning, no aftertaste. Just so much lemon flavor and slushie fun.
When the weather gets warm, I crave lemon and lemonade. We had a brief taste of glorious summer weather last week. During one of the two 80 degree days we had, I went on a long, brutal run. 8 miles. To say it was rough is the absolute understatement of the year. I forgot how I thirsty I get when I run in the heat and didn't bring water along. By the end of the run my mouth was so dry that my tongue felt swollen. All I could think about was driving through Chic Fil A on the way home from the park to get a giant diet lemonade or two. I promised myself that if I did not die of thirst on the last mile back I would do it and drink that glorious lemonade. Which I did. And I drank both before I made it back home.
That's how much I crave lemon when I am hot. A lot.
So it's natural that these lemonade slushies will be my go to this summer. They start with frozen lemonade and get a big shot of liquor from lemon vodka and limoncello.
Have you ever had limoncello? It's this amazing Italian lemon liquor from the south of Italy. You'd think growing up with a southern Italian grandma I'd have had it prior to my adulthood, but I actually had it for the first time on a long weekend away. My husband and I stumbled into this little restaurant owned by a southern Italian man. We had been caught in a nasty rainstorm and we were drenched and the only customers in the place. The owner was everything you'd imagine of a man that had been raised in Italy- very friendly, very talkative, and extremely passionate about the food and the liquor he served.
He told us all about how he had grown up outside of Naples prior to coming here and had learned to make alcohol from his grandfather. In Italy he had used to make liquor in his bathtub. Here he still made his own limoncello, but fortunately NOT in his bathtub. We had never had it before and he was appalled. He brought out shots of limoncello and told us it was on him. It was the smoothest tasting liquor I'd ever had. It literally tasted like sunshine and lemons. Just wonderful with no burning at all. Perfect for me as someone who doesn't drink often.
And this is what these boozy lemonade slushies taste like to me. Sunshine, lemons, and memories of getting caught in rainstorms. Just perfect for any warm weather gathering or sipping cocktails on your patio this summer.
Looking for other warm weather drinks? Try these:
Print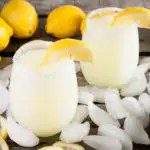 Boozy Lemonade Slushies
---
Author:

Prep Time:

5 minutes

Cook Time:

1 hour

Total Time:

1 hour 5 minutes

Yield:

2

large drinks

1

x
Description
Boozy lemonade slushies are a fun frozen summer cocktail
---
4 cups

of lemonade (

2

ice cube trays)

2 ounces

of lemon vodka

1 cup

of limoncello
To garnish
sugar
lemon wedges
---
Instructions
Fill two ice cube trays with lemonade. Freeze until solid. Once frozen, put the ice into a blender with 2 ounce of lemon vodka and 1 cup of limoncello. Blend until smooth.
Rub a lemon wedge along the rim of the serving glasses and dip the lemony glass rim into sugar to rim with sugar. Fill glass with slushy. Garnish with lemon wedge. Enjoy!
Category:

drink, cocktail

Cuisine:

American
*These links are affiliate links. To read my affiliate policy click
here.