I feel like I need to apologize to you all. Or at least apologize to the button on your pants. This skillet chocolate chip cookie will totally do your diet in. But, trust me when I say it's so very worth it just like my salted caramel chocolate chip butter bars were. You know that meme that says nothing tastes as good as skinny feels? Yeah, well, I think this skillet chocolate chip cookie probably does.
Full disclosure. Everyone has that one food that they just can't let sit in the house. For us, it's chocolate chip cookies. We love them, but we never make them. Ever. Because both of us would eat them round the clock. Seriously, at Christmas time when I have baked dozens of cookies, I have been known to wake up, pad into the kitchen, and eat a cookie before I drink my coffee.
Ok, I lie. Maybe I eat multiple cookies before I drink my coffee.
My husband is the same way. The amount of self control in this house when it comes to cookies is minimal. And seriously laughable. It's like a good batch of chocolate chip cookies regresses us each into toddlers.
So, needless to say, we baked this cookie, and intended to eat it slowly. Over several days for dessert. And, then I took pictures of the cookie. You know, to share with you all. Well, the cookie didn't survive the photo shoot.
Like not even a little.
And I'm not sad about that. Not even a little. Because, you guys, this skillet chocolate chip cookie was total cookie perfection. Slightly crisp edges and the perfect gooey, slightly underdone and melty center. It just begs you to attack it with a spoon.
Or a shovel. You know, anything that will get all that melty, chocolatey goodness into your mouth that much faster.
And while ice cream isn't necessary to top it off, it kind of is. Because this cookie practically begs you to top it with ice cream so that the ice cream will melt into the cookie's gooey center and create an explosion of total sugary gooey perfection.
Lastly, a pro tip for all you parents out there: I was really thinking that we'd have to hide this cookie from the toddler or eat it either covertly locked into the bathroom or after she went to bed, but nope. I set out some chocolate chunk pieces and she didn't even touch the cookie. I was seriously feeling like I was winning at life.
Apparently, we also don't share well when it comes to cookies in this house. Told you, cookies turn us into giant overgrown toddlers.
Looking for more cookie recipes? Try these:
Print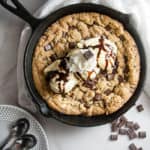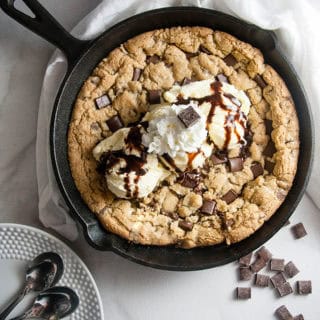 Skillet Chocolate Chip Cookie
---
Author:

Prep Time:

5 minutes

Cook Time:

20 minutes

Total Time:

25 minutes

Yield:

1

10 inch cookie

1

x
Description
Gooey Chocolate Chip Skillet Cookie
---
1/2 cup

of softened butter

1/4 cup

sugar

3/4 cup

of packed light brown sugar

1

egg

1 1/4 teaspoon

vanilla

1 1/4 cup

flour*

1/3 teaspoon

salt

1/2 teaspoon

of baking powder

1/2 teaspoon

of baking soda

3/4 cup

chocolate chips

3/4 cup

chocolate chunks
---
Instructions
Preheat the oven to 350 and grease a 10″ skillet with butter or shortening.
While the oven is preheating, in a stand mixer cream together the butter, sugars, vanilla, and egg. Beat until the mixture is light and fluffy.
In a separate bowl, whisk together the flour, salt, baking powder, and baking soda.
Add about a third of the dry ingredients into the wet ingredients, and mix until combined. Repeat two more times with the rest of the dry ingredients. Mix until combined.
Fold in the chocolate chips.
Press the dough into the skillet.
Bake in a 350 degree oven for 15-20 minutes, or until the edges of the cookie are golden and the center is set but slightly soft.
Serve with ice cream.
Notes
* We used an all purpose gluten free flour blend, but you can make this cookie with regular all purpose flour as well.
Category:

dessert, cookie

Cuisine:

American
Nutrition
Serving Size:

serves 2-4 depending on how well the adults share
Shop this recipe!
*These links are affiliate links. To read my affiliate policy click
here.