This blog post has been compensated by Smithfield Fresh Pork. All opinions are mine alone. #GetGrillingAmerica #CollectiveBias #Ad
Summer is right around the corner. It's amazing. Just a few weeks ago, there was a blizzard, and now 80 degree days and sunshine and grill weather is here. I LOVE grill weather. Everything tastes great on the grill from burgers and grilled buffalo wings to these sweet and spicy pineapple ribs. I was thrilled to team up with Smithfield Fresh Pork to create this rib recipe.
Years when Easter is late and the weather is nice, we often grill either here or at my Dad's house. We almost always end up at my Dad's sometime during Easter weekend. My Dad puts on the hardest Easter egg hunt ever. He has to write down where he hides all of them, and then myself, husband and my siblings and their significant others run around in this extremely competitive cut throat egg hunt.
It might get a little ugly. But it's so much fun. You'd think there would be amazing prizes stuffed in the eggs, but nope. The grand prize is normally the egg with a dollar bill. That person gets a chocolate bunny. All the other eggs normally have things my Dad finds around the house: paper clips, mustard packets, maybe some spare change. But we know the real prize isn't the chocolate bunny. It's bragging rights. The winner gets to rub their sweet victory in their siblings's faces for the next year.
We are so mature.
This immaturity works up an amazing appetite. If we do dinner at my Dad's after, he often will fire up his charcoal grill and throw on ribs or burgers. This year, we may just have to grill these sweet and spicy pineapple ribs. And let me tell you, grilling ribs is so easy. You just sort of set them up and let them go low and slow, keeping an eye on them every now and then. For grilling tips, check out this video.
These ribs pack huge flavor: pineapple, ginger, a little zip from hot sauce. Add to it the smokey flavor from the grill and OMG. Amazing. Plus, using Smithfield Fresh Pork ensured these ribs would be juicy and fall of the bone good. Be sure to check out the Smithfield's site and be on the lookout for their 5000 dollar giveaway.
You can find a wide variety of Smithfield Fresh Pork ribs at Walmart, in the fresh meat section. There is a section labeled pork, and the ribs are all in this section. It makes it so easy to find the ribs plus if you need to while you are there buying your ribs you can pick up any other things you need to be a grill master.
With Smithfield Fresh Pork and this sweet and spicy pineapple rib recipe, you can't go wrong for your next barbecue.
Looking for other rib recipes? Try my cranberry barbecue ribs. So good!
Print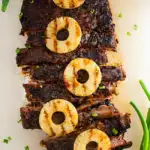 Sweet and Spicy Pineapple Ribs
---
1

rack of Smithfield Fresh Pork Extra Tender St. Louis Ribs
For Rub
1

20 ounce can of crushed pineapple drained with juice reserved

1/3 cup

soy sauce

2

tbs olive oil

1

tbs chili powder

1/2

tbs cumin

1

tbs onion powder

1

tbs garlic powder

1

tbs ginger

1 tsp

hot sauce

1 cup

packed light brown sugar
For Pineapple Sauce
4

cloves garlic, crushed

2

tbs olive oil

4

tbs soy sauce

1/3 cup

molassess

1 cup

packed light brown sugar

1

tbs worceister sauce

1/2 tsp

cayenne pepper

1

tbs ginger

20 ounce

can crushed pineapple
reserved pineapple juice
---
Instructions
Stack the charcoal to one side of the grill to ensure a smokey fire.
Combine all the ingredients for the rub and spoon onto both side of the ribs.
Place the ribs meat side down over the other side of the grill.
Smoke for 6-8 hours, depending on how hot coals are. The ribs are done when the meat begins to fall from the bone or the internal temperature reaches between 190 and 203F for maximum tenderness.
About 30 minutes prior to removing from grill, brush with pineapple sauce and move over direct heat. Serve hot with extra sauce.
For the sauce
Combine all the ingredients for the pineapple sauce in a medium sauce pan and bring to a simmer. Reduce heat to low, and continue cooking, stirring occasionally for about 30 minutes. Store in an airtight container in the fridge for up to a week or serve with ribs.