My husband is the chief breakfast maker around here. You can find him on a Saturday or Sunday morning flipping pancakes or making waffles. I always offer to help, but am always shot down. Who am I to argue with that? So when he started playing with a recipe for banana bread waffles, I was thrilled. Then he made them two weekends in a row to get them just right and believe me they are absolutely delicious. And when he told me he'd write a post about them…well, be still my heart.
Funny thing is: I don't like bananas. Hated them since high school and was never fond of them prior to secondary. But, for some reason, I have always liked banana bread. Very odd, I know. It's like my sister-in-law who likes Burger King onion rings but requests no onions on everything else. Jenna and the Goose both love (though the Goose sometimes seems to hate) bananas. We all like waffles. And we all like banana bread. Suddenly, it just clicked. Let's make Banana Bread Waffles.
So why do I dislike raw bananas so much? Well, I'm glad you asked. As a runner, they are always a post race snack option. I was always encouraged to eat them. But something about their taste and texture always bothered me. I don't recall eating bananas much before high school. I have always been a fan of banana bread – without the nuts.
Yeah… I'd either pick out the nuts or only eat banana bread if it was sans nuts. I also avoided nuts in anything, including candy. Since getting older, I eat nuts from time to time. But I still dislike bananas. Oddly, and I must say this is a source of worry, the Goose eats both nuts and bananas.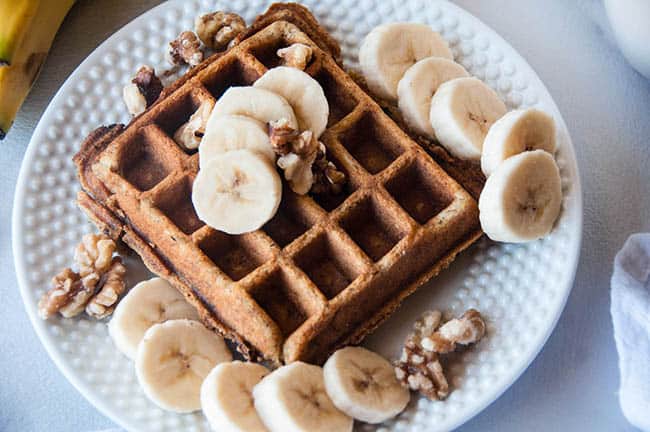 I guess food aversions aren't inherited. Anytime we make the banana nut bread waffles, I have to set aside nuts and a banana for her. Giving her nuts is easy. An offering in a small, plastic bowl usually suffices to please the Goose.
Banana's though, watch out if we don't do it precisely. We've tried cutting them up. NO BANANAS!!! We've tried giving her a banana outside of the peel. NO BANANAS!!! We've tried breaking a piece off. NO BANANAS!!!
No no. The only way to please the little monster Goose is to only partially peel the top of the banana. We then need to hand her to the part that is still peeled. Any issues, and we are back at "NO BANANAS!!!"
This is not so with these gluten-free banana nut bread waffles. We all enjoy them because they are sweet and delicious. The Goose's only requirement is that on day one, she gets to eat the waffle as a Minnie Mouse shaped waffle using her special waffle iron. The grown ups get regular old waffles.
Print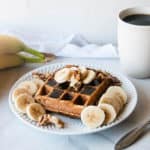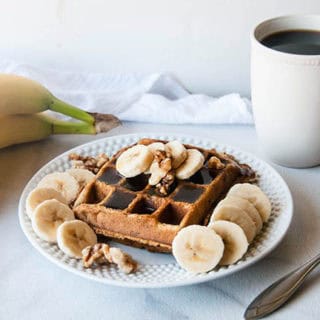 Gluten-Free Banana Nut Bread Waffles
---
Author:

Prep Time:

10 minutes

Cook Time:

20 minutes

Total Time:

30 minutes

Yield:

6

-

8

waffles

1

x
---
For Nuts:
1 cup

chopped walnuts

1 teaspoon

cinnamon

1/2 teaspoon

nutmeg

2 Tablespoons

butter (melted)

1 Tablespoon

brown sugar
For Waffle batter:
Wet:

1 3/4 cups

milk

3 Tablespoons

brown

1/2 teaspoon

salt

2 teaspoons

vanilla

2

eggs

4 Tablespoons

melted butter

2

very ripe bananas
Dry:

2 cups

flour*

1 teaspoon

cinnamon

1/2 teaspoon

nutmeg

4 teaspoons

baking powder

2 teaspoons

baking soda
---
Instructions
For Nuts:
Preheat oven to 400 degrees.
Mix nuts with cinnamon, nutmeg, brown sugar, and butter until the nuts are well coated.
Spray cookie sheet with nonstick spray and lay nuts down in a layer.
Cook for about 2 – 3 minutes or until the nuts are just starting to brown. (Be careful, they can burn easily)
Remove from heat and let them cool down some.
For Waffles
Preheat waffle iron according to instructions on your waffle maker.
Turn oven temp back to warm or 200.
Mix the dry ingredients together in a medium bowl using a whisk.
Mix the wet ingredients together in a small bowl until well combined and the banana is smashed up.
Make a well in the flour mixture and pour the wet ingredients into it.
Stir until combined, there will be some lumps.
Spray waffle iron with non-stick spray.
Pour small portions of batter onto the waffle iron and cook according to instructions.
Notes
*We used gluten free all purpose flour to keep the recipe gluten free. To make this without keeping it gluten free, just use regular all purpose flour.
Category:

breakfast, brunch

Cuisine:

American
Nutrition
Serving Size:

6-8 waffles
Looking for more breakfast ideas? Try these:
Shop this recipe!
*These links are affiliate links. To read my affiliate policy click
here.