Puff Pastry Cheesecake Cups
Being the mom to a little girl is so fun. For Christmas, she got a play kitchen set and a miniature set of tables and chairs. We spend many of our afternoons having "cuppee" parties. You know instead of tea parties. Because Mommy is moderately obsessed with coffee. We sit at her tiny little table and she drinks her chocolate milk out of her little plastic cups, and I bring down cookies or treats. These days, she even dresses up for our tea parties, wearing a pink Easter bonnet and all of her plastic beads.
I love it. It is EXACTLY how I pictured having a daughter would be.
And in this crazy season of being a toddler mom, I try to hold onto it. These tea parties balance out the crazy moods and overall insanity that goes along with daily life with a 2 and a half year old. The crazy moods and insanity may or may not belong to me, not her. But I know, all too soon, these tea parties will be a thing of the past. And I know I will miss them so much.
So I want them to be special now. For her and for me. For Mother's Day this year, I want to do a "fancy" tea party. I want to get matching dresses and have special treats like these Puff Pastry cheesecake cups. I want to watch my little Goose eat these pillowy treats and get powdered sugar all over her face and giggle with her as she licks the pastry filling off her nose.
Fortunately Pepperidge Farm® Puff Pastry makes these cheesecake cups a snap to make and keeps the ingredient list super short. Seriously, you only need 5 ingredients to make this fancy little treat. The dough is perfection when baked with its light, flaky texture. Better yet, it's so easy to use. Just take it out of the freezer about 40 minutes prior to use and let it sit on the counter. Then go to town. For other ideas on how to use this versatile dough, check out these ideas here.
For these Puff Pastry cheesecake cups, I let the dough thaw. Then I cut the sheet of dough into 3 strips along the folds using kitchen sheers. I then folded each strip into thirds and cut along the fold line again to make squares.
To make the cup that hold the creamy cheesecake filling, I pinched the center of each side of the square in to make a pretty flower shape. To do this, hold the dough square and take the two opposite parallel sides of the square and just squeeze slightly. Repeat on the remaining to side. Place the flower shaped cup into mini muffin tins and bake away.
While the dough was baking to perfection, I whipped up the filling. It's so easy. Just marscapone cheese, powdered sugar, vanilla, and whipping cream. Mix it up, put in a piping bag and once the puff pastry dough is cool fill.
And then before you know it, you've got these gorgeous bites of dessert. Perfect Puff Pastry cheesecake cups for the perfect tea party with my favorite girl.
Looking for other cheesecake recipes? Try these:
Print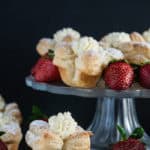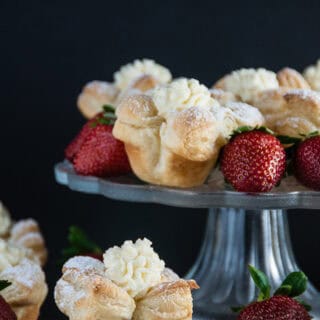 Puff Pastry Cheesecake Cups
---
Author:

Prep Time:

10 minutes

Cook Time:

6 minutes

Total Time:

16 minutes

Yield:

18

1

x
Description
Easy puff pastry cheesecake cups
---
1

package of Pepperidge Farm® Puff Pastry

8 ounces

of marscapone cheese, room temperature

3/4 cup

of powdered sugar, plus more for dusting

1/2 cup

of whipping cream

1 teaspoon

of vanilla extract
---
Instructions
Preheat the oven to 400.
Thaw the Puff Pastry Sheets on the counter until pliable and easy to work with. When the dough is thawed, cut it into strips along the fold lines. Fold each strip into thirds to make squares. Cut along the fold lines to make the squares. You should wind up with 18 squares in the package.
To make the cups, gently squeeze the two parallel sides of the square to pinch the opposite sides towards the middle. Repeat on the other side. Place each square into a mini muffin tin. Leave every other space in the muffin tin empty to account for the dough rising.
Bake at 400 degrees for 9-11 minutes or until the pastry is golden brown.
Remove from oven and let cool.
While the dough is cooling, put the cheese, powdered sugar, whipping cream, and vanilla extract into the bowl of a stand mixer. Whip together until fluffy peaks form, about 3 minutes. Spoon into a pastry bag.
If any of the centers have puffed up too much, press down lightly with a spoon. Pipe the cheesecake filling into the center of each pastry cup. Finish by topping with more powdered sugar. Garnish with a sliced strawberry or raspberries if desired.
Category:

dessert

Cuisine:

American
Shop this recipe!
*These links are affiliate links. To read my affiliate policy click
here.