Learn how to make strawberry topping for cheesecake with this easy recipe. With only 3 ingredients, you'll be whipping this up and spooning it onto cheesecakes, other desserts, and even on waffles and pancakes all the time!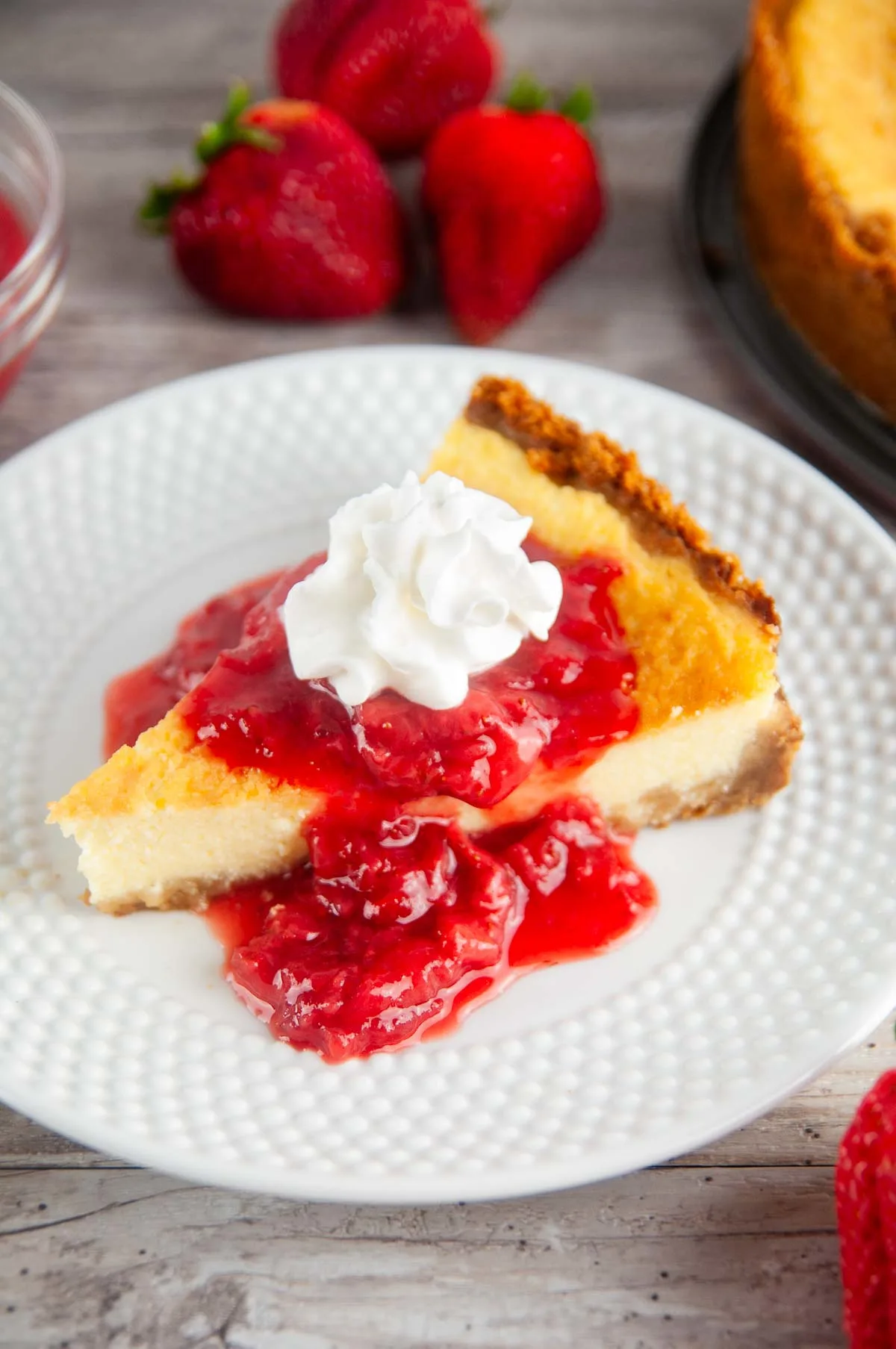 Post may contain affiliate links. As a member of the Amazon affiliate program, I may earn a small commision from qualifying purchases. To read my affiliate policy, click here.
The only thing better than a big old slice of cheesecake?
A slice of cheesecake smothered in strawberry topping, obviously!
It's super easy to make with every day ingredients and tastes a million times better than anything you could buy in the store.
Of course this strawberry sauce isn't just fantastic on cheesecake but is amazing on ice cream or even spooned over waffles or pancakes!
Yum!
Ingredients and Kitchen Supplies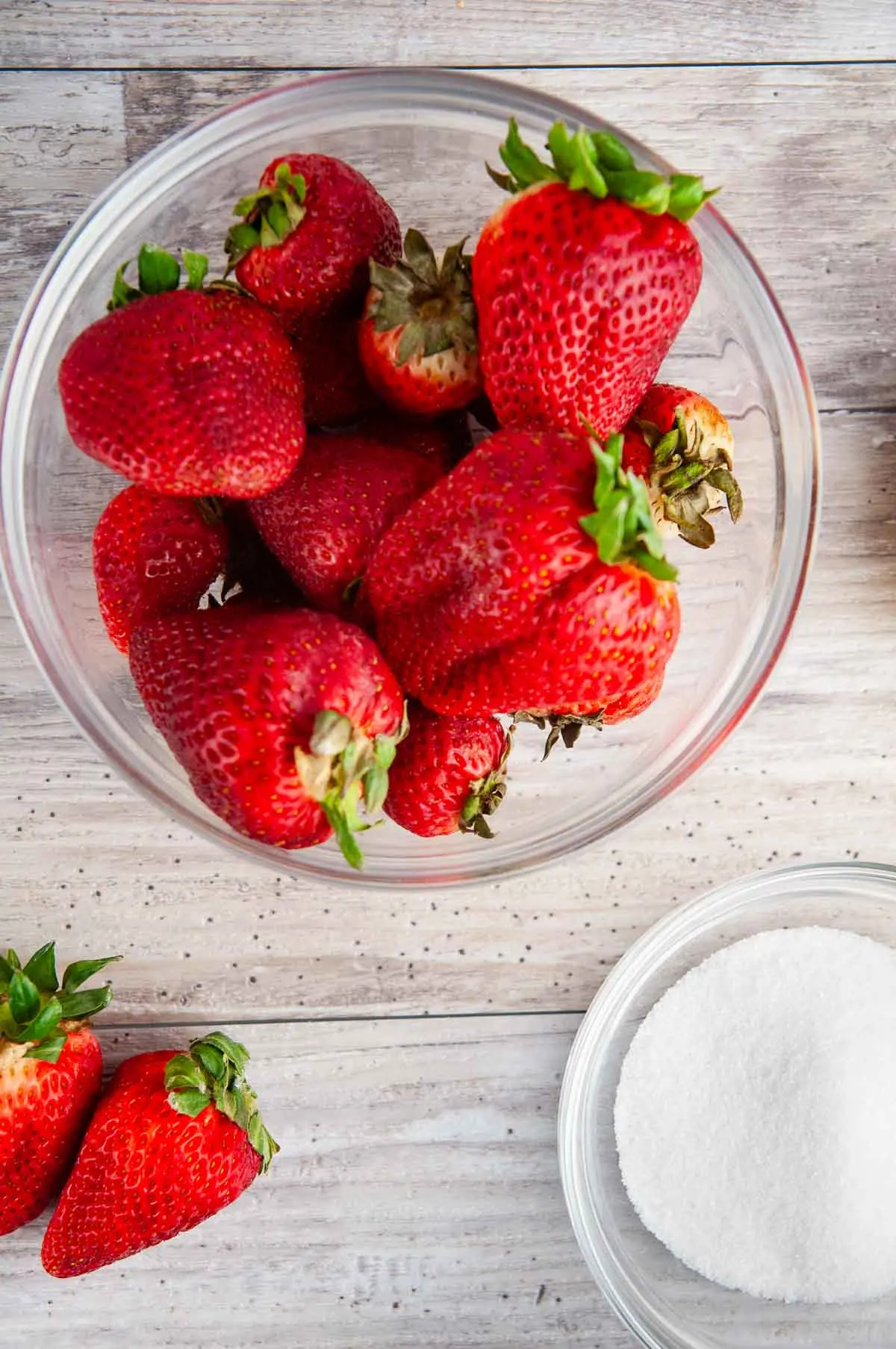 To make this strawberry topping, you'll need:
Strawberries– Hulled and sliced
Sugar– Granulated
Lemon juice
You'll also need a few basic kitchen supplies including:
Strawberry huller– It's not necessary but it does make removing the tops of the strawberries easier.
Knife and cutting board
Sauce pan
Sturdy wooden spoon
Potato masher or immersion blender– Both of these are optional and will result in different textures of topping. More on that below.
How to Make
1. Hull the strawberries and slice the strawberries.
Either slice the tops of the washed strawberries off with a knife or use a strawberry huller.
Cut the strawberries into slices.
2. Cook the strawberries.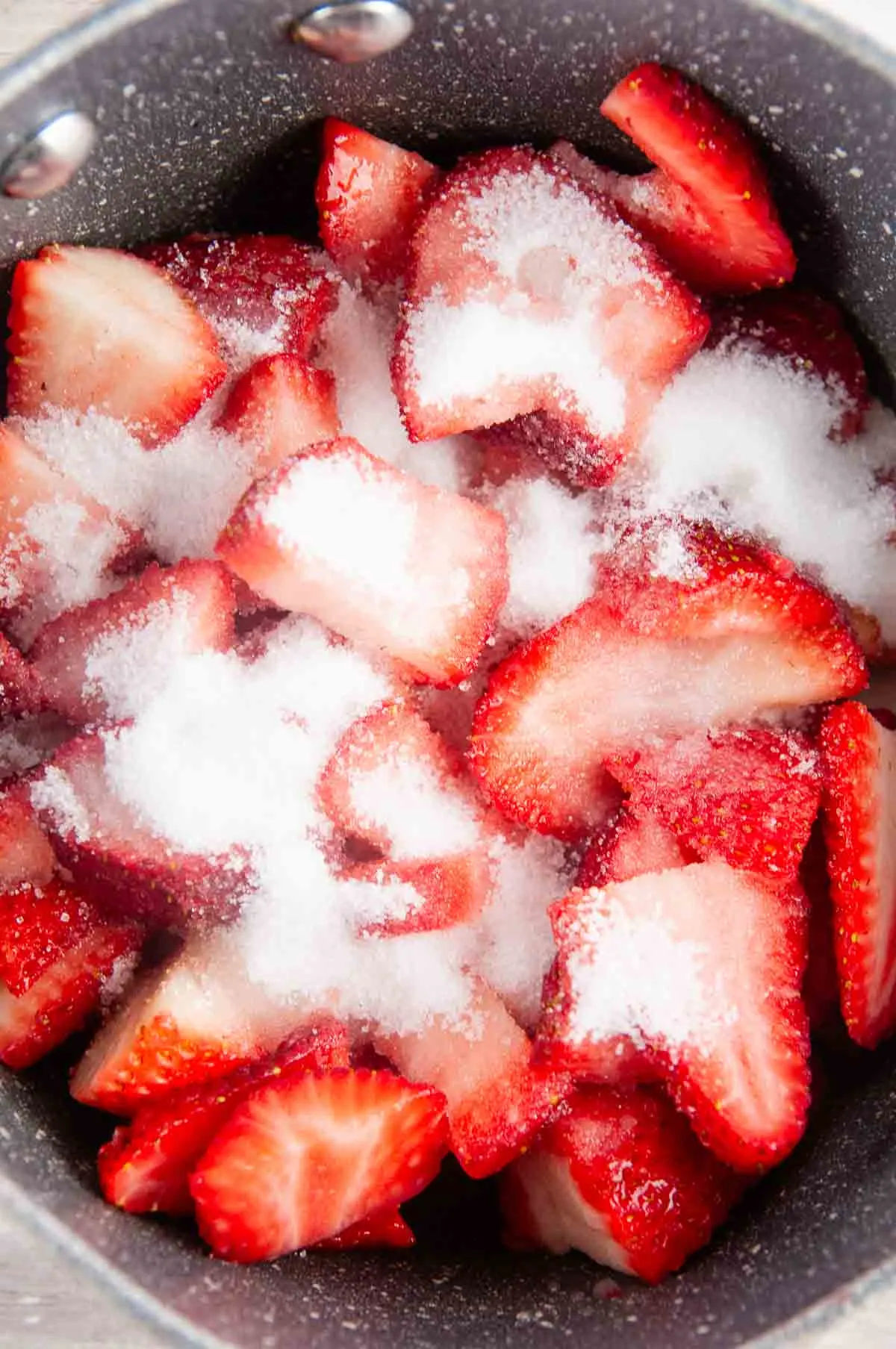 Add the sliced strawberries to a sauce pan with the sugar and the lemon juice. Cook them over medium low heat, stirring often.
3. Lightly mash the strawberries.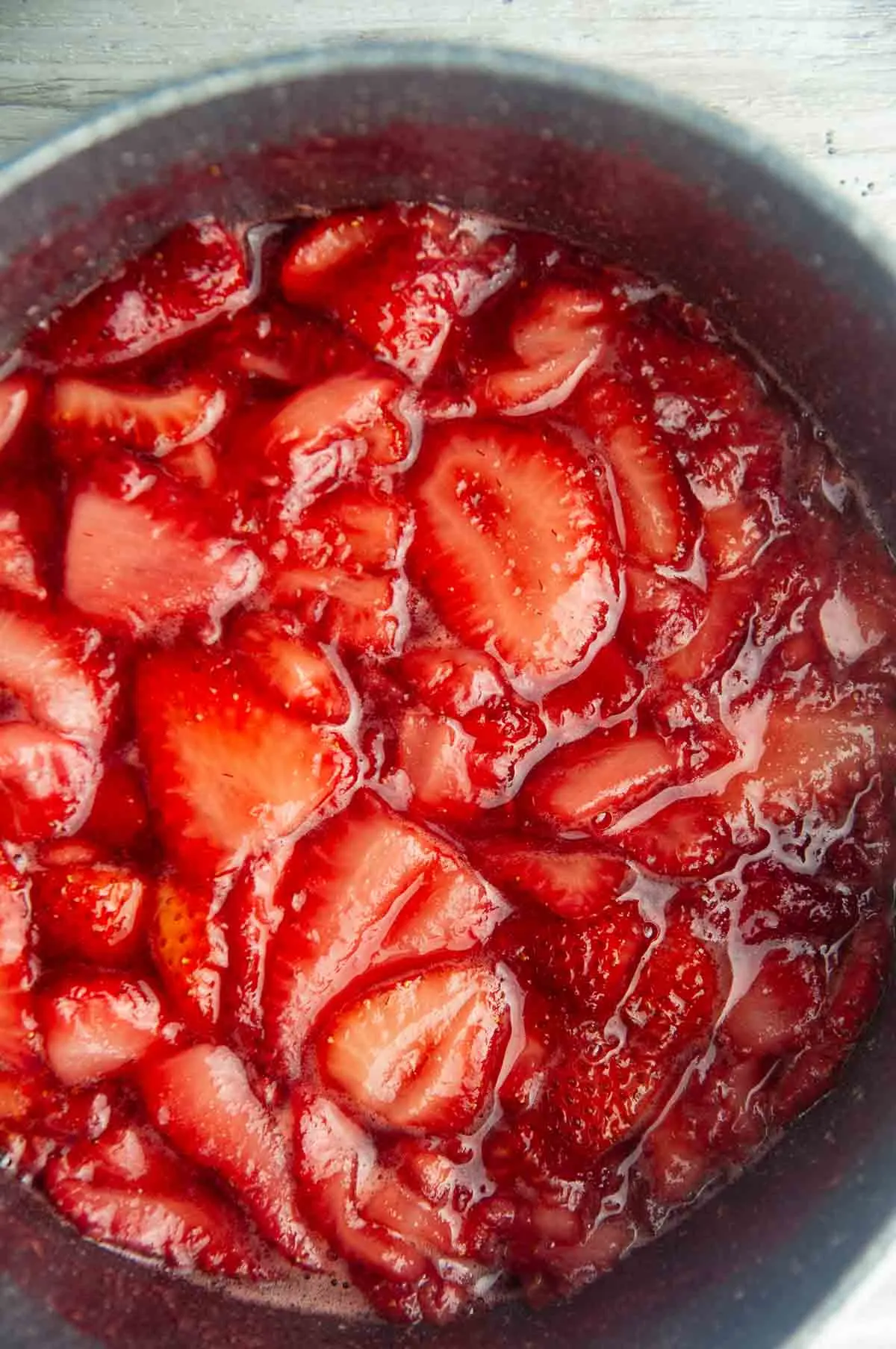 Once the strawberries release their juices and the sugar dissolves, remove the strawberries from the heat. Use a sturdy spoon or potato masher to lightly mash the strawberries.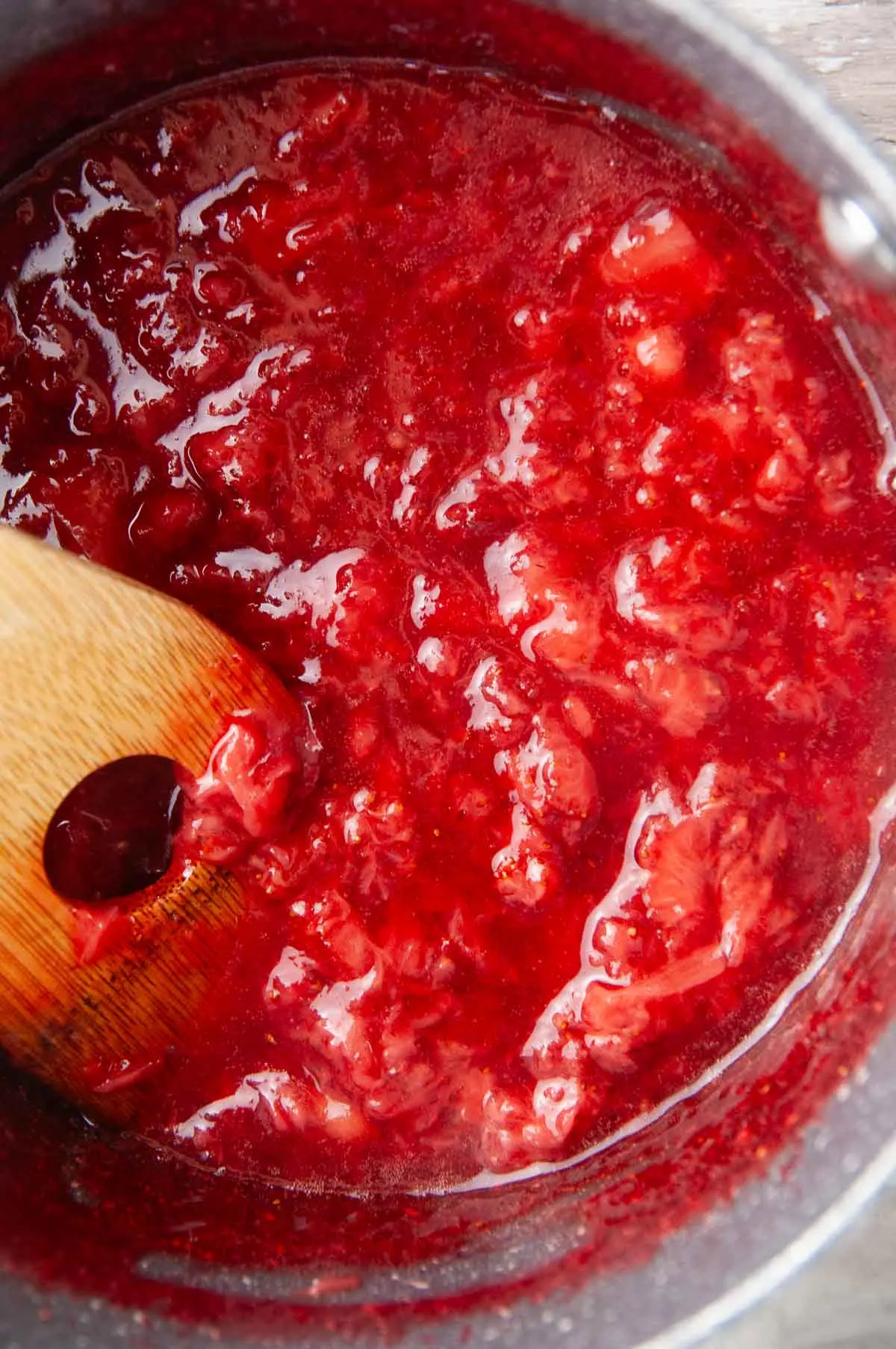 4. Let cool and enjoy!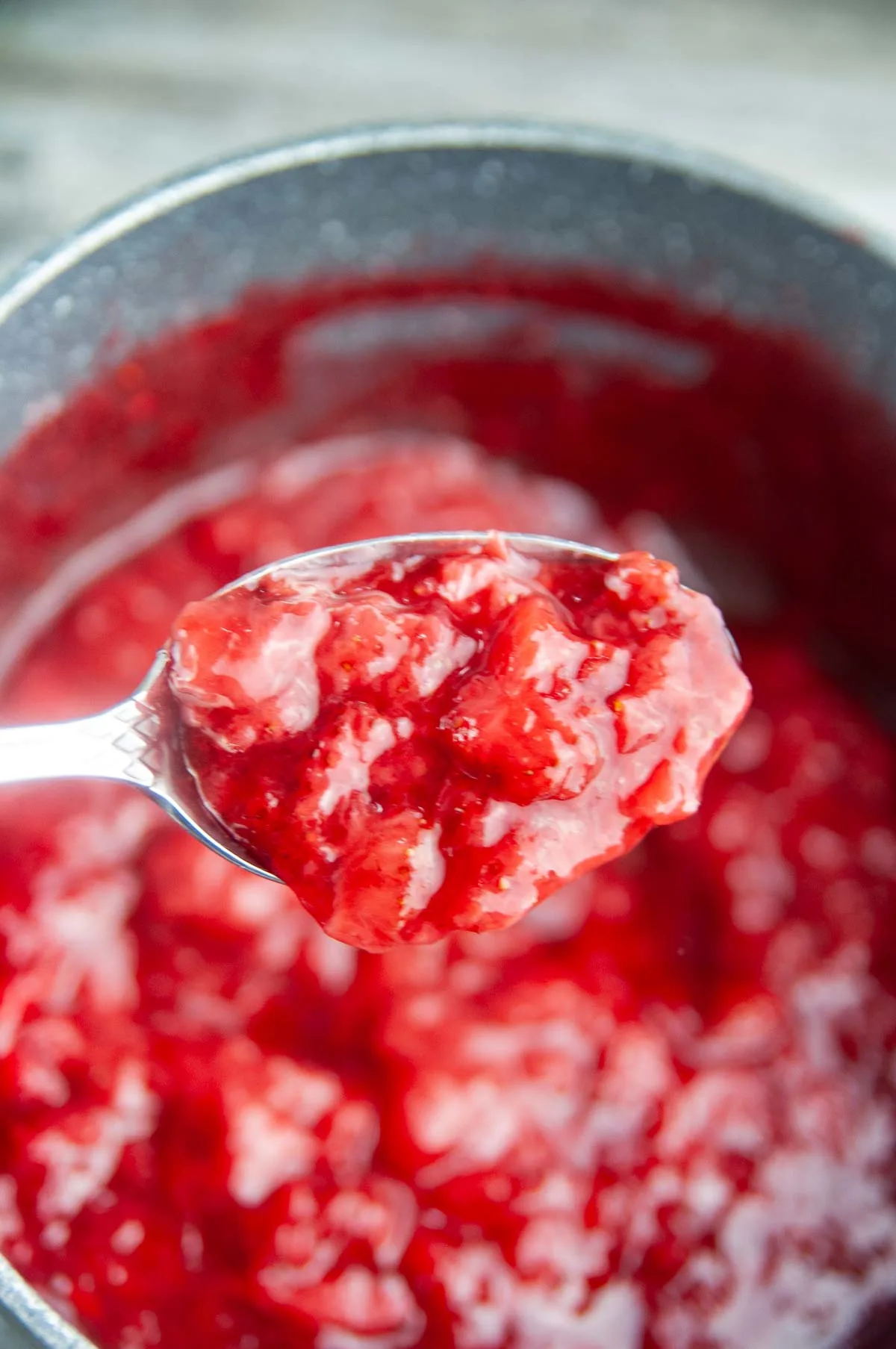 When you have mashed the strawberries to your desired consistency, keeping in mind that they will thicken more as they chill, let them cool. Refrigerate for 4 hours or until chilled and serve on cheesecake.
Storing
Store strawberry cheesecake topping in a sealed jar in the fridge.
It will last about 7 days.
Can I make strawberry topping from frozen strawberries?
Yes!
In fact if strawberries aren't in season or aren't a good price, frozen strawberries work beautifully for this!
To use frozen strawberries, make sure you buy strawberries that aren't presweetened.
Make the topping as described above, but you don't have to worry about slicing the strawberries even if they are hulled but otherwise whole.
Cook them on the stovetop over medium heat with the lemon juice and sugar until they release their juices and are soft.
Mash them to your desired consistency, keeping in mind you may have to mash them a bit more if you used whole frozen strawberries.
What else can I put strawberry topping for cheesecake on?
Obviously it is fantastic on cheesecakes.
My favorite cheesecakes to put it on include:
Outside of cheesecake, you can spoon this strawberry topping on so many desserts like:
ice cream
chocolate cake
heck, vanilla cake!
And don't forget to try this strawberry topping on sweet breakfast foods like:
Tips and Tricks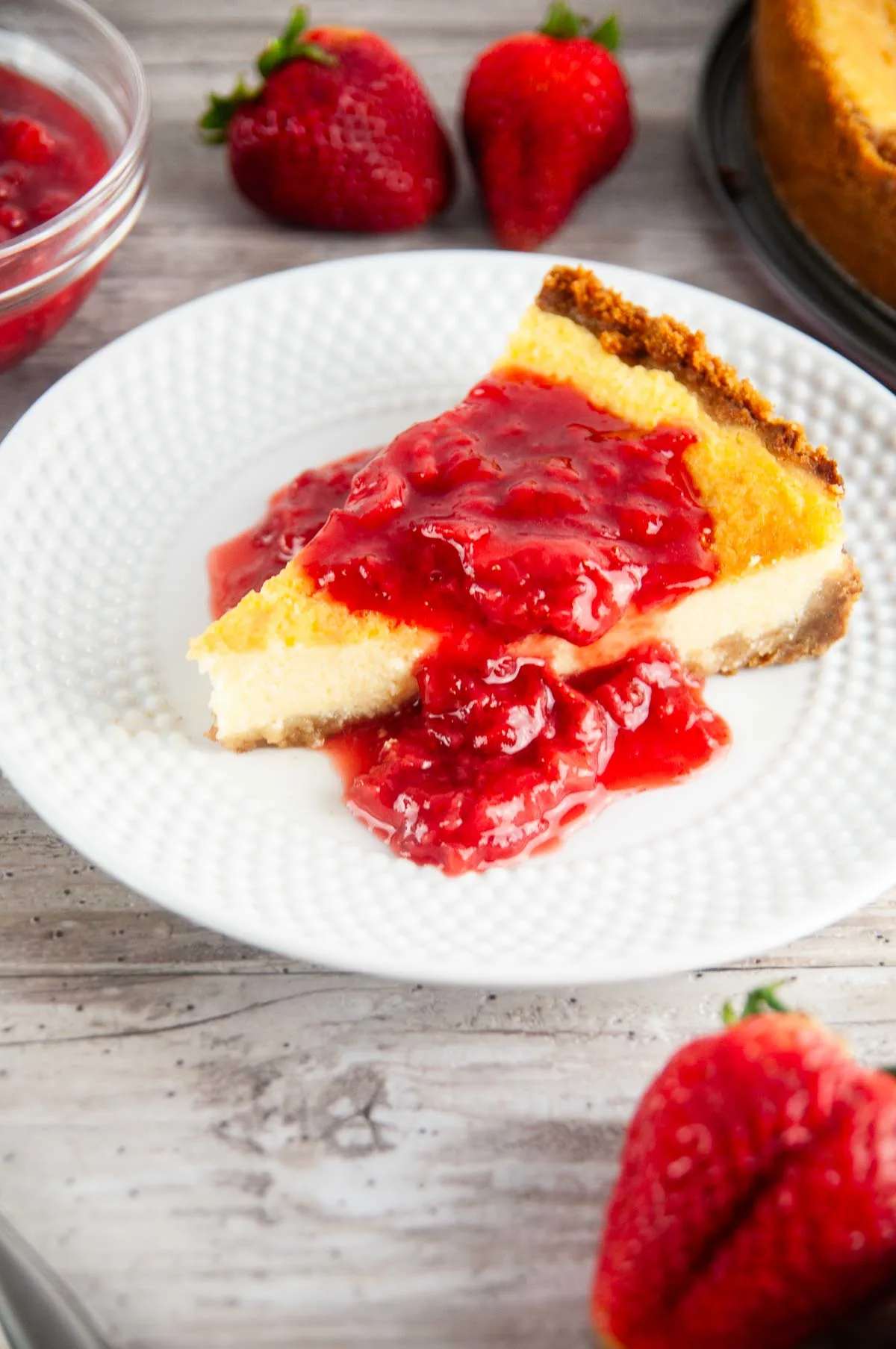 If you want this to be more of a strawberry sauce, you can use an immersion blender or food processor to puree the mixture.
You could use almost any berry to make a similar topping.
Don't skip the lemon juice! It helps the berries break down.
Did you make this? Let me know!
Did you make this strawberry topping for cheesecake or any other recipe on my site? Leave me a comment below and let me know how you liked it. And make sure you follow along with me on Facebook, Pinterest and Instagram to see everything we've got going on.
Strawberry Topping for Cheesecake
Total Time:
4 hours
15 minutes
Learn how to make strawberry topping for cheesecake with this easy recipe. With only 3 ingredients, you'll be whipping this up and spooning it onto cheesecakes, other desserts, and even on waffles and pancakes all the time!
Ingredients
1 pint of fresh strawberries, hulled and sliced
1/3 cup of granulated sugar
1 tsp lemon juice
Instructions
Add the sliced, hulled strawberries to a saucepan with the sugar and lemon juice.
Cook over medium low to medium heat, stirring often.
Keep cooking until the berries release juices.
Once the berries give off juice, mash some of them with a spoon or a potato masher.
Let the mixture continue cooking until the sauce thickens.
Let it cool.
Serve over cheesecake or other baked goods or sweet breakfast treats!
Enjoy!