I should have been a Golden Girl. I mean aside from the fact that I was Goose's age or younger when the show first air, I would have been a shoe in for a part especially if a love of cheesecake is a requirement. And you know, I love all things cheesecake from berry to chocolate to popsicles. But I really love this No Bake Italian Cheesecake.
Why? Well, to start. No bake. That's a no brainer with the crazy heat and humidity we've been having lately. There's no hot oven to heat up my not air conditioned house to the state of a sauna.
Number 2. It's so easy. Like ridiculously so. I made this cheesecake on a day when Goose was a hot mess and breakfast failed miserably. There was no nap. There were so many tears. Hers, mine, and my husband's. It was bad. Then I made this no bake Italian cheesecake and it wasn't so bad anymore. Just licking the beater made me happier.
Especially since Goose was distracted by putting stickers on the dog and didn't demand a lick. More for Mama, you know? And any day that I don't have to hide in the bathroom with my stash of sweets is a win.
Then there's the Italian factor. How is it Italian? Easy peasy. Instead of cream cheese I used smooth marscapone and creamy ricotta. Yum. Plus it's sort of a deconstructed cannoli. Or cannoli dip in a pie. Just thinking about cannoli dip in a pie aka No Bake Italian Cheesecake is making me hungry.
And lastly, let's talk about the crust. Super fast and easy, I made the crust out of Chocolate Chex to keep it gluten free. Feel free to use a graham cracker crust if you prefer or any premade store crust. But I do love a good Chex crust. I pretty much followed the same crust recipe I used in my No Bake Stovetop Blueberry pie just with different Chex. Well, let me tell you, Chocolate Chex may just be the baby whisperer.
It's amazing what Goose will do for Chocolate Chex. And totally amazing the way this stuff can stop a tantrum in its tracks. I wonder how long this will work…
Print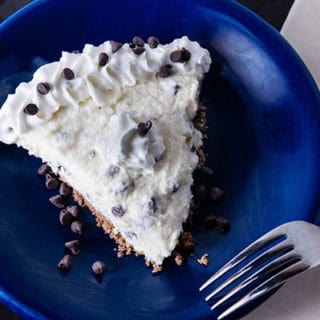 No Bake Italian Cheesecake
---
Prep Time:

10 minutes

Cook Time:

4 hours

Total Time:

4 hours 10 minutes

Yield:

8

slices

1

x
16 ounces

of marscapone cheese, room temperature

1 cup

of heavy cream, cold

1 cup

of ricotta cheese

1 cup

of powdered sugar

1 tablespoon

of vanilla

1 1/2 cups

of mini chocolate chips
For the crust
4 cups

of Chocolate Chex

3

–

4

tablespoons of melted
---
Instructions
Pulse together the Chocolate Chex and the melted butter until the mix resembles coarse sand. Press it into a greased pie dish. Set aside.
In a stand mixer, whip the marscapone cheese until it is fluffy. Add the heavy cream and continue whipping until it is fluffy. Whip in the ricotta cheese, powdered sugar, and vanilla. When the ingredients are combined, gently fold in the chocolate chips. Pour onto the crust.
Refrigerate for 3-4 hours prior to serving to set. Garnish with whipped cream and extra chocolate chips if desired. Enjoy!