Have I told you how much I love raspberry cheesecake anything? It is pretty much my everything. I mean, food wise, not life wise. But really, it's the most perfect combo of flavors for me ever. I have friendships formed solely on my love of raspberry cheesecake ice cream. Close friendships. So maybe raspberry cheesecake really is everything life wise too. These raspberry cheesecake popsicles could do the same and be the basis of some close friendships.
Ok, so if they can't form friendships based on their deliciousness, they can get my teething toddler to eat a somewhat healthy meal. Though I have told you she is normally a great eater, it's been touch and go lately. She is cutting 5 teeth all at once right now. Go big or go home you know?
And yes, these raspberry cheesecake popsicles actually qualify as healthy while being so dang delicious. They are a mind blowing little treat like that. Are you ready for this? They are pudding pops but made with healthy Greek yogurt.
Yep. Let that sink in. Creamy, delicious pudding- that's the cheesecake flavor- with a healthy, protein packed Greek yogurt base.
I totally don't feel bad having these for breakfast. I am all about eating cheesecake for breakfast. I also feel like an awesome mommy feeding these to my Goose.
It definitely makes up for the times I catch her eating things like crayons or diaper rash cream. Yeah, that's happened. Possibly on more than one occasion. Words I never thought I'd say, "No, we don't eat the Butt Paste in this house."
But really, these bites of deliciousness are an amazing summer treat. The creamy cheesecake pudding yogurt base and the sweet tartness of the raspberries goes together so well. And they are really easy to make. Prep for these takes less than 10 minutes. And as an added bonus, you can totally lick the spoon and eat the yogurt pudding cheesecake base as you go.
I definitely did. And the base was just as good not frozen as it is frozen into popsicle form.
Print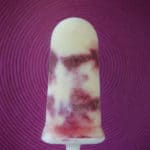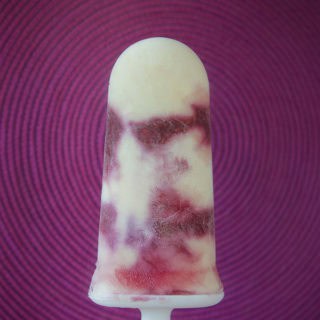 Raspberry Cheesecake Frozen Yogurt Popsicles
---
1

package of sugar free, fat free cheesecake pudding mix

1 1/4 cup

milk

1 cup

of plain Greek yogurt

2 tablespoons

of honey

1 teaspoon

of vanilla
For the Raspberry Swirl
1 cup

of frozen raspberries

1 tablespoon

of honey
---
Instructions
In a small sauce pan over medium heat, warm the raspberries in a sauce pan until the give off liquid. Add honey and mash with a fork until they are syrupy. Set aside.
In a medium bowl mix together, 1 cup of plain Greek yogurt, 1 1/4 cup of milk, 1 package of cheesecake pudding mix, honey and vanilla. Let begin to set.
Spoon 2 spoons of the base mixture into a popsicle mold, followed by one spoon of raspberries. Repeat until the molds are full. Pop the stick and bottom of the mold on and then put into the freezer and allow the popsicles to set until frozen- at least one hour.
To release them from the mold, run the mold under warm water and slide it off. Enjoy!