Pineapple Habanero Salsa is full of fresh, spicy heat and tangy, sweet fruit flavor. This zesty salsa is perfect for dunking chips or topping tacos, grilled chicken or shrimp, or salads.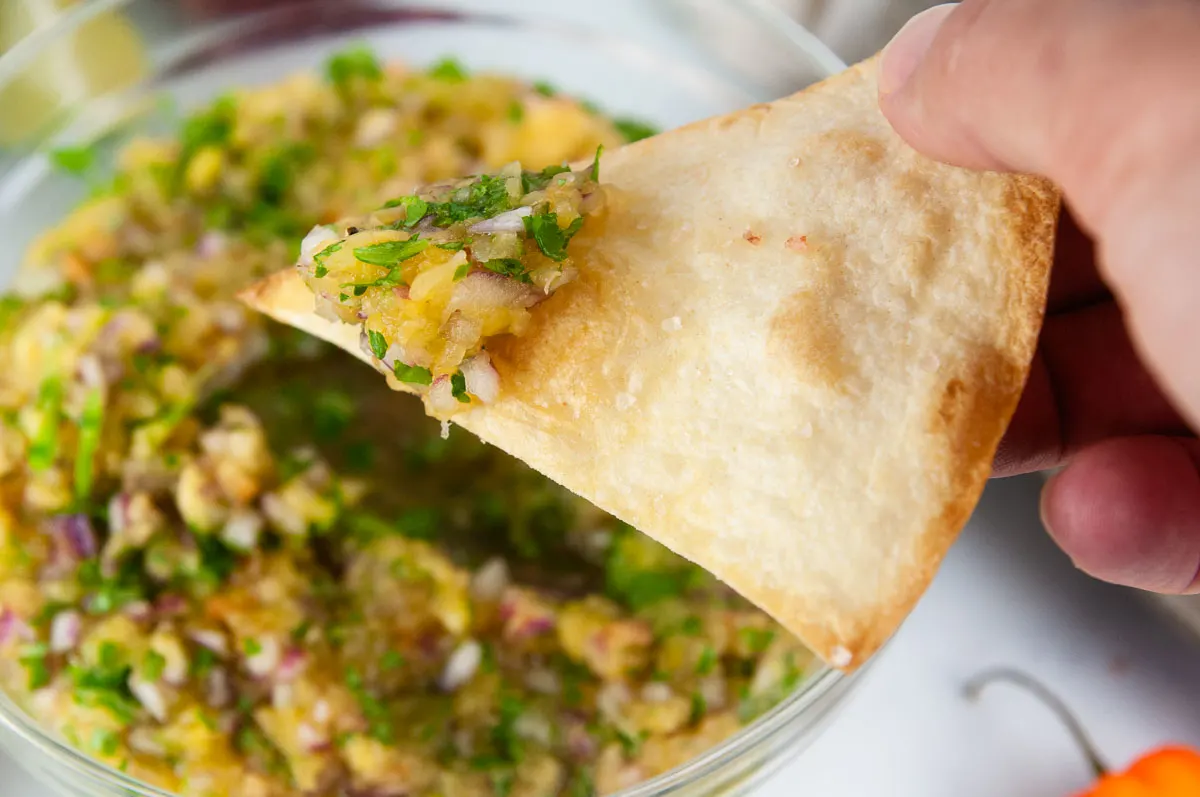 Post may contain affiliate links. As a member of the Amazon affiliate program, I may earn a small commision from qualifying purchases. To read my affiliate policy, click here.
There's a local burrito place that makes all kinds of fresh salsa.
They have it out in a self serve bar and there's always hot, mild, verde, and then some sort of more interesting variety.
One of my favorites is their pineapple salsa.
Their version is so good, I could eat it by the spoonful and always load my plate up with it and make sure I get a ton on the side to dunk my chips into.
It's so fresh tasting- totally different from the red tomato salsas we all know.
And my version of pineapple salsa with a zesty habanero kick is a take on that salsa: fresh, sweet, spicy, and tangy.
It's the perfect homemade dip in warm weather and fantastic on top of grilled chicken, shrimp, and salmon.
And let's talk about how yummy homemade tortilla chips or Easy Chicken Taquitos are dunked into this.
It's the perfect snacky solution anytime.
What is pineapple salsa made of?
Unlike other salsa recipes, which are tomato based, pineapple salsa is, well, pineapple based.
This pineapple habanero salsa uses a whole pineapple, about 4.5 cups, red onion, a habanero, fresh herbs, and lime juice.
There's not a tomato in sight.
Ingredients and kitchen tools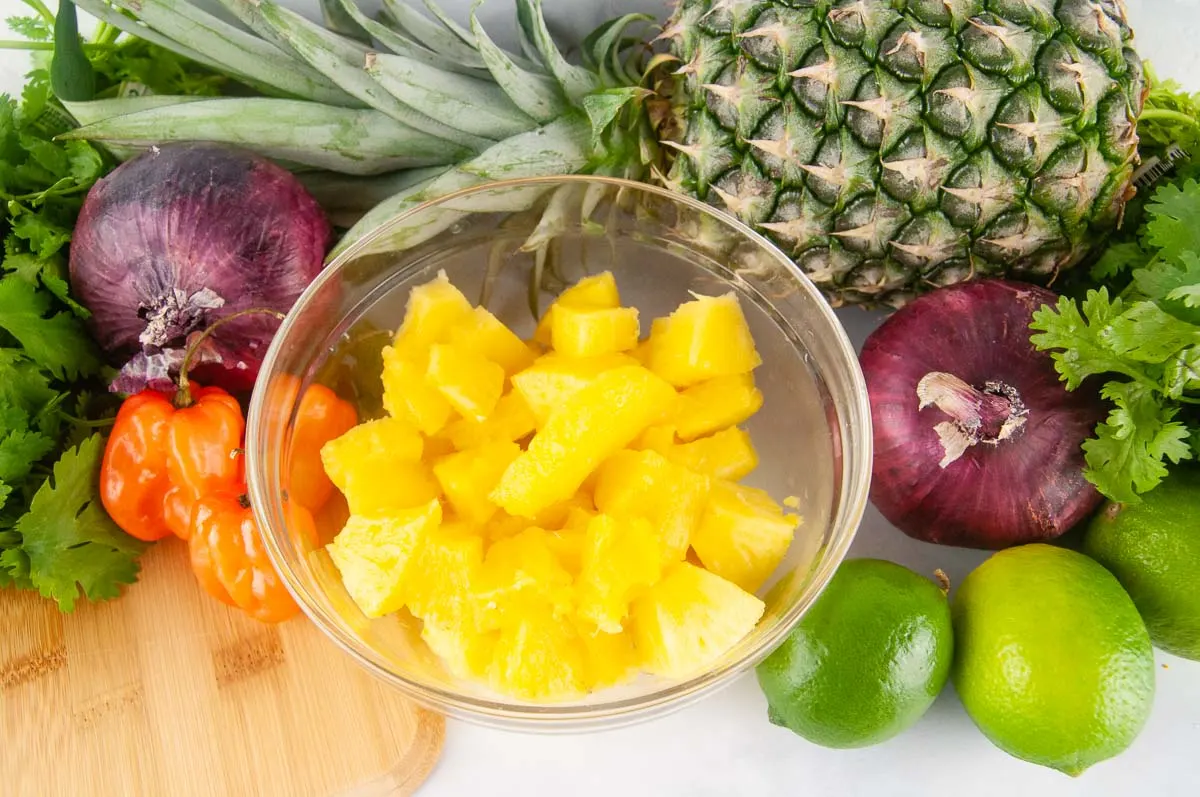 To make this, you'll need:
Pineapple– 1 whole pineapple cored and chopped.
Red onion– Go for red onion over white or yellow for a more mild onion flavor. 1/4 of a red onion
Habanero– 1 orange habanero, seeded
Fresh Herbs– About a quarter cup of fresh cilantro. Not a fan of it? Feel free to substitute fresh parsley.
Lime juice– The juice of 1 lime.
I've also found it helpful to have these tools: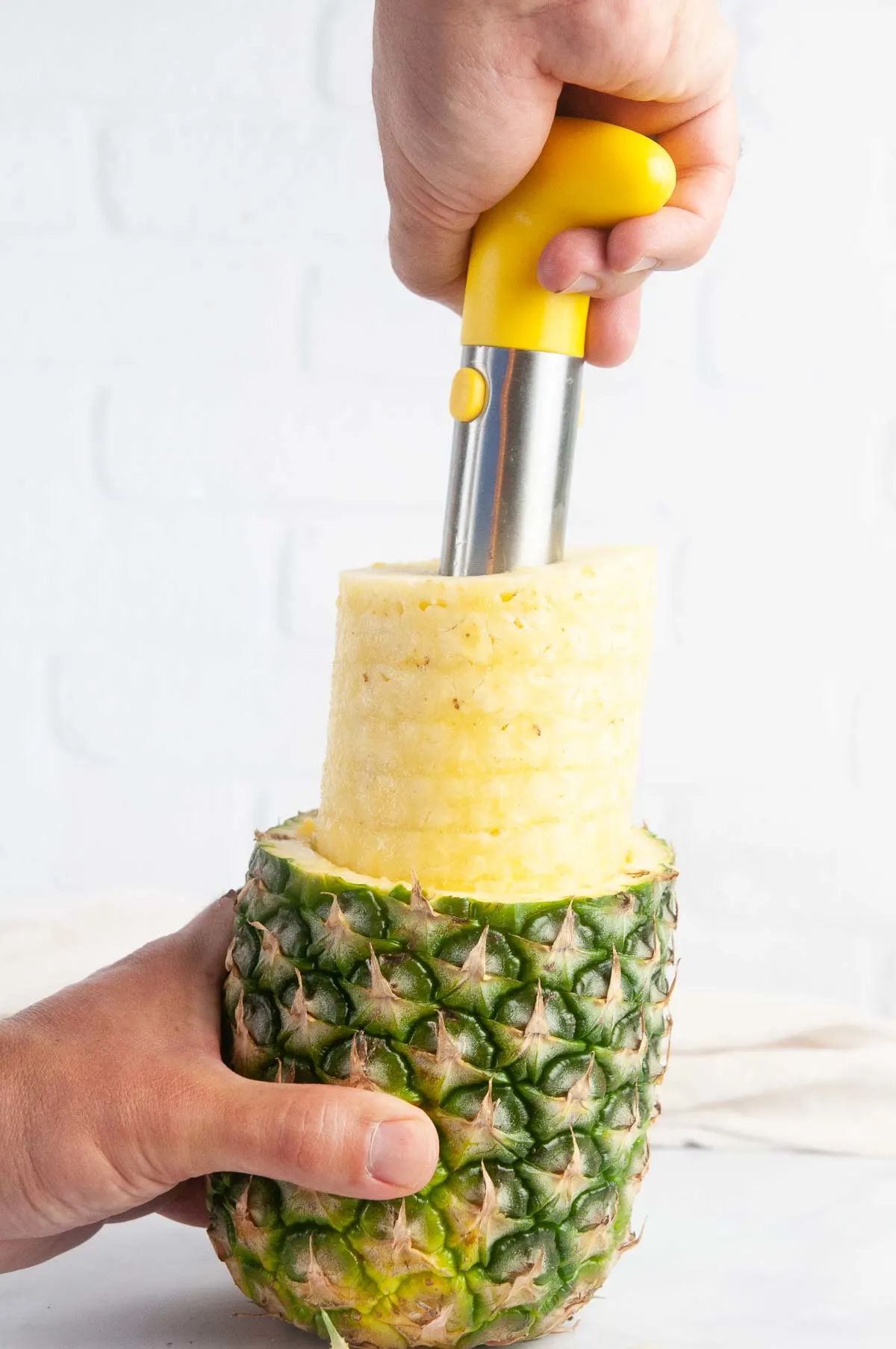 How to Make
1. Prep the ingredients.
Core the pineapple and cut it into chunks and cut the habanero, removing the seeds and ribs.

2. Put it all in a food processor and pulse until at your desired consistency.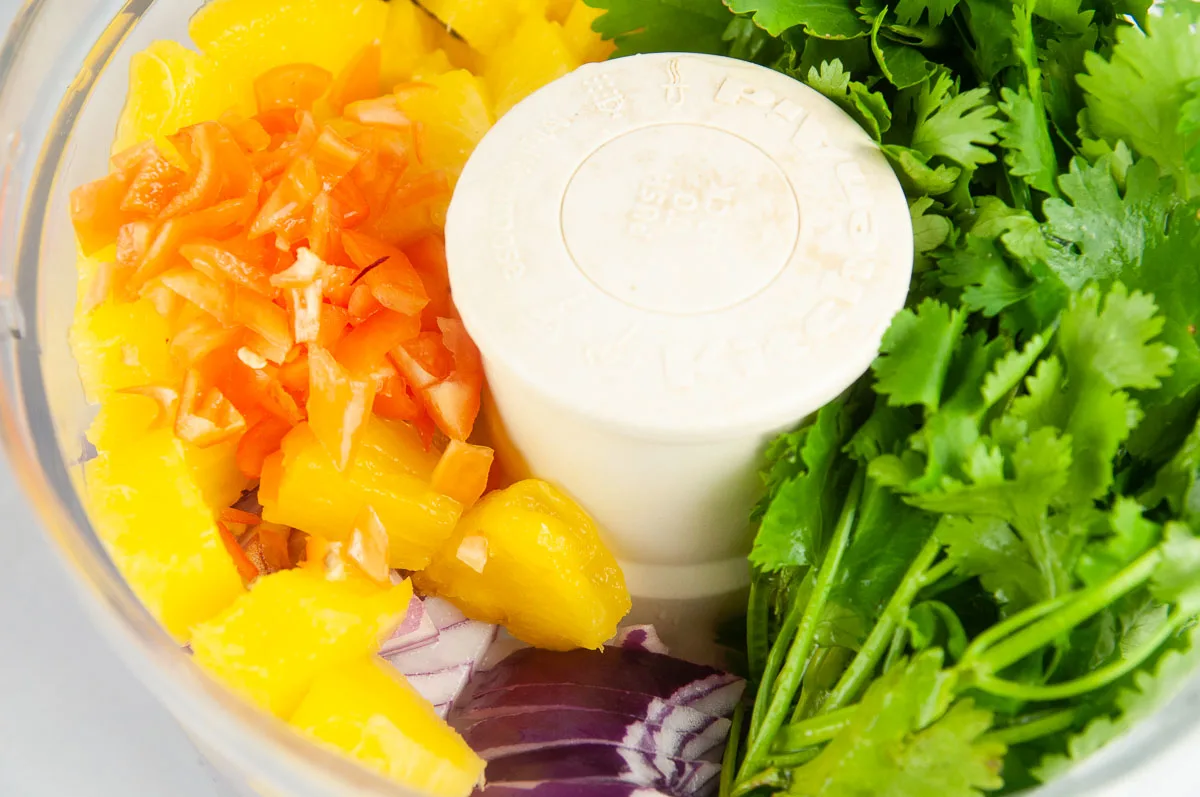 Pulse and then serve and enjoy!
Is pineapple habanero salsa spicy?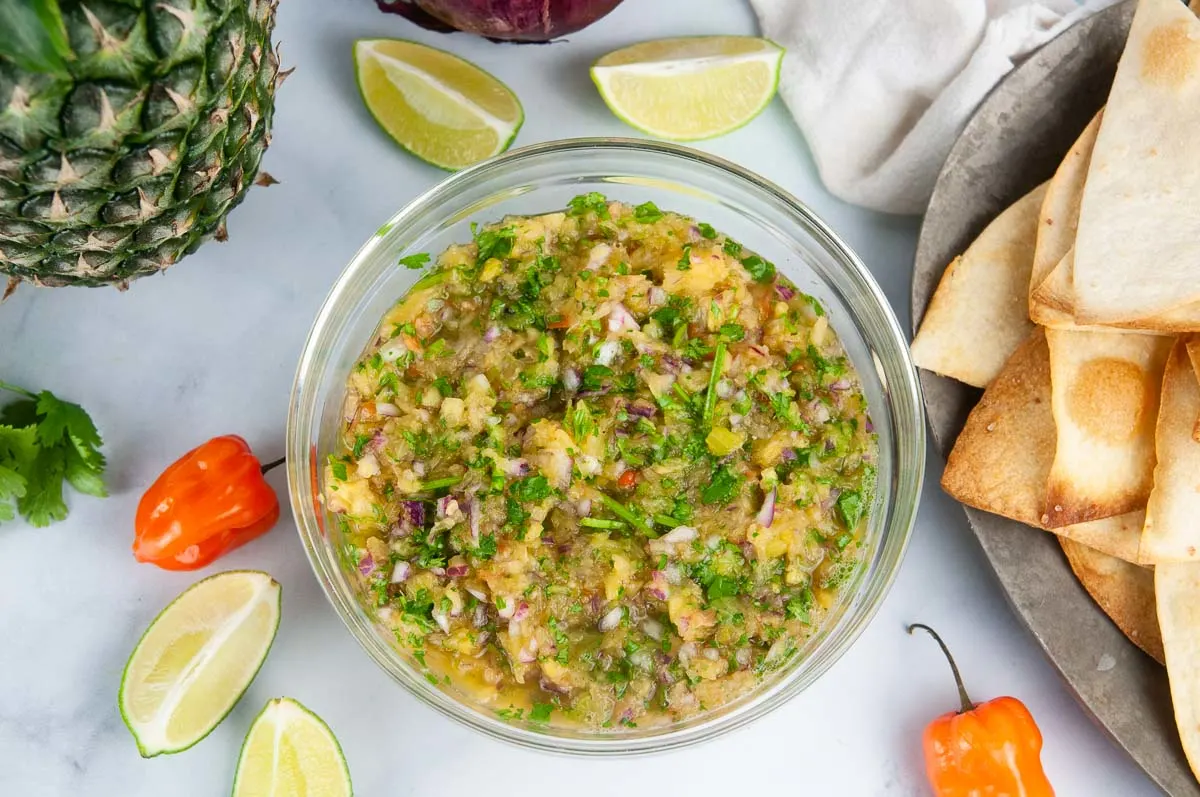 Habanero peppers themselves are about 100 times spicier than a jalapeno pepper so this salsa as made does have a kick to it.
As a person who loves hot and spicy food, I don't think it's extra spicy since you remove the seeds and the ribs of the pepper, which is where most of the heat lies.
I hate spicy food. Can I make this pineapple salsa mild?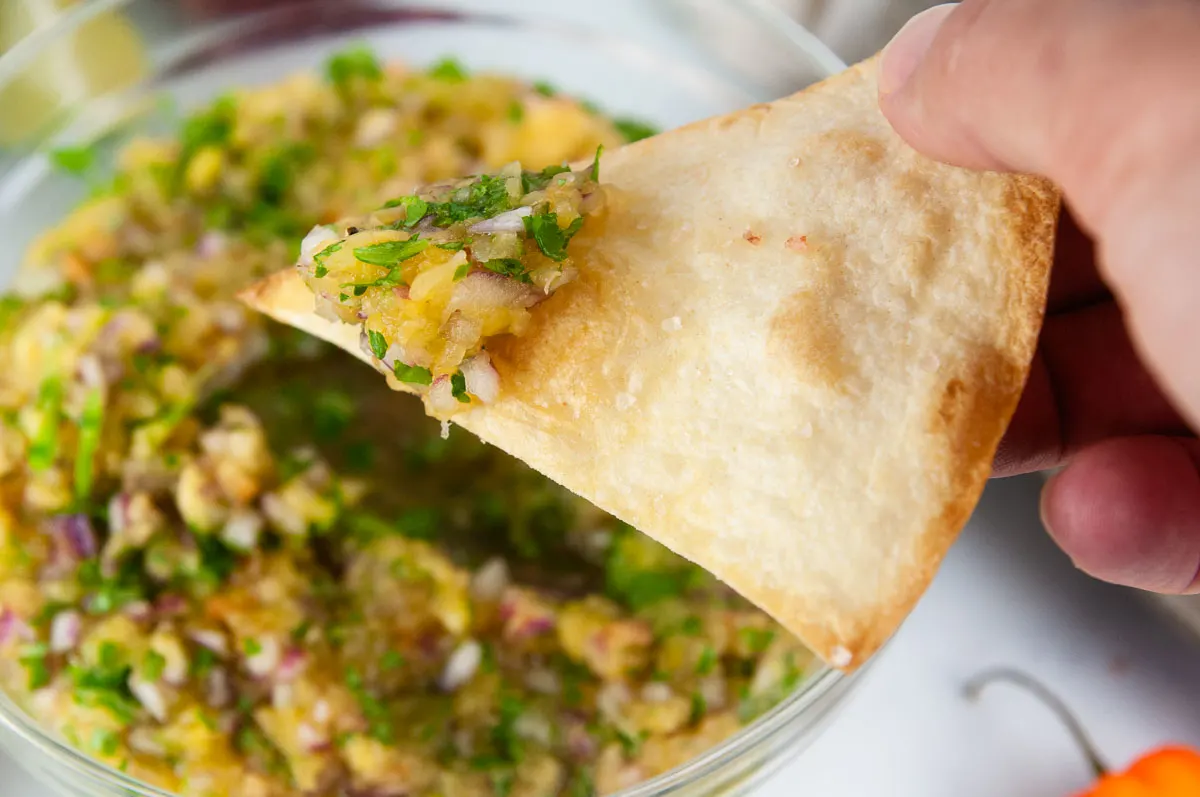 Yes, you can adjust the spice to your liking.
You have a few options:
For a medium spicy salsa: Use a quarter to half of the habanero, making sure you've removed the seeds and ribs. You could also substitute a portion of seeded jalapeno.
For a mild salsa: Omit the pepper altogether.
For extra spicy: Add an extra habanero and eat if you dare!
Storing Leftovers
Store leftovers in an airtight container in the fridge for up to 4 days.
Serving Suggestions
This is delicious as a dip for homemade tortilla chips.
I also love it on:
tacos
burritos
nachos
grilled chicken
shrimp
salmon
as a topping on salads
Tips and Tricks
Be very careful handling the habanero. I can't stress this enough. Do not touch your eyes after you cut the pepper. It will hurt a lot.
Don't have a food processor? No problem. Just dice the fruit and veggies into roughly equal sized shapes and toss them together.
If you are using a food processor, no need to cut things too carefully. Just chunk up the fruit and veggies and toss it into the food processor and let the machine work its magic.
For a sweeter salsa, roast or grill the pineapple first. The pineapple will caramelize and it will be amazing.
Other Homemade Salsas and Dips
This pineapple habanero salsa is so yummy on chips and grilled meats and fish. Make it and enjoy!
Looking for other homemade salsas and dips? Try these:
Did you make this pineapple habanero salsa or any other recipe or project on my site? Leave me a comment below and let me know how you liked it. And make sure you follow along with me on Facebook, Pinterest and Instagram to see everything we've got going on.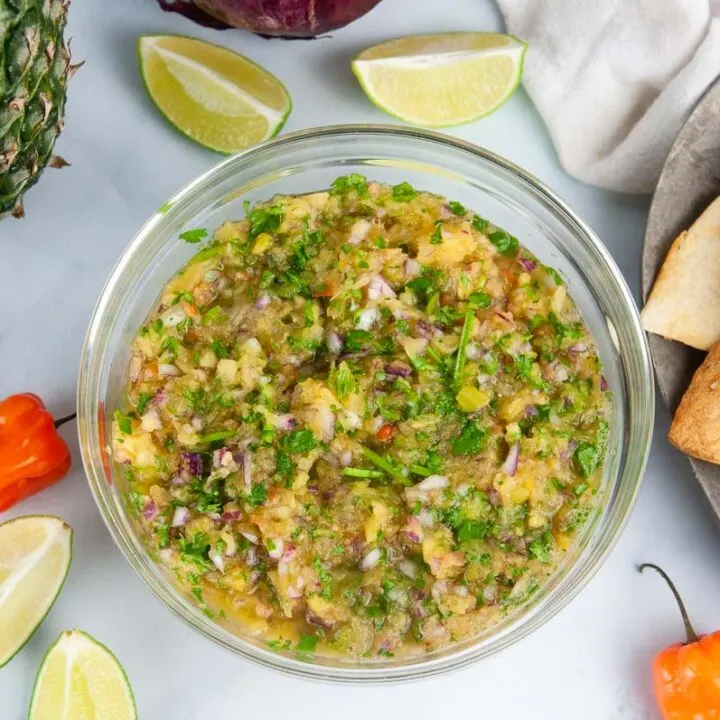 Pineapple Habanero Salsa
Yield:
about 6 cups of salsa
Pineapple Habanero Salsa is full of fresh, spicy heat and tangy, sweet fruit flavor. This zesty salsa is perfect for dunking chips or topping tacos, grilled chicken or shrimp, or salads.
Ingredients
1 pineapple (about 4-4.5 cups) cored and chopped.
1/4 red onion
1 Habanero, seeded
Fresh Herbs- About a quarter cup of fresh cilantro or fresh parsley if you don't like cilantro.
The juice of 1 lime
salt and pepper to taste
Instructions
Prep the pineapple by peeling, coring, and cutting it into rough chunks.
Put the pineapple into the food processor along with rough chopped onion, the seeded habanero, fresh cilantro, and lime juice. Pulse everything until it reaches the desired consistency.
Give it a taste and season with salt and pepper as desired. Serve and enjoy!
Nutrition Information:
Yield:

4
Serving Size:

1
Amount Per Serving:
Calories:

6
Total Fat:

0g
Saturated Fat:

0g
Trans Fat:

0g
Unsaturated Fat:

0g
Cholesterol:

0mg
Sodium:

39mg
Carbohydrates:

1g
Fiber:

0g
Sugar:

1g
Protein:

0g