Crockpot Cheesy Buffalo Chicken Dip
I have the best husband in the world. It's not open for debate. It's a fact.
Why do I say this? Because, not only am I not a football person neither is he. Football is just not a thing in our house. Neither of us get it, and neither of us watch it on tv or go to games. And this suits me perfectly. In years past, pre Goose, rather than do anything sports related on Superbowl Sunday, we'd go to see a movie.
And I won't lie, most of the time the movie we'd see would be some sort of fluffy chick flick that I would thoroughly enjoy, and Nate would basically tolerate. Not that he doesn't like some chick flicks. He introduced me to When Harry Met Sally, which might be one of my top 5 favorite movies of all time. And, we did go through a phase where we watched How to Lose A Guy in 10 Days over and over to the point where we quote it in daily conversations.
I know. Sad. But totally 100 percent awesome too.
So what does this have to do with this crockpot cheesy buffalo chicken dip?
Great question.
A few years ago, we went to our first Superbowl Party. I'll be honest. I wasn't super thrilled, but my good friend lured me there with the promise of wings and dip. I was sold. It was then that I had an epiphany of sorts. Superbowl Sunday doesn't have to be about the football. It can be about the food and that is just fine by me. Because really, I don't care about football.
Most of the time. There was one time, however, when Nate and I were visiting my aunt in Pittsburgh. We were there to go to a play in this beautiful, old theater out there. Seriously, this theater- the Benedum- has so much charm and character. The interior is very vintage complete with a crystal chandelier and very ornate ceiling. It's an experience and as fun to go there as it is to go to a Broadway show. Anyway, we were there the last weekend of the playoffs and the Steelers were in the playoffs that year. We had gone to a sports bar for dinner before the show so my aunt could watch the game. The whole city had their Steelers stuff out in full force, complete with Terrible Towels and all. The atmosphere was electric. The game was close. There was no telling who was going to win.
We were seated about 10 minutes before the show started. People in the theater weren't dressed up, the way you might expect for a performance. Instead, almost everyone had on Steelers swag. Considering the theater was crowded, the crowd was pretty quiet. Then, all of the sudden, cheers rang out through the theater and the audience was on its feet. No, the lights hadn't dimmed and the show hadn't started. The Steelers had won the game and were going to the Superbowl.
That was the only time I have ever kind of cared. Because it was so neat the way the whole city had gotten into it.
Other than that, I need to be bribed to care about football with food. Like wings or this crockpot cheesy buffalo chicken dip.
It's no secret that we love spicy food. However, Nate isn't big on dips or anything really that has cream cheese. So, the idea behind this dip: a buffalo chicken dip with NO cream cheese. It started pretty much like queso, with the addition of some chicken tossed in hot sauce.
This dip is dangerous stuff. So addictive. I could easily polish off the entire pot of it. And I definitely snuck more than one taste when I was making it. It hits all the boxes: creamy, cheesy, spicy. Oh yes. Plus, the prep time is a whopping five minutes and you can mix everything you need together in the crockpot so there is next to nothing to clean up. How's that for sweet?
This crockpot cheesy buffalo chicken dip makes it ok for me to skip a chick flick and go to a Superbowl party. But you know what? I think it would be even better if we made it one night for after Goose was tucked into bed and ate it on the couch while we watched When Harry Met Sally. #heaven
Looking for other cheesy dip recipes? Try these:
Print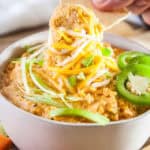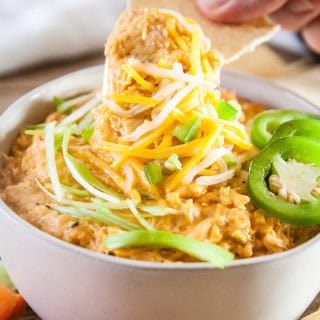 Cheesy Buffalo Chicken Dip
---
Author:

Prep Time:

5 minutes

Cook Time:

1 hour

Total Time:

1 hour 5 minutes
Description
Easy, cheesy crockpot buffalo chicken dip.
---
1 1/2 cups

of half and half

2 cups

of sharp cheddar

1 1/2 cups

of mozzarella

2

shredded chicken breasts*

1/2 cup

of hot sauce

1 tsp

chili powder

4

garlic cloves, crushed

1/2

jalapeno pepper, diced
salt and pepper to taste
---
Instructions
Spray a small crock pot or slow cooker with nonstick spray. Add in all the ingredients and stir together until combined. Heat on low until the cheese is melted and the dip is warm. Serve with tortilla chips or veggies.
Notes
* We used rotisserie chicken breasts.
Category:

Appetizer, Dip

Cuisine:

American
Nutrition
Serving Size:

6-8 servings
Shop this recipe!
*These links are affiliate links. To read my affiliate policy click
here.