*This post has been sponsored by Drizly.com. All opinions are mine alone.
Mmmmm. Brownies. Oh how I love delicious chocolatey, gooey brownies. Is there a better dessert especially when they are Kahlua brownies?
I might be biased. Kahlua is one of those throwback things for me. It takes me back to the summer I turned 21. I was taking summer college classes because I had changed my major approximately 35 times and had a part in a community theater production.
After rehearsals or night classes, depending on what day of the week it was, my husband and I often stopped somewhere for late night half priced appetizers and drinks. Because I was 21 and the ability to order a drink was really novel to me. While my drinks were often fruity, pink drinks complete with umbrella, my husband always ordered something with Kahlua. Normally a mudslide or some sort of chocolate coffee drink.
I always stole lots of his drink. Because Kahlua is delicious and tastes so good with chocolate. So it's no surprise that Kahlua brownies are so stinking good. I mean like over the top good and not just because it tastes like sweet nostalgia to me.
It's the icing. I mean anytime you put icing on brownies, you win at life. But when you put Kahlua icing on brownies well, you are more than winning at life. What is more than winning at life anyway? Crushing life? Being queen of the world?
Plus these brownies are so easy to make. I used to make scratch baked goods all the time, back in the days pre kid, when I thought being busy was basically a college class and being in a play. But these days, I'm all about shortcuts to delicious desserts like my shortcut Bailey's cake and these shortcut boozy Kahlua brownies. I basically took a box of brownie mix and made it taste homemade. I subbed butter for oil for extra fudgy richness, added a bit of coffee and of course Kahlua, and dumped in extra chocolate chips because really you can't go wrong with extra chocolate, am I right? Then the whole kitten caboodle got topped with this amazingly rich, boozy icing.
It's the stuff of dreams, I tell you.
Even better? I got the Kahlua from Drizly.com. You can order the Kahlua from Drizly here. This website is amazing. You can order up a huge variety of wine, beer, spirits, and extras all delivered right to your door. For real. It's like every mom's dream.
For real. I'm super lucky. One of my best friends and I were pregnant together with our daughters and due about 2 weeks apart. We hang out a ton and vent about the stunts the kids pull and the incessant whining that comes with raising a 2 and a half year old. Seriously, it is nonstop. I can always tell how her day is going by the hour she texts me in the morning. Today, I got my first mayday text at 7:30 am. It is never a good thing to get a mayday text from another mommy before 9.
As we continued chatting and she filled me on the whining and tantrums she's dealing with this morning and we planned our afternoon, she said something I think all moms with little kids have said at one time or another, " I would kill for a booze delivery service." Well, Drizly has it covered.
How awesome is that?
Print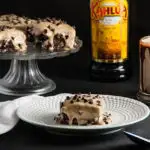 Shortcut Boozy Kahlua Brownies
---
Author:

Prep Time:

5 minutes

Cook Time:

45 minutes

Total Time:

50 minutes

Yield:

9

brownies

1

x
Description
Easy Shortcut Kahlua Brownies with Kahlua icing
---
For the brownies
1

box of brownie mix

6

tbs of melted butter

1/4 cup

of Kahlua

1/2 cup

of chocolate chips

1

egg

1

tbs of brewed coffee
For the icing
3

tbs room temperature butter

1/3 cup

of Kahlua

3 tsp

vanilla
half pound of powdered sugar

1/2 cup

of chocolate chips
---
Instructions
Preheat the oven to 325. Spray an 8×8 glass baking dish with nonstick spray.
While the oven is preheated, mix together the melted butter, egg, Kahlua and coffee. Stir in the brownie mix and stir until combined. Fold in chocolate chips. Pour into the glass baking dish and bake for 40-45 minutes at 325. The brownies will appear slightly underdone but cool to doneness. Let the brownies cool thoroughly. When the brownies are cool, mix together with a hand mixer 3 tbs room temperature butter, 1/3 cup of Kahlua, and 3 tsp vanilla. When the wet ingredients are combined, turn mixer off and add powdered sugar. Mix until combined. Spread over the cooled brownies and top with extra chocolate chips. Cut into squares and enjoy.
Category:

dessert, brownie

Cuisine:

American
Shop this recipe!
*These links are affiliate links. To read my affiliate policy click
here.