Chocolate waffles. Do I really need to say more? Since going gluten free chocolate waffles and really all waffles are hard to come by. But we have tweaked recipe after recipe and come up with this delight. It tickles the part of me that loves all things chocolate for breakfast.
These gluten free chocolate waffles make the perfect waffles and ice cream sundaes. I just love waffles and ice cream. It's a serious nostalgia food for me. Waffles and ice cream was the breakfast of choice when I was little and had a big day at school coming up. Tough test? Waffles and ice cream for breakfast. Gym day? (I HATED gym class.) Waffles and ice cream. SAT day? Yep. I probably had waffles and ice cream.
Granted, my mom's version of waffles and ice cream was toaster waffles, not homemade, perfectly crunchy and soft chocolate waffles.
And toaster waffles have their place. Past pregzilla me can attest to that. One night around 2 am when I was about 20 weeks along with the Goose, I needed toaster waffles in a way that only a pregnant woman could. It was a craving mixed with an intense sense of desperation. If I didn't eat a toaster waffle right then, it was going to get real ugly.
We didn't have any toaster waffles. It was tragic. It was also 2 am. My husband offered to go to the store to get some to feed the beast but I wouldn't let him go. Instead, bless his sweet heart, he quietly got up off the couch and went into the kitchen. He didn't say a word and kept telling me to stay put. He made me delicious homemade waffles. At 2 am. He toasted them a little extra to give them the toaster waffle crunch I was craving and slathered them in butter. Husband of the year right here.
Meanwhile, I full on ugly cried as I ate the waffles that my husband so thoughtfully made me at 2 am. Because how sweet is that?
I can assure you, pregzilla me would cry ugly tears if I was fed these chocolate waffles at 2 am. Actually, pregzilla me would probably ugly cry at any time of the day. These gluten free chocolate waffles are perfection. They are the right mix of crispy and fluffy. Plus, the chocolate chips. OMG. Just stop. Chocolate chips in waffles. Yes please. They melt and make the waffle taste like a chocolate chocolate chip cookie. Serve them with these mocha frappuccinos and enjoy a chocolate lover's dream.
Print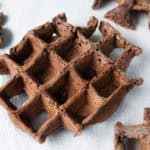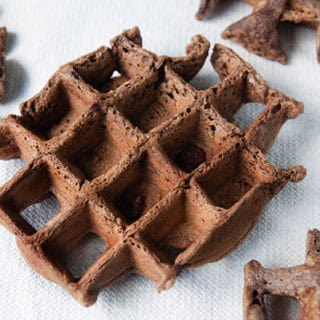 Gluten-free Chocolate Chocolate Chip Waffles
---
Prep Time:

10 minutes

Cook Time:

5 minutes

Total Time:

15 minutes
1 1/2 cup

gluten free flour*

2 tsp

baking powder

1 tsp

baking soda

1/2 tsp

salt

1/2 cup

sugar

1 1/2 cups

milk

1

Tbs oil

4

eggs (separated)

1

Tbs vanilla extract

3

Tbs cocoa powder

1/2 cup

mini chocolate chips
---
Instructions
Pre-heat waffle iron.
In a medium bowl, combine flour, baking powder, baking soda, salt, sugar, and chocolate powder.
In a small bowl, mix together the egg yolks, milk, vanilla, and oil.
In another small bowl, beat/whisk egg whites until they form stiff peaks.
Combine milk mixture with the flour blend in the large bowl.
Add chocolate chips and mix in.
Fold the egg white mixture into the batter gently.
Ladle the batter into the waffle iron according to the manufacturer's instructions.
Cook until done, about 3 minutes per waffle batch.
Notes
*To make these waffles without gluten free flour just sub regular white or cake flour.