As an adult, I have forgotten a crucial piece of information necessary for living a happy and fulfilled life: Oreos are delicious.
Seriously, how I have I forgotten this? It's so basic. It's almost enough for me to forgo my love of all things pumpkin. Almost.
And Oreo crust in a chocolate cheesecake? Yes, please!
You know I love cheesecake. I don't do many dessert recipes but it seems like the majority of them are cheesecake related: limoncello cheesecake, healthy lemon berry cheesecake bars, Italian style pumpkin cheesecake, no bake Italian style cheesecake…
It's probably because I watch way too much Golden Girls and the gals are so obsessed with cheesecake. Clearly it's rubbed off. I also really want to be Sofia because she's awesome. I love her wit and sarcasm. And let's talk about her life lessons and "Picture it" stories. Unfortunately, if you know me in real life I'm definitely Rose minus the St. Olaf stories. Sunny, upbeat, and slightly naive.
The struggle is real.
But back to cheesecake. This no bake chocolate cheesecake to be exact. No bake things rock my little world. You can safely eat the batter at all points during the cooking process. Plus, there's no oven to turn on, which means no toddler wrangling to keep her away from said oven.
Goose likes to help. By help, I mean she likes to sit on the counter and require me to keep one hand on her at all times while I make things. If I dare to take a hand off her during the making of said food, she gets loud. There are so many tears. Hers and mine. It's bad.
That's why you can probably find me crying into my no bake chocolate cheesecake locked in the bathroom. I mean I made this to be the cap off to a romantic Valentine's Day meal of crab risotto with asparagus, but it also doubles as the perfect food to stress eat to get you through the terrible 2s. But back to Valentine's Day, you could also totally slather this in strawberry cheesecake topping and have a whole chocolate covered strawberry vibe going on in.
It works for either. It's easy to put together. You just pop some cookies in the food processor with some melted butter and let the food processor do its thing. Tip, if you feel like the Oreos are too much chocolatey (sorry we can't be friends), use this graham cracker crust. Meanwhile, you beat all the cheesecake ingredients in a stand mixer. Press the crust into a spring form pan, and pour the cheesecake filling over it. Let the fridge do its magic and add some whipped cream on top. And next thing you know, you can be enjoying this rich, decadent slice of heaven with your favorite senior citizen ladies, as the perfect cap to the end of a lovely home date night with your significant other, or while locked in the bathroom hiding from your toddler.
Print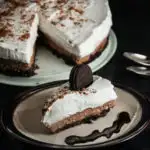 No Bake Chocolate Cheesecake
---
For the crust
20

Oreo cookies

4

tbs butter
For the filling
16 ounces

of room temperature cream cheese

1.5 cups

of milk or semi sweet chocolate chips

1.25 cups

of heavy cream

1 tsp

of vanilla

1 cup

of powdered sugar
For the whipped cream
3 cups

heavy cream

6 tablespoons

of powdered sugar

2 teaspoons

of vanilla extract
---
Instructions
Melt the butter. In a food processor, pulse the cookies until they form crumbs. Pour in the butter and pulse until the mixture has the consistency of wet sand. Spread the layer of crust out over the bottom of a spring form pan. Refrigerate.
While the crust is chilling, whip the cream cheese until fluffy. Add in the vanilla and heavy cream and keep whipping until the batter is smooth but thick. While the batter is being beaten, microwave the chocolate for 30 seconds on low. Stir. Repeat until the chocolate is melted and smooth, being careful not to overcook the chocolate. Pour the melted chocolate into the cheese and cream mix. Beat until combined. Lastly, beat in the powdered sugar, continuing to mix until incorporated. Pour the smooth batter onto the crust, spreading it out evenly. Let set in the fridge for at least 4 hours prior to serving. Top with whipped cream.
Shop this recipe!
*These links are affiliate links. To read my affiliate policy click
here.
=333333&title_color=0066c0&bg_color=ffffff" width="300″ height="150″ frameborder="0″ marginwidth="0″ marginheight="0″ scrolling="no">