Free printable pumpkin coloring pages feature both Halloween pumpkin coloring pages and more general fall pages. This cute printable is sure to delight kids of all ages this autumn!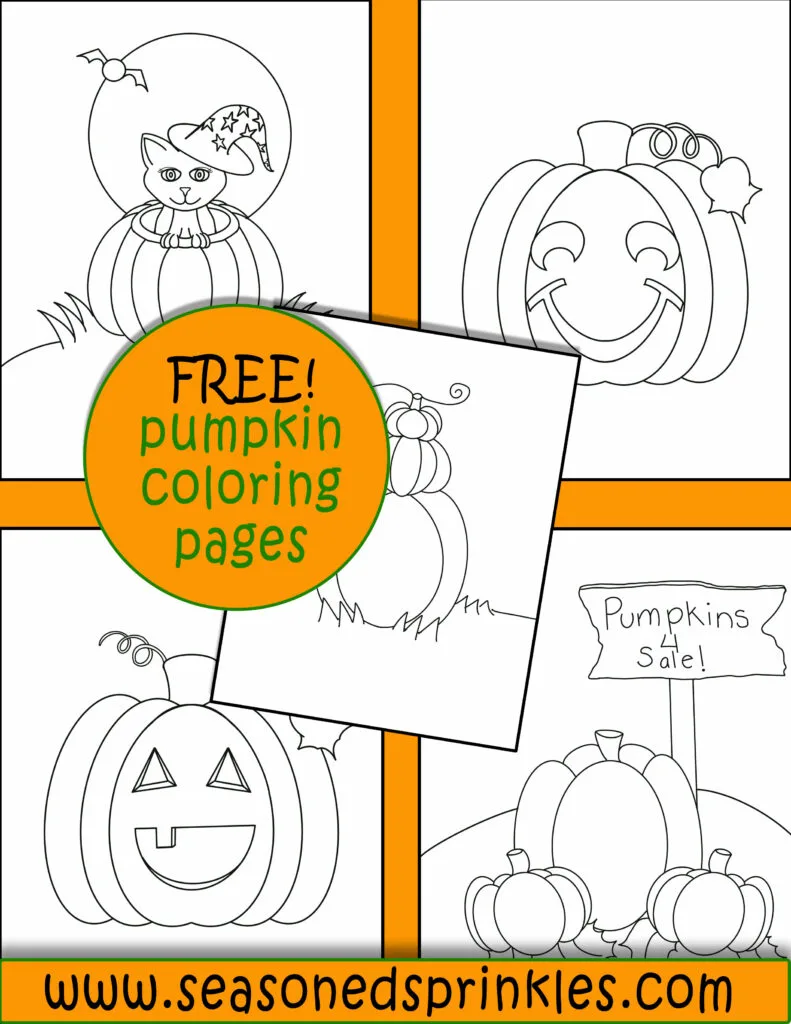 Post may contain affiliate links. As a member of the Amazon affiliate program, I may earn a small commision from qualifying purchases. To read my affiliate policy, click here.
It's finally pumpkin season!
The best time of the year!
And I am delighted to show you all these cute pumpkin coloring pages for Halloween (with some pumpkin coloring pages that aren't just Halloween friendly!
Being the pumpkin loving adult that I am, I have fun coloring this in alongside my kids.
We are using them as a fall art activity for our kids.
And our 4 year old is starting to really enjoy coloring and likes these pages too since they have pumpkins, which he is obsessed with.
While these aren't as educational as say the Halloween Alphabet Printables and Coloring Pages, they are still fun and you can do a bunch of activities with the kids using these pages as a base.
Pumpkin Activities for Kids
If you want to theme a day of activities along with these cute printable pumpkin coloring pages, I have a bunch of pumpkin activities that you can do with your kids- including some that would count as a school activity for your early elementary or preschool homeschoolers.
Ideas include:
making a Jack O Lantern out of construction paper shapes and orange painted paper plates to promote math skills (shapes) and fine motor skills with cutting
crafting no sew fabric pumpkins as a fun art activity that you could use as a Thanksgiving or just general fall decoration
for 2nd grade and up having your child write a paragraph to go along with the coloring page
paint pumpkins
make pumpkin guts slime
try these fun crayon melt pumpkins
read the book 5 Very Little Pumpkins
learn about how pumpkins grow and the life cycle of a pumpkin plant
Other Fall and Halloween Printables and Activities for Kids
Looking for other Halloween activities to do with the kids? Check out some of these ideas:
Other Pumpkin Crafts and Recipe Ideas for Adults
Looking for some grown up fun? Try these ideas!
Get your Free Printable Pumpkin Coloring Pages here!
To download your free printable, click here