Free Halloween alphabet printables and coloring pages make a fantastic tool for printing practice and alphabet reinforcement. Perfect for pre-k through 1st grade, this printable will make a cute homemade ABC coloring book.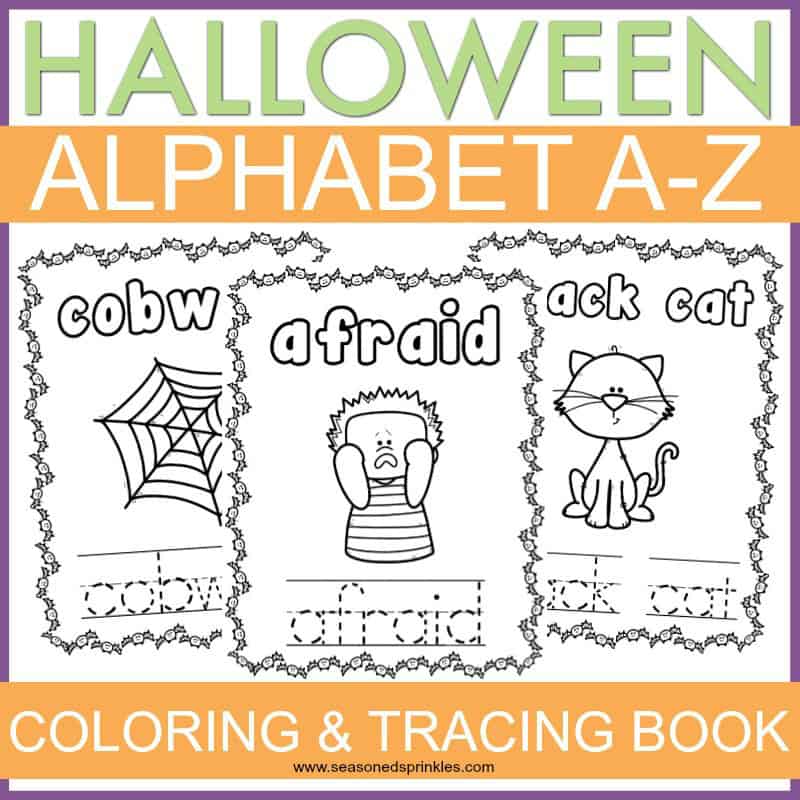 We've started homeschooling our kindergartener this year thanks in part to the circumstances of the year, but also I've always been drawn to the idea of homeschool.
It's allowed us to spend some extra quality time together and do fun projects as she learns.
One of our goals for her kindergarten year is mastering the alphabet, meaning recognizing uppercase and lowercase letters and being able to match them and print them.
Halloween Alphabet Printables for Literacy
This adorable Halloween alphabet printable has been a fun way to work on alphabet and literacy skills. We've been doing a page or two each weekday all October long. She really enjoys the seasonal coloring pictures on each.
To enrich making the alphabet book, we go through and do a beginning phonics exercise as well focusing on the first sound in each word.
We do use this phonics workbook to enrich for beginning sounds and also brainstorm other words that start with the same first sound as each word she has worked on in the alphabet book.
New Seasonal Vocabular Words
It's also been a good activity to expand Halloween vocabulary. This printable takes it beyond the basic Halloween words like witch, zombie, and pumpkin. For Q it gets creative and uses the word "quaking."
But, don't worry! It still has basics like Jack o' lantern and treats too so it's still appropriate for beginner learners.
Halloween Word Tracing Sheets Your Little Learners Will Love!
These Halloween word tracing sheets have been a fun way to practice lowercase printing and letter recognition. The words are big enough for beginners but small enough to reinforce fine motor skills.
Grab your download here.
Looking for other Halloween activities to do with your kids? Try these fun food crafts!
These spooky graveyard brownies are a really fun project to get the kids involved in this Halloween. If you're looking for other, easy kid friendly Halloween baking and cooking projects try these: