Mummy mozzarella sticks in crescent dough turn string cheese into a perfect snack for Halloween parties or a way to fuel up before a night of Trick or Treating. Kids and adults will both love these gooey baked cheesy breadsticks.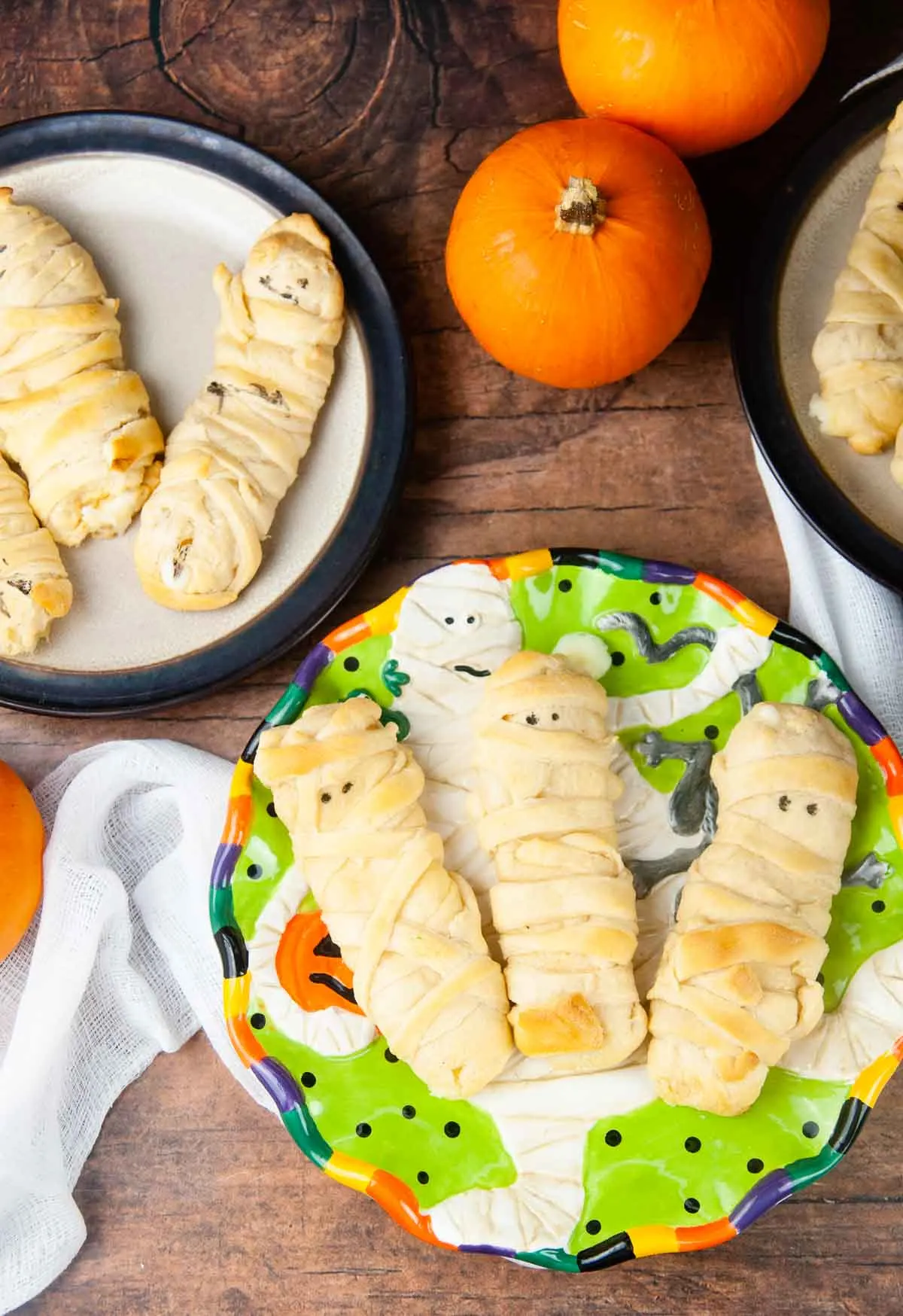 Post may contain affiliate links. As a member of the Amazon affiliate program, I may earn a small commision from qualifying purchases. To read my affiliate policy, click here.
One of my favorite parts of having an elementary aged daughter is how fun it is to celebrate all the holidays with her.
She's old enough to get really into things and understand that holidays like Halloween are super fun.
And she gets really excited for planning her costume and celebrating.
And watching all the Halloween movies – like the new Hocus Pocus sequel which we have watched twice so far.
Of course we need spooky themed foods to go with all this hooplah.
These mummy mozzarella sticks in crescent dough are just the thing!
They are really easy to make, can be a bit messy looking so it is easy to do them with the kids, and are a fun project to get the kids in the kitchen.
Plus with gooey melty cheese inside buttery crescent dough, you know they are delicious and kid approved!
Ingredients and Kitchen Supplies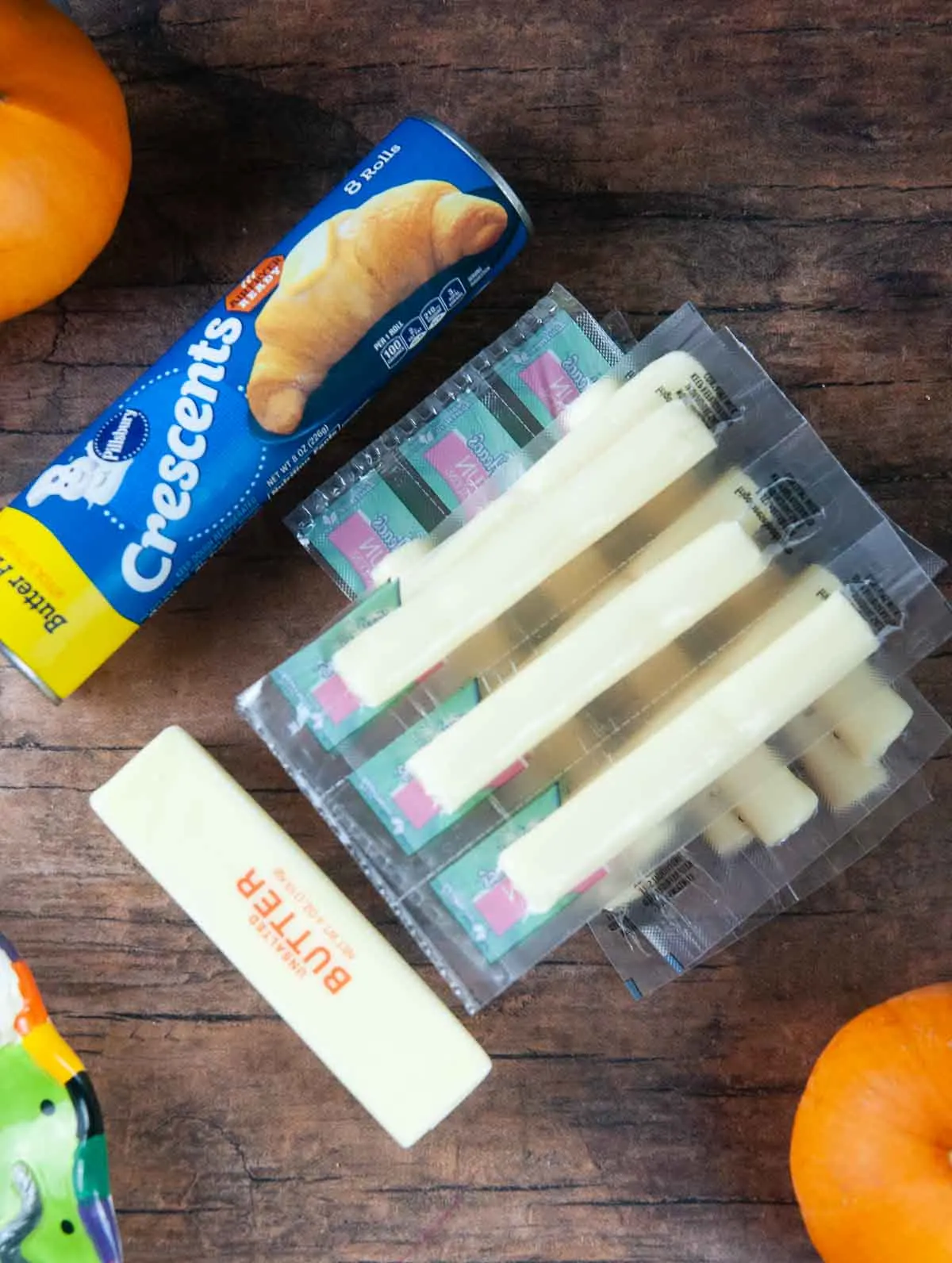 To make these you'll need:
String cheese– Use low moisture mozzarella cheese sticks
Crescent dough– The kind you find in the refrigerated section of the grocery store in a tube.
Melted butter
Garlic

– Either garlic powder or a pressed garlic clove. This is optional. (optional)

Food writer marker-Optional for drawing on eyes
Kitchen supplies you need for this recipe:
How to Make Mummy Mozzarella Sticks
1. Unwrap the cheese sticks and freeze them.
Put the unwrapped string cheeses into a ziplocking freezer bag. Freeze the bag of string cheese for 2 to 4 hours.
2. Wrap the cheese sticks in a thin layer of dough so it covers the whole string cheese.
Use half of the crescent rolls to do this. About half a crescent roll dough will cover one if you stretch the dough out as you go.
3. Unroll the remaining crescent dough to cut strips.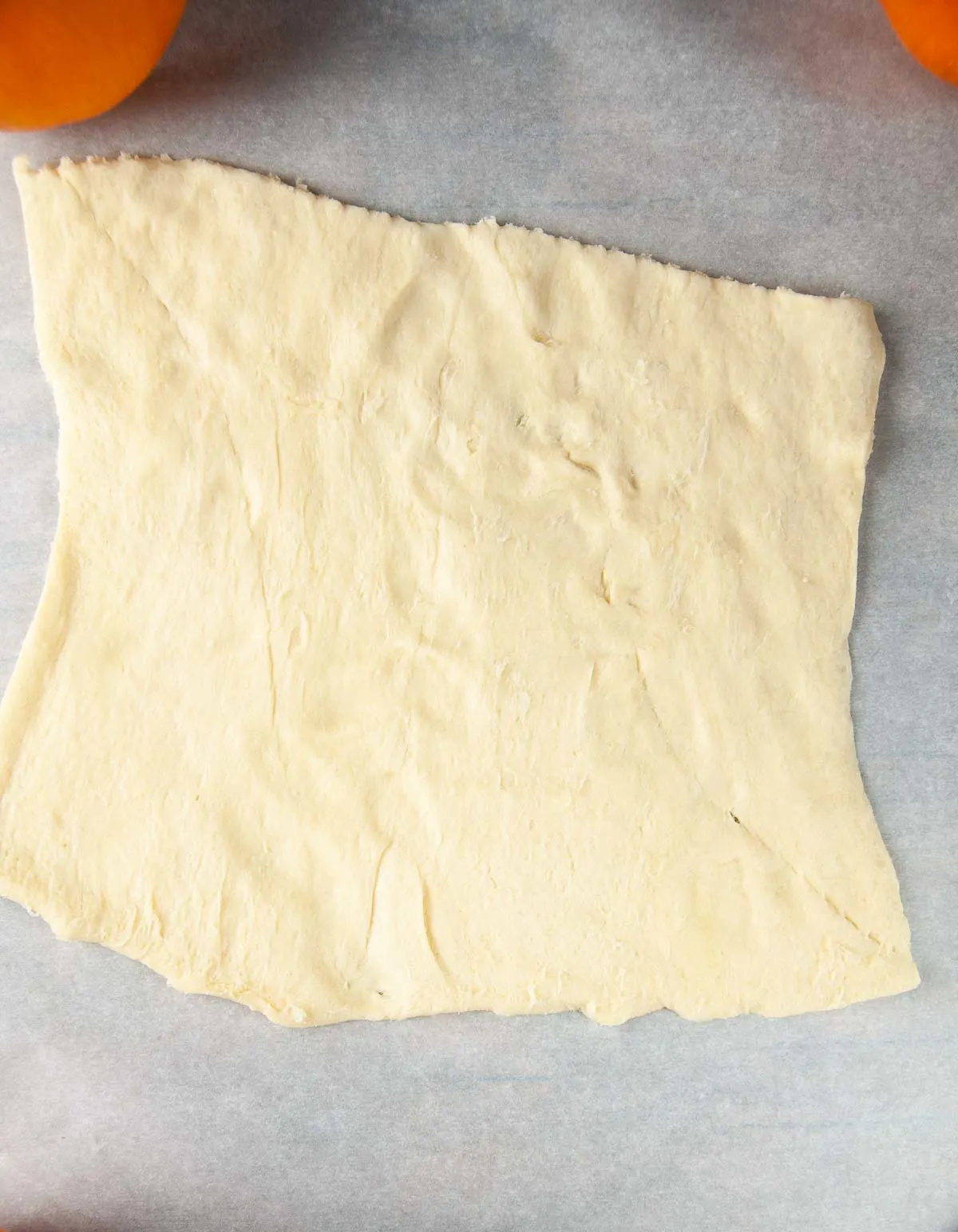 Press the seams together and roll the dough out slightly with a rolling pin. Wrap two to three strips messily around the wrapped string cheeses to make them into mummies. Stretch the dough as you go.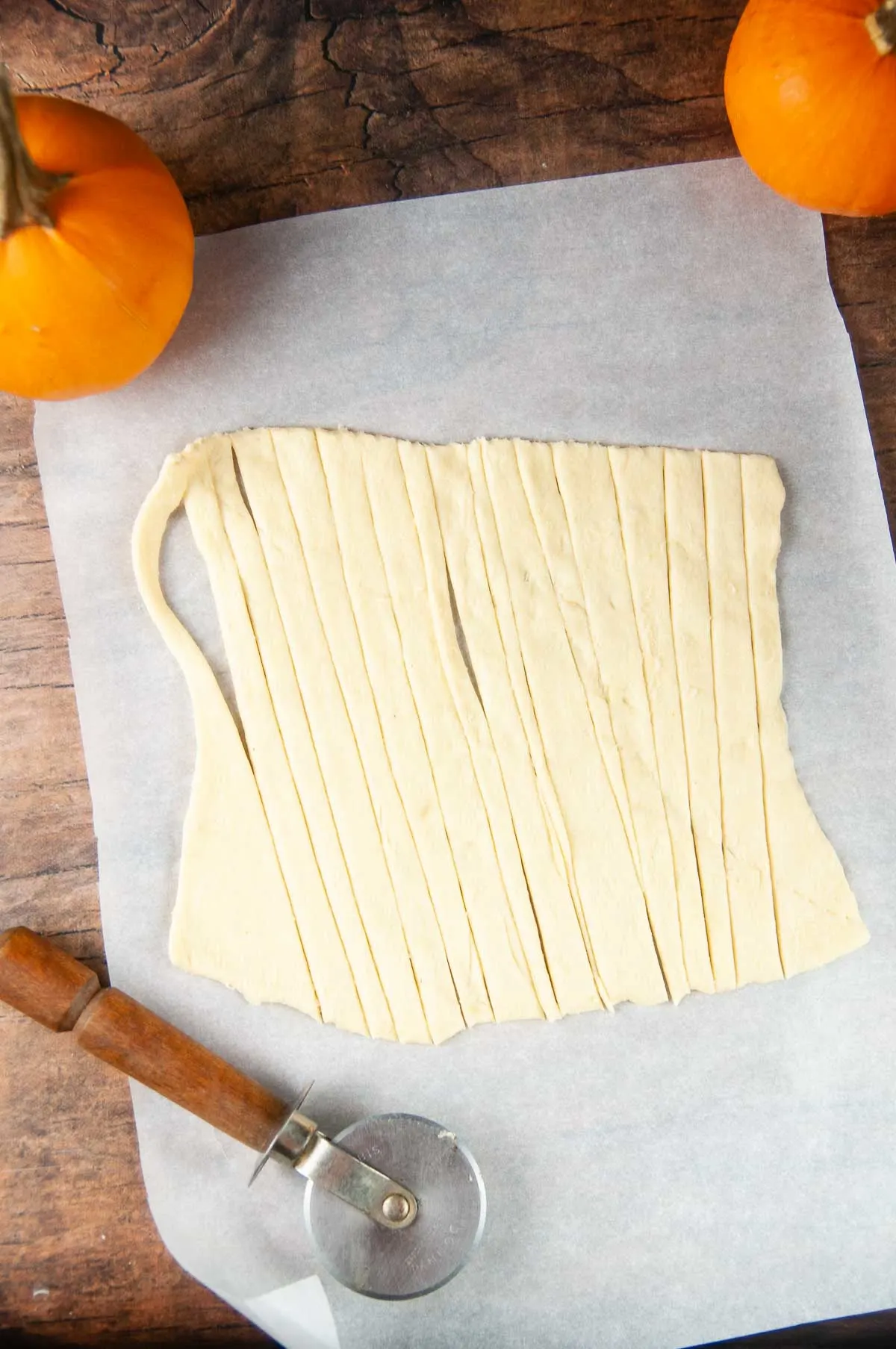 4. Bake the mummy mozzarella sticks.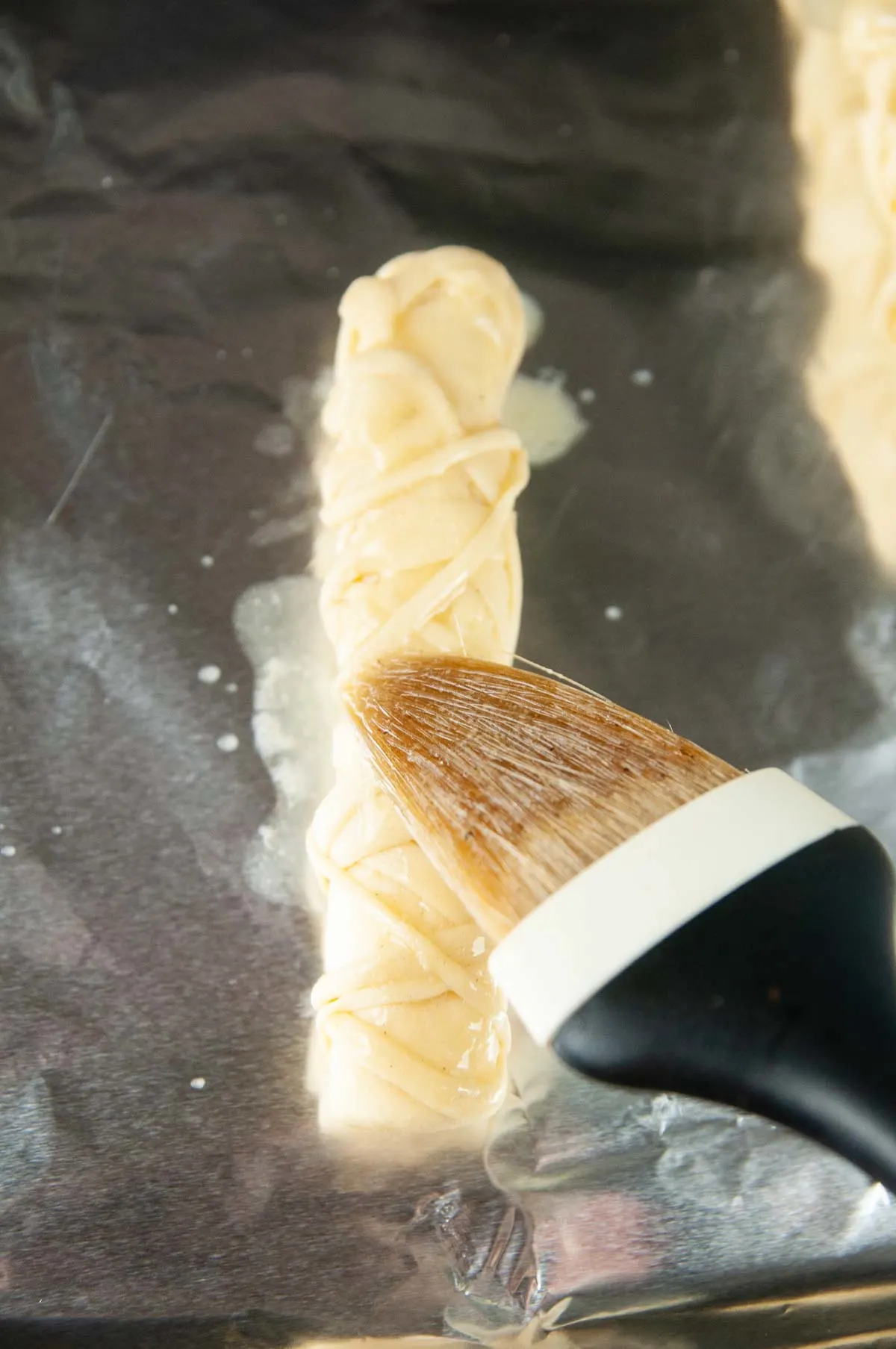 Put them all on a baking sheet lined with foil. Brush them with melted butter you've mixed with garlic powder or pressed garlic. Bake at 375 for 8 to 10 minutes or until the top of the dough is starting to turn golden.
5. Decorate and enjoy!
Let the baked crescent dough mozzarella sticks cool for 5 minutes or so. Then carefully draw on eyes if desired. Serve with your favorite dipping sauce and enjoy!
Dipping Ideas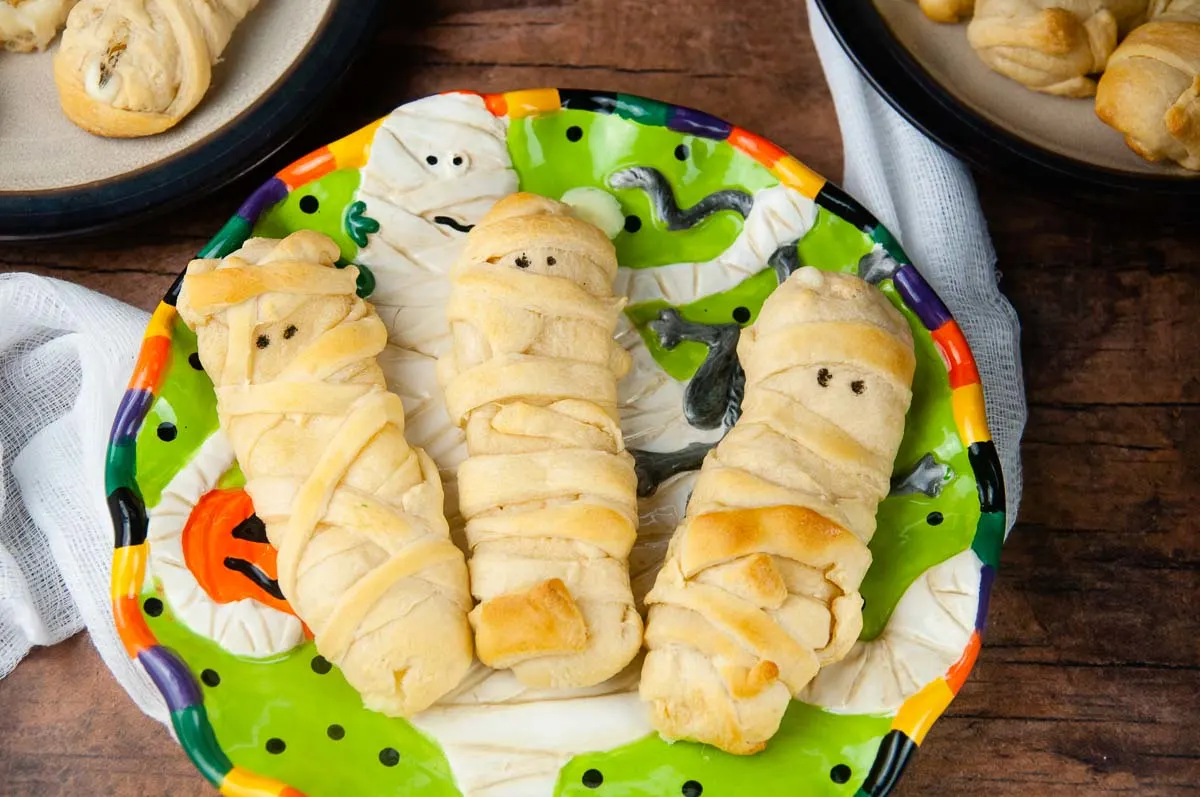 These are delicious plain but of course dipping them makes them even more fun!
Here are some of our favorite dipping sauces:
marinara or pizza sauce
alfredo sauce
pesto sauce
Dijon mustard
Honey mustard
What would you dip them in?
FAQs
Do I really have to freeze the string cheese first?
Yes! This helps prevent the cheese from leaking out of the dough when you cook it.
Why did the cheese leak out of the mummy mozzarella sticks?
It could be for many reasons. Did you freeze the string cheese first? If not, that could do it. Did you make sure to cover the string cheese entirely in a thin layer of dough with no bare spots before you made the dough bandages? If there were bare spots that could do it as well.
Can I use croissant dough or pizza dough instead?
I have not tried this recipe with croissant dough or pizza dough so I can't say for sure what the result would be. However, I would not make croissant mozzarella sticks because the dough creates flakier product than crescent roll dough. Pizza dough might work but it will be a denser breading.
Tips and Tricks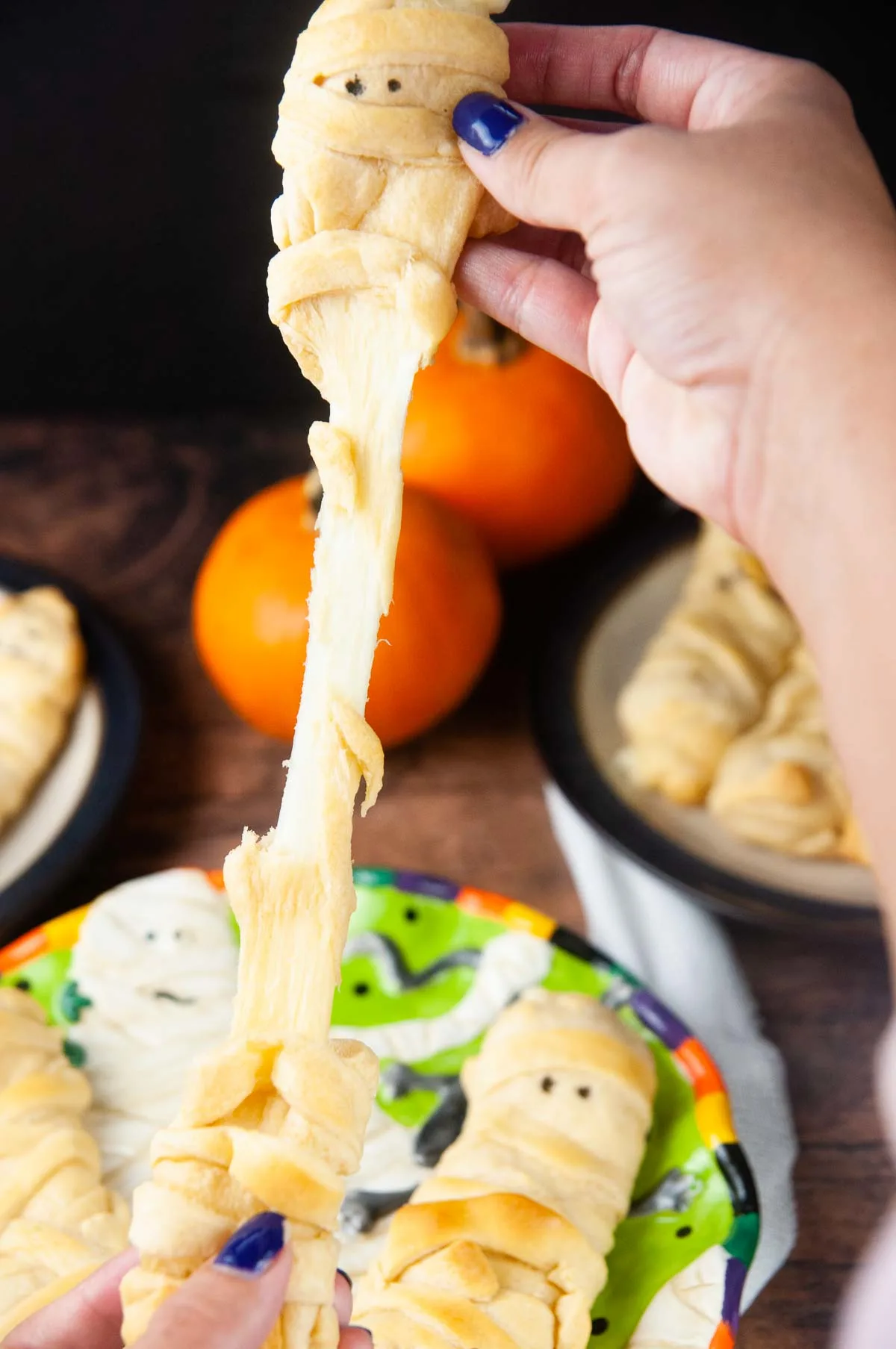 I cannot stress this enough: FREEZE THE STRING CHEESE BEFORE YOU WRAP IT IN DOUGH. It will keep the cheese from melting all over the place while these cook.
It helps to place the crescent dough on parchment paper and then place another over top of the sealed dough when you roll it out.
Want to add some extra fillings? Wrap the cheese sticks in pepperoni slices before you wrap them in dough for a pizza stick.
Don't worry about making the bandages messy. Messy works and gives it extra creepiness.
More Spooktacular Halloween Recipes You'll Love
Looking for other fun Halloween recipes to try this October 31st? Here are some favorites:
And if you are looking for other Halloween activities to do with the kids try these:
Did you make this? Let me know!
Did you make these MUMMY MOZZARELLA STICKS IN CRESCENT DOUGH or any other recipe on my site? Leave me a comment below and let me know how you liked it. And make sure you follow along with me on Facebook, Pinterest and Instagram to see everything we've got going on.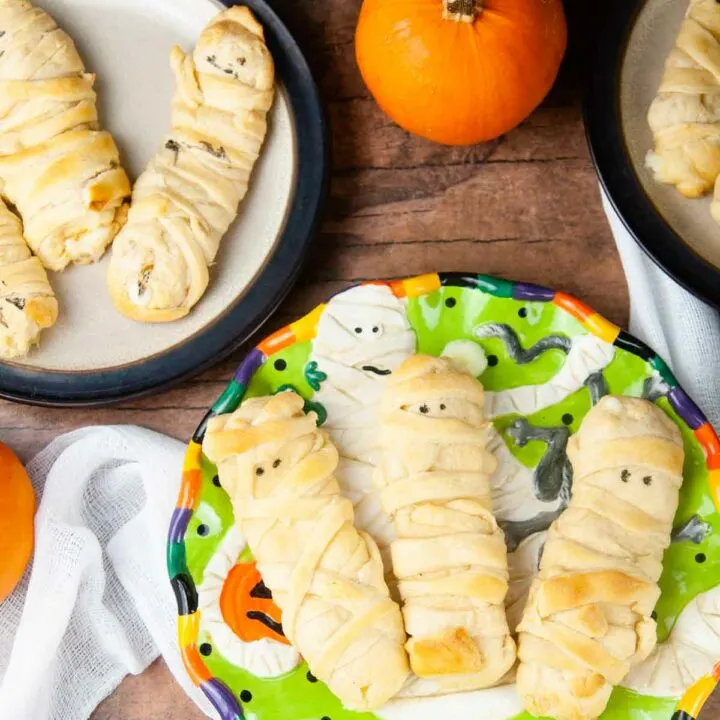 Mummy Mozzarella Sticks (in Crescent Dough)
Yield:
9 mozzarella sticks
Total Time:
4 hours
20 minutes
Mummy mozzarella sticks in crescent dough are a spooktacular treat to make for any Halloween party or before trick or treating. These cheesy breadsticks are an appetizer that the kids and adults both will love!
Ingredients
9 mozzarella string cheese sticks
2 8 ounce tubes of refrigerated crescent dough
2 tbs of butter melted
1/2 tsp Garlic powder or 1 clove pressed garlic (optional)
food writer (optional)
Instructions
Unwrap 9 string cheeses and place them in a freezer bag. Seal the bag and freeze the string cheese for between 2 and 4 hours.
When you are ready to make the mozzarella sticks, preheat the oven to 375.
Unroll one tube of crescent dough.
Using about 3/4 of each crescent, wrap a thin layer of dough completely around the frozen cheese stick so the the dough completely covers the cheese stick. Stretch the dough out as needed as you are covering the cheese.
Set the wrapped stick aside and repeat with all the cheese sticks until they are all covered in a thin layer of crescent dough.
Unroll the second tube of and gently press the seams together. Roll the dough out until it's about 1/2" thick.
Cut thin strips of dough to make "bandages" using a pizza cutter or serrated knife.
Wrap thin strips around the wrapped cheese sticks to make mummies, You can twist and break the dough to give them a spookier feel.
Repeat until all the cheese sticks are mummified. Spread them evenly out on two baking sheets covered in aluminum foil.
Mix the melted butter with garlic powder or pressed garlic. Brush the garlic butter over the mummies.
Bake the mummy mozzarella sticks in the preheated oven for 10 minutes or until they are just starting to turn golden brown.
Remove from the oven and let cool for 5 minutes.
If desired, draw eyes on with a food writer pen.
Serve and enjoy!