Free scarecrow printables and coloring pages make a fun, festive addition to pre k, kindergarten, first and second grade and homeschool fall curriculum. Activities include cut and paste, labeling, word searches, coloring, and more to reinforce literacy, vocabulary and fine motor skills.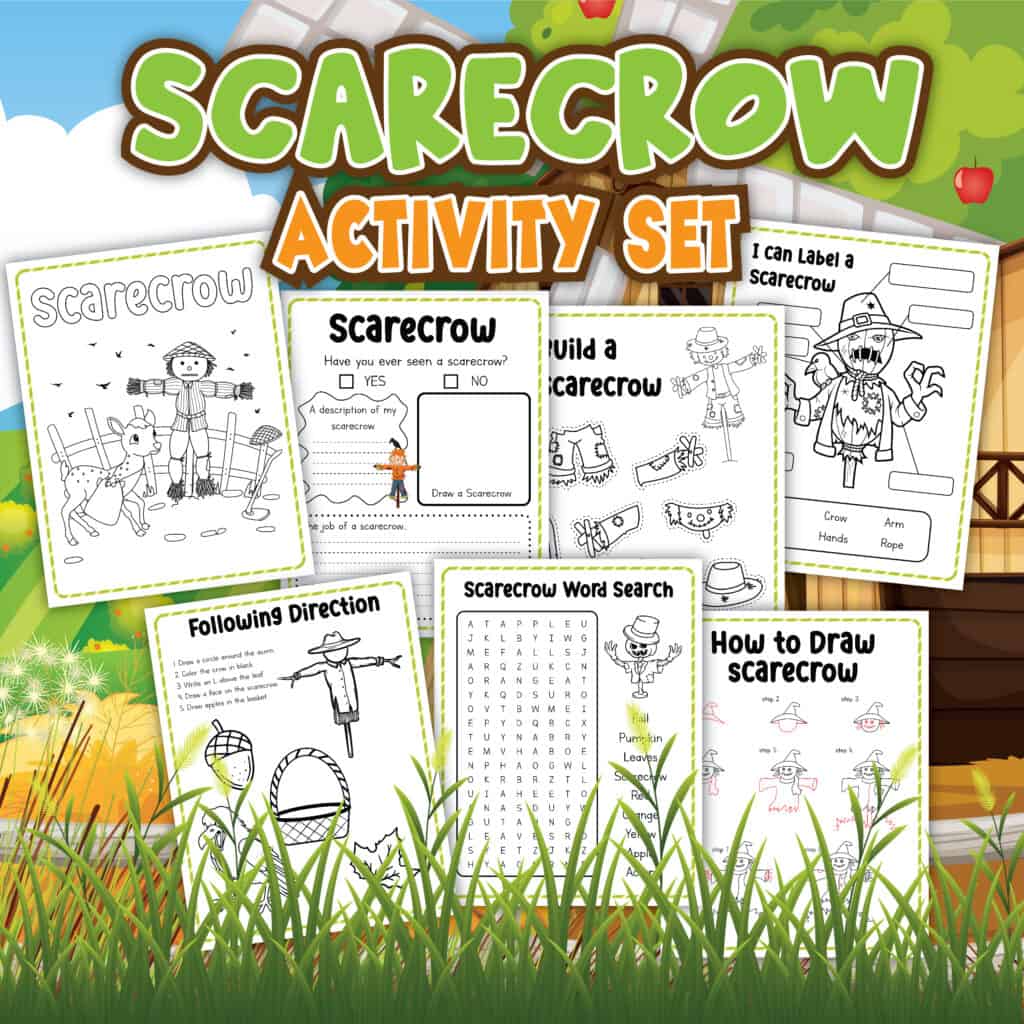 Post may contain affiliate links. As a member of the Amazon affiliate program, I may earn a small commision off of qualifying purchases. To read my affiliate policy click here.
If you've been following us for awhile, you know we are currently homeschooling our first grader. thanks in part to the circumstances of the year, but also I've always been drawn to the idea of homeschool.
I absolutely adore homeschooling in the fall. It's such a fun time of year to do field trips and themed lessons. We hit the apple orchard, the pumpkin patch, a sunflower maze, a corn maze, and some farms.
But this fall, we've spent a bit of time on scarecrow themed learning, including taking a trip to a local scarecrow festival. So I thought it would be fun to reinforce the scarecrow activities with a scarecrow printable activity.
Scarecrow Printables for Literacy and Creative Writing Practice
This adorable fall printable has been a fun way to work on writing and literacy skills. Both the word search page and the describe your scarecrow page have helped reinforce writing sentences, which is something we've been working on as part of our first grade curriculum.
The word search reinforced some seasonal words and helped reinforce emerging reading skills.
We used this in conjunction with some books about scarecrows like Scarecrow by Cynthia Rylant to reinforce close reading and describing characters.
Other fun scarecrow books for first graders:
Scaredycrow– A cute book about friends with a scarecrow paper doll.
Scarecrow (Fall Fun)– A book with simple text for emerging readers that explains how and why scarecrows are used.
The Scarecrow's Hat– A circular story about a chicken, friendship, and problem solving.
Art Activities
It's also been a fun way to introduce some drawing skills and work on following directions.
The printable pack includes a how to draw a scarecrow page which has been lots of fun.
We also used the how to draw page to make a play dough scarecrow and as a jumping off point for a scarecrow puppet activity and puppet show.
Is this appropriate for Thanksgiving, Halloween, or just generalized fall learning?
I would say this is a great packet to use anytime from September through November. It isn't themed for one occasion so you can fit it into a variety of Halloween, Thanksgiving, or autumn lesson ideas.
If you are looking for more of a definite Halloween printable packet, check out my Halloween alphabet coloring pages and be sure to try some of my easy Halloween food craft projects like Ghost Cupcakes, Spider Cupcakes, and Spooky Graveyard Brownies.
Free Scarecrow Printables
Grab your download here.
Looking for other fall activities to do with your kids? Try these fun food crafts!
Some of our favorite fall activities to do together are definitely food related! Try these with the kids:
Have you done any fall learning activities with your kids? Tell me about them in the comments and make sure to follow along with me on Facebook, Instagram, and Pinterest for new recipes, worksheets, and crafts.