Sweet and spicy roasted pumpkin seeds are a yummy fall snack recipe on their own. These delicious roasted pumpkin seeds are a great way to jazz up an autumn salad or a cozy bowl of your favorite fall soup or even in an autumn trail mix or granola. No pumpkin? No problem. Make this recipe with any squash seed and you'll still be enjoying a wonderful cool weather treat.
Happy October! It's one of the best months of the year. If September means it's officially ok to have pumpkin everything, then October REQUIRES pumpkin everything. Because this is the month of pumpkin patches.
I cannot wait. I absolutely adore going to the pumpkin patch. My husband and I used to go even when we didn't have a kid (soon to be kids). But now, with our daughter, it is even more fun. We've been taking her since she was a newborn and it's one of my favorite days of the year. Practically a holiday in and of itself.
Well, family tradition has it that we each get our own pumpkin. We like to carve all three, because I am that Halloween nut. This year, though, we got a pumpkin early to carve for our maternity photos because we had a super cute idea for a gender reveal for the twins, which I will share with you all in my next bumpdate.
Every time we carve pumpkins, I save the seeds. I love adding the roasted seeds to everything this time of year. They are awesome in snack mixes and taste fantastic in pumpkin granola. They are also so, so good for a little crunch on top of this roasted butternut squash soup. Seriously, I know it's been 101 pasta recipes over here lately but today it's 101 ways to use pumpkin seeds.
I have been loving that sweet spicy combo lately. I used to get my fix on sweet and spicy curries and other Thai food, but that shockingly hasn't been my thing this pregnancy the way it was with my daughter. So I've been looking for other ways to get my sweet and spicy fix. Like these sweet and spicy roasted pumpkin seeds.
The best. Seriously, so good. And embarrassingly easy. The hardest part is cleaning out the pumpkins and let me just tell you, if you have a kid that likes messes this is exactly how you should put that to use. My daughter had no problem digging the pumpkin insides out.
After that, you just combine a few spice, a little something sweet and some olive oil and toss the seeds together. Then into the oven they go for a quick bake then enjoy them on their own or add them to all the fall food because you can and they are fabulous.
Ingredients and Kitchen Tools
For this recipe you'll need:
Pumpkin seeds– Don't have a pumpkin to carve or feel like making pumpkin seeds outside of pumpkin season? Easy peasy. Substitute squash seeds. I use this exact same method all the time to roast butternut squash seeds and butternut is always available in the grocery store.
Honey– Vegan? Substitute an equal amount of maple syrup.
Spices– Use a combination of ground cinnamon, chili powder and a touch of salt and pepper. Want them to be a bit smokey? Use smoked chili powder or add smoked paprika.
Olive oil
In terms of hardware, this recipe is a bit different because you are carving a pumpkin. You will need either a good knife and spoon to scoop out the pumpkin insides or a pumpkin carving kit.
You'll also need:
How to Make
This recipe is so easy to make! To do it:
Clean out your pumpkin.


This is probably the hardest part of the process and it's not hard at all! To clean your pumpkin, cut a hole around the stem and then scoop out all the seeds and stringy flesh as if you were making a Jack O'Lantern.

Clean and season the seeds.

Once you've removed the seeds, pick off all the pumpkin flesh. I like to put the seeds in a colander and rinse them under water. Pat them dry and then add them to a bowl and toss with the olive oil, honey and spices.

Roast the pumpkin seeds.

After you've seasoned the seeds and tossed them well, pour the seeds onto a baking sheet, lined with foil and sprayed with nonstick spray. Bake them for 25-30 minutes, flipping them once halfway through. Remove from the oven and let them cool. Enjoy!
Tips for Making the Best Sweet and Spicy Roasted Pumpkin Seeds
Get the seeds as clean as possible. Yes this means cleaning all the pumpkin strings off. Then rinse and drain them using a colander.
Make sure to pat the seeds thoroughly dry. I find leaving the seeds slightly damp results in less crunch for the finished product.
You could definitely sub smoked paprika and then up the black pepper slightly for a smokey, spicy, sweet seed.
Some people like to boil the seeds for a few minutes prior to roasting them. They say it makes the seeds crunchier. I personally have not found that and prefer to skip that step since it doesn't give me a ton of results.
Looking for recipes to serve these sweet and spicy roasted pumpkin seeds in? Try these: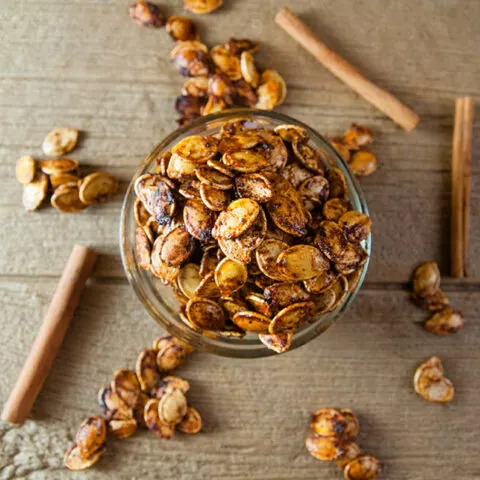 Sweet and Spicy Roasted Pumpkin Seeds
Yield:
depends on how many seeds are in the pumpkin
Sweet and spicy roasted pumpkin seeds make a perfect fall snack or garnish to autumn soups and salads.
Ingredients
the seeds from one pumpkin, rinsed and dried thoroughly
1 tsp cinnamon
1 tsp chili powder
1/2 tsp black pepper
pinch of salt
1/4 cup of honey
1 tbs olive oil
Instructions
Preheat the oven to 350. Stir all the dry seasonings together and set aside. Whisk together the honey and olive oil. Toss the seeds in the honey and oil mixture until coated. Toss with the dry seasonings until the seeds are thoroughly coated. Pour the seeds onto a cookie sheet lined with foil and sprayed with nonstick spray. Bake for 25 to 30 minutes, turning once midway through. Enjoy.
Notes
Amount of seeds in pumpkins will vary. This recipe assumes roughly 1 1/2 cups of pumpkin seeds.
Shop this recipe!
*These links are affiliate links. To read my affiliate policy click
here.