This chipotle pumpkin cheese dip teaches me things.
Note I said that in present tense. Because even now a day after we made it, it's still teaching me things.
It's a very smart dip. Must be all the vitamins from the pumpkin.
I know, I know. What could a dip possibly teach me? Tons of things. Sit back, relax and get ready to learn some pumpkin dip lessons.
First, this chipotle pumpkin cheese dip taught me that unexpected flavors taste surprisingly good together. Well, actually if I am being honest this cheddar apple soup taught me that. You don't really think about putting apples together with cheddar cheese but the soup was amazing. I also typically don't think chipotle and pumpkin and cheese. But you know what? Move over PSL and Italian Style Pumpkin Cheesecake because this might be my new favorite way to eat pumpkin. The combo of spicy with the subtly sweet background of pumpkin combined with the goodness of cheese is a winner. Not to mention, it's easy and quick to make.
Second, chipotle pumpkin cheese dip is good hot or cold. Sometimes recipes surprise me on the next day. This dip is one of them. When I dreamt up this dip, it was meant to be served hot. Kind of like a take on pumpkin queso. But you know what? In my laziness and extreme state of sleep deprivation, I didn't heat the dip today when I was foraging for a snack. It was still in the pot in the fridge. I could have easily reheated it. But that would have been a sad waste of Goose's naptime. And I was hungry. So I stuck a chip into the pot and took a tentative bite, thinking cold dip would probably be gross.
IT WAS DELICIOUS.
The third lesson? Well it was an eye opener about the Goose. I learned just how odd her pickiness is these days. Fully in the throws of the 2s, her odd eating habits are at a whole new level.
But then again, who am I to judge? I'm sitting at my computer with a cold pot of this dip and a bag of chips. I'm calling it lunch. Maybe even dinner.
Anyway, I learned that Goose will eat this dip (shocking- it's pretty spicy) but will not eat blue corn chips. In fact, blue corn chips make her cry. I'm not sure why. But they do even though they taste EXACTLY the same.
Oh well, more chips for mama.
Print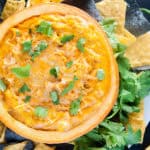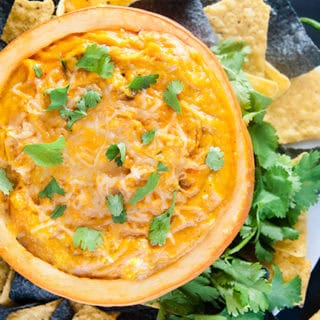 Chipotle Pumpkin Cheese Dip
---
1

15 ounce can pumpkin

1 cup

heavy cream

4 cups

shredded cheddar or cheddar jack cheese

1

adobe pepper

1

–

2

jalapeno peppers*

1/2

red onion, diced

4

cloves of garlic, pressed

3 tablespoons

butter

1 Tablespoon

chili powder

1/2 tablespoon

cumin
Salt and pepper to taste
---
Instructions
Melt butter in pot over medium heat.
Dice the onion, peppers, and press the garlic
Cook over medium heat for about 5 minutes.
Add pumpkin and seasonings and stir to combine
Add cream and stir to combine
In half cup portions add cheese, mixing until fully incorporated.
Reduce heat to low and cook for 5 minutes stirring occasionally.
Serve hot with chips for a queso like dip. Or chill and let firm to serve like a cheese ball.