Life is all about balance you know? After living off of chipotle pumpkin cheese dip for 2 days and chips, I felt like I should probably put some actual healthy food in my body. Enter this parmesan pumpkin quinoa with asparagus and shrimp.
Healthy and delicious. And even better? The Goose eats the pumpkin parmesan quinoa! #winning
Seriously, this was a huge win. After finding out just how picky Goose can be, we threw a party to celebrate that she ate something other than yellow corn chips and Cinnamon Chex. Let's be honest though, she's right. Those things are delicious.
But so is this parmesan pumpkin quinoa. Not only is it crazy delicious, it's super easy to make and it comes together in under 30 minutes. It's a serious weeknight warrior, and it's something that I can toss together even on weeks like this one where I am crazy busy with deadlines and work. Honestly, it didn't even require a knife to make. I used kitchen sheers to trim the asparagus.
Mom tip: kitchen sheers work so much better than knives for cutting things like asparagus into bite size pieces. I use them for everything. I even use them to cut Goose's toast into interesting shapes. By interesting I mean squares or triangles. I can do that in lightening speed with sheers.
After trimming the asparagus into bite size pieces with kitchen sheers, you basically just toss it into a pan with some olive oil and garlic. Meanwhile, you get the quinoa going and instead of cooking it in water, cook it in stock for extra flavor. At the last minute, you add the shrimp to the pan with the asparagus. Then you stir in the pumpkin, cheese, and spice to the quinoa and top the whole kitten caboodle with the shrimp and asparagus. It really doesn't get much easier.
If you love the savory pumpkin parmesan flavor as much as I do, then check out this awesome Pumpkin penne with peas, Parmesan, and Sage.
Print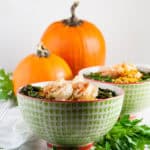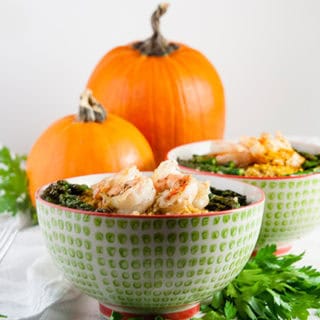 Parmesan Pumpkin Quinoa with Asparagus and Shrimp
---
Prep Time:

5 minutes

Cook Time:

20 minutes

Total Time:

25 minutes

Yield:

4

1

x
1

pound of raw frozen shrimp, peeled and deveined*

1

pound of asparagus

1 1/2 cups

of uncooked quinoa

3 1/3 cups

of cooking stock**

3/4 cup

of canned pumpkin

1/2 cup

of Parmesan cheese

3 tablespoons

of olive oil

4

cloves of garlic, pressed

2 tsp

sage

1 tsp

ginger
salt and pepper to taste
---
Instructions
In a large sauce pan, add the quinoa and stock. Cook over medium to medium high heat until the quinoa absorbs most of the liquid, about 20 minutes. Reduce heat to low, and stir in pumpkin, cheese, sage, and ginger.
While the quinoa is cooking, heat olive oil in another large pan over medium heat. Trim the white ends off of the asparagus and cut into bite sized pieces. Add them to the pan, seasoning liberally with salt and pepper. Add the pressed garlic. Cook for about 5-7 minutes, until the asparagus turns bright green and is tender.
Just before the asparagus is done, add the shrimp to the same pan as the asparagus. Season the shrimp with salt and pepper. Cook for about 2 minutes per side or until the shrimp turn bright pink.
When the shrimp and asparagus are cooked, pour over the quinoa.
Serve hot. Garnish with fresh parsley and extra cheese.
Notes
*I like to buy the precleaned shrimp from the grocery store. Cuts down on prep time.
**Feel free to use whatever stock you'd like. We used chicken but veggie or beef stock would be fine. I prefer using a low sodium stock so I can better control the flavor.