Winter Vegetable Pasta
(Disclosure: This post was sponsored by Bialetti but all opinions are my own.)
Winter vegetable pasta features hearty cold weather vegetables like butternut squash, kale, and mushrooms in a delightfully fragrant sage brown butter sherry sauce over spaghetti. The perfect pasta to enjoy on chilly evenings, this winter vegetable pasta also features Parmesan cheese for extra salty creaminess and walnuts for a touch of crunch. A flavorful vegetarian pasta dish, the whole family will enjoy this flavorful spaghetti recipe. For this vegetarian pasta recipe, you will need spaghetti, sherry, butter, sage, garlic, butternut squash, mushrooms, kale, walnuts, and Parmesan cheese. No need for tons of spices to get big comforting flavors!
I love fall and winter pastas. Not just because I'm pregnant and one of the only things I want to eat on the regular is pasta, but because pasta to me just screams comfort food. And fall and winter just beg for comfort food. Like this winter vegetable pasta.
I'm not sure if it's the butternut squash or the sage brown butter, but this pasta gives me all the cold weather comfort food feels. Butternut squash just begs to be paired with brown butter. And sage? OMG, it smells like the savory part of the holidays. I clearly love this combo because I used it when I made this brown butter gnocchi with butternut squash, kale, and sage.
This dish was definitely somewhat inspired by that with a similar combination of flavors. However, there are a couple of key differences. In this dish, I knew I was going to use regular pasta instead of gnocchi so I wanted to include some meatier flavors instead of going with just butternut and kale. So in addition to those regular suspects, I used mushrooms and walnuts too to up the heartiness factor.
Also, I wanted to make the whole thing on the stove top instead of roasting the squash. I figured that way I'd cut down on the amount of cookware needed and only use my big Bialetti ceramic pan and my beautiful Bialetti pasta pot. Seriously check this pot out.
It's the most gorgeous blue ombre and hello, how convenient is it? There is absolutely no need at all for a colander because you can drain the pasta via the pasta pot's lid. Amazing, because I always end up pouring some of my pasta into the sink by accident when I drain it in a colander.
While cooking this winter vegetable pasta on the stove top and using a Bialetti pasta pot does cut down on a lot of the muss and fuss involved with making this dinner, it does require some attention. The butternut squash takes a little time to cook perfectly on the stove. It's not hard, but you do need to stir it occasionally to make sure it cooks evenly and doesn't stick. But like when I make risotto, I find this process sort of relaxing. Just turn on the radio and enjoy the process and the delicious smells and get psyched to eat this yummy pasta.
Tips for Making Perfectly Delicious Winter Vegetable Pasta
To cut your cooking time down, cut the butternut squash into smaller pieces, like inch cubes. You can absolutely use the precut squash cubes from the grocery store, but you'll want to cut those cubes into smaller pieces.
Brown the butter first. It doesn't take long so keep a close eye on your butter.
As soon as your butter starts to turn brown, turn the heat down and throw in your sage leaves just until they wilt. I like to pull them out then because I don't like the texture of the cooked sage in the finished dish.
When the sage is out, add the aromatic garlic, sherry, and squash. You'll need to give this mix about half an hour to cook covered prior to adding any of the other veggies so make sure you give yourself enough time.
Don't forget to stir it regularly!
Anytime you add a layer, season it with a little salt and pepper. Taste after each layer so you know how much seasoning you have. Remember, you can always add more but it's harder to cut seasoning if you have over seasoned it.
The kale will seem like way too much at first, but it cooks down a lot! Trust me and keep stirring. The kale will reduce by over half in a few minutes after adding it to heat.
Looking for other cozy pasta recipes? Try these:
Print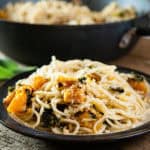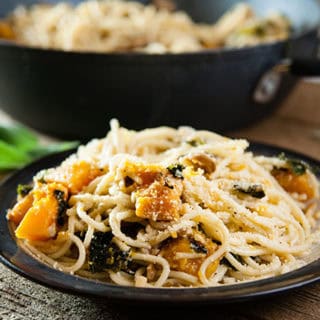 Winter Vegetable Pasta
---
Author:

Prep Time:

15 minutes

Cook Time:

40 minutes

Total Time:

55 minutes

Yield:

6

servings

1

x
Description
Full of butternut squash, kale, and mushrooms, this winter vegetable pasta is a hearty vegetarian pasta dish with the fragrant, cozy flavors of sage browned butter and garlic.
---
2

tbs olive oil

1

stick of butter

2

sage leaves

4

cloves of garlic, pressed

1 cup

of sherry

1

small butternut squash, peeled, seeded and cut into small cubes

3 cups

of chopped kale, stems removed

16 ounces

of mushrooms, cut into slices

1 cup

of shredded Parmesan cheese

1/2 cup

of grated Parmesan cheese

1/2 cup

of walnuts
salt and pepper to taste

1

pound of spaghetti, cooked according to package directions
---
Instructions
Heat a large saute pan over medium heat with two tablespoons of olive oil. Add the butter and let it melt, stirring frequently. As the butter begins to brown, add the sage and continue to stir. Cook the sage leaves for about a minute, until the sage wilts and releases its fragrance. Pull the sage leaves out. Add the 4 cloves of pressed garlic, butternut squash and sherry. Season with salt and pepper. Cook over medium heat, covered for 30 to 40 minutes or until the squash is fork tender. Stir periodically while it cooks. When squash is tender, add mushrooms and stir. Season with salt and pepper. Cook for two to three minutes, then add the kale. Season with salt and pepper. Stir continuously when kale is added until the kale is cooked down to less than half the initial volume. Finish by stirring in cooked spaghetti, cheeses and walnuts.
Notes
Feel free to use precut squash and to cut down on prep time.
Shop this apple cider donut recipe!
*These links are affiliate links. To read my affiliate policy click
here.