Chicken Parmesan is one of my favorite foods. Cheesy, carby, saucey. What's not to love? Well the prep time mainly. This cheesy chicken ziti skillet has all the flavors of chicken Parmesan with like half the prep.
I wish I had been this innovative in college. My junior and senior year in school, I lived on campus in a house. I had a fully functional kitchen. Now this was going back more years than I care to say because I really can't believe I am getting that old. Seriously, how did that happen? Are the days of boy bands and flared jeans really over? Ok, not sad about the jeans thing and there may be a steady stream of Backstreet Boys on my Pandora stream but I digress.
Anywho, back in the day, my housemates knew me as the cook. I guess it is a little out of the ordinary for a college kid to make anything more than ramen or order pizza. And don't get me wrong, my ramen making, pizza ordering skills were on point, but I also would regularly grocery shop and keep my kitchen stocked in actual food. I would make stir fries and pastas and buffalo chicken salads. My housemates would throw dinner parties, and I would cook. My housemates would be my assistants.
Imagine a bunch of 19 and 20 year old college kids throwing actual dinner parties. It sounds like fiction, but was something we actually did.
Anyway, at these dinner parties, I'd almost always end up making chicken Parmesan. We threw a surprise party one day for my husband, who was at the time my fiance (and yes, imagine a 19 year old kid having a fiance and actually being happily married to that person over 10 years later). I don't remember why we were throwing him a surprise dinner party exactly.
So my housemates and I decided we'd make chicken Parmesan. I have always been good at cooking Italian food thanks to growing up with an Italian grandma. However, I have also always been extremely squeamish. I can't stand touching raw meat, particularly chicken. Still true to this day.
However, back in the day, being obviously far less mature (or not lol), I made my distaste for cutting raw chicken very, very obvious. I wore gloves. I squealed and did all the things grossed out teen girls do. My housemates followed suit. It became a thing. Anytime we could chicken Parm for our many dinner parties and gatherings, my housemates would egg on the squealing.
This recipe for my cheesy chicken ziti skillet would have saved us from some of our squeals. Unlike chicken Parmesan, which requires you to butterfly the chicken, this just requires you cut the chicken into chunks, which is far easier to do. There is no breading, no dunking, very minimal chicken handling. Plus, unlike chicken Parmesan which requires a light frying and then a trip to the oven, this meal comes together on the stove top in under 30 minutes.
However, like chicken Parmesan, this cheesy chicken ziti skillet has all the cheesy goodness of the original. All of the flavors are still there. The garlic, the sweet tomatoes, the salty Parmesan cheese. It's perfect for satisfying those chicken Parm cravings when you're short on time. And being short on time is pretty much the story of my life these days. Because really, I should probably be stopping the Goose from riding the dog through the kitchen or finger painting on the bathroom door instead of making hugely involved dinners on the regular. Moms, you feel me, right?
Looking for other easy weeknight one pan meals? Try these:
Print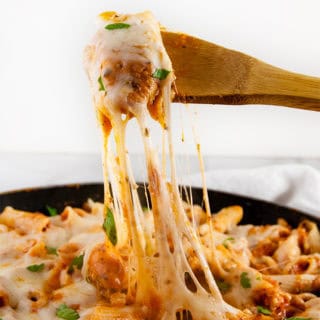 Cheesy Chicken Ziti Skillet
---
Author:

Prep Time:

5 minutes

Cook Time:

20 minutes

Total Time:

25 minutes

Yield:

4

-

6

servings

1

x
Description
All the flavors of chicken Parmesan in an easy weeknight cheesy chicken ziti skillet
---
2

chicken breasts, cut into bite sized pieces

1

tbs garlic powder

1

tbs basil
salt and pepper

1/2 cup

extra virgin olive oil

1

29 ounce can of tomato puree

4

–

6

cloves of crushed garlic

2

tbs dried basil
salt and pepper to taste

1/2 cup

of Parmesan cheese

1 1/2 cups

of shredded mozzarella or Italian blend cheese

12 ounce

box of ziti
---
Instructions
Cook the pasta according to the directions on the packages.
While the pasta is cooking, heat the olive oil in a large skillet over medium heat. Toss the chicken with garlic powder, basil, and salt and pepper. When the pan is hot, put the chicken in the pan and cook 2-3 minutes before flipping. Cook an additional 2 minutes. Pour the tomato puree into the skillet. Season with crushed garlic cloves, salt and pepper, red pepper flakes and basil. Bring to a slow simmer. When pasta is done, drain and pour into the skillet. Stir in Parmesan cheese. Top the skillet with mozzarella cheese. Cook covered for 3-5 minutes or until the cheese melts. Serve hot.
Notes
Adjust the garlic to taste. We prefer garlicky so we use more cloves than you might if you don't like a strong garlic flavor.
We used gluten free ziti.
Category:

dinner

Cuisine:

Italian
Nutrition
Serving Size:

4-6 servings
Shop this recipe!
*These links are affiliate links. To read my affiliate policy click
here.