Gnocchi is one of my secret weapon foods. These cute little dumplings cook up super fast but still feel so fancy. They feel even fancier and more ready for fall when you make them like this. Brown butter gnocchi with roasted squash and kale is basically a bowl of fall goodness.
If it were up to me, we'd eat pumpkin daily from the end of August until mid January. But my husband doesn't love it the way I do.
He's more about manly, spicy food. He tends to get a little green every time I bring up pumpkin, but being the awesome husband that he is still humors me.
While this recipe wasn't super manly or super spicy, he still cleared his plate. Not only did he eat all the gnocchi, which wasn't surprising, but he actually ate all the butternut squash.
Why is this surprising? Well Goose and Nate share a few things in common: a crooked 4th toe, wicked sweet tooth, and the tendency to pick out all the parts of the meal that they don't like. Unlike Goose, Nate doesn't actually toss his discarded veggies to or on the dog, but instead he piles them up and puts them on my plate.
I thoroughly expected to be eating all his roasted squash. But he surprised me, and cleared his plate saying he really liked the flavor it had.
Goose surprised me too. I would have thought she'd eat all the gnocchi and leave the veggies. I mean pasta and potato are both pretty kid friendly. Instead, she ate all the kale leaves first, the squash second, and then mashed the gnocchi around on her high chair tray, creating lovely food art work for us to enjoy.
And while food art is maybe not the best perk of this meal, it has many other high points. First, brown butter is amazing. It adds such a nutty depth to the flavor. It's amazing. Brown butter makes pretty much anything even cookies more delicious.
Second, this meal is super easy to make, especially if you buy the pre sliced butternut squash that is so readily available in the grocery store. Just roast the squash in the oven which a few coarsely chopped onions and some olive oil, garlic, and ginger and let the smell make your tummy rumble. You can do other things, like peel stickers off your wall, while it bakes. Then you spend all of 5 minutes actually cooking to brown the butter and toss together the veggies, gnocchi, and cheese.
And before you know it, you are digging into a big bowl of brown butter gnocchi with roasted squash and kale and thanking your lucky stars that fall tastes so good.
Print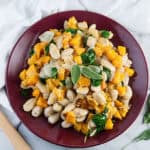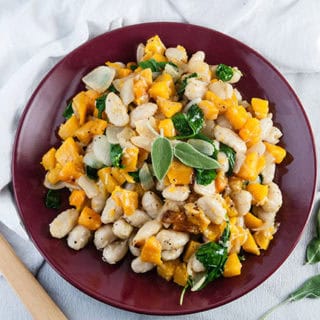 Brown Butter Gnocchi with Roasted Squash and Kale
---
Prep Time:

10 minutes

Cook Time:

40 minutes

Total Time:

50 minutes

Yield:

4

1

x
12 ounces

of gnocchi*

1/2

a butternut squash, peeled and seeded, cut into 1 inch cubes (about

3 cups

)

3

small onions

1

clove of garlic pressed

2

tbs olive oil

2 tsp

ginger

1 tsp

sage
salt and pepper to taste

2 cups

of kale

4

tbs butter

1/2 cup

Parmesan cheese
---
Instructions
Preheat the oven to 400.
Peel and cut your squash into 1 inch cubes or skip this step and buy pre cut squash.
Coarse chop your onions into 6-8 sections per onion.
Toss the onion and squash together with sage, ginger, crushed garlic, salt and pepper and olive oil.
Spread the veggies out onto a cookie sheet and bake for 35-45 minutes or until the squash softens and edges of the onions begin to turn golden. Flip the veggies once midway through baking.
When the veggies are done, boil a pot of water and cook the gnocchi according to directions on the package. Drain and return to the pot it was cooked in, adding in the roasted veggies and the uncooked kale. The heat from the gnocchi and veggies will wilt the kale.
In a small saucepan, brown the butter. To brown butter, divide the 4 tablespoons into 4 equal pats. Stir until the butter melts. Once the butter melts, it will begin to foam. Keep stirring and pay close attention. You should see brown bits starting to form on the bottom of the pan. Smell the butter, when it smells nutty it is done. Be careful not to overcook the butter, as it goes from brown to black within a couple minutes.
Pour the brown butter over the gnocchi and veggies. Finish by tossing with Parmesan cheese.
Serve immediately and enjoy while hot.
Notes
*We used gluten free gnocchi.