It's been a week. Some people would unwind with a glass (or bottle or two) of wine. I'd prefer to unwind by faceplanting directly into this no bake loaded peanut butter pie.
I mean yeah, a broken dryer, a car in the shop, and a toddler who has decided she would like to crawl back into Mommy's belly and live there forever. She threw EPIC tantrums if I removed her from lap for any reason. I mean we are talking I have not eaten a meal while she is awake or gone to the bathroom without her literally climbing up my torso for the past week.
I'm feeling just a wee bit frazzled. Just a wee bit. *Eye twitches*
So rather than pour myself a cocktail, I make myself pie. No bake peanut butter pie. Because I don't quite trust myself to actually turn on an oven right now. It might not go well.
Plus, you know, summer and ovens don't always go hand in hand. Who wants to turn on their oven when it's an oven outside? Not me. Oven weather is during the crisp fall days and chilly winter weather. I mean if I am feeling ambitious, sure I'll bake during the summer, but why bake when you can refrigerator cook to equally delicious results?
And really this no bake loaded peanut butter is really delicious. EPICALLY delicious. To counteract those epic tantrums, you know?
This whole slice of chocolate peanut buttery goodness comes together in less than 10 minutes. There are no hard to find ingredients in it (unless you are going to go my route and do a gluten free premade pie crust). It dirtied 1 bowl and 1 spoon. And arguably, the spoon was licked clean at the end of those 10 minutes of prep time.
And did I mention it is totally delish? The peanut butter filling is light and fluffy- perfect for the hot summer months. I loaded in Resee's Pieces and mini chocolate chips because they are my favorite. You could also add Resee's cups too if you prefer. This pie is flexible. It gives you options, not orders.
Except for one order. It will order you to eat it and make you try your hardest not finish the whole pie in one sitting. I'm not telling you if I did or not. It's my secret.
Print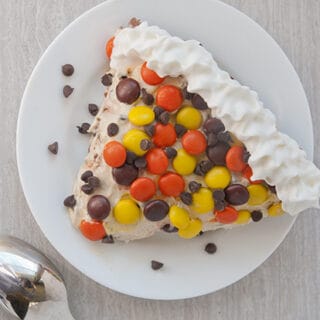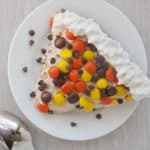 No Bake Loaded Peanut Butter Pie
---
Prep Time:

10 minutes

Total Time:

10 minutes

Yield:

1

pie

1

x
Scale
Ingredients
1 cup

of peanut butter

14 ounces

of sweetened condensed milk

1 cup

of Cool Whip

2 cups

of Reese's Pieces, divided

1 cup

of mini chocolate chips

1

premade pie crust*
---
Instructions
In a large bowl, mix together the peanut butter and sweetened condensed milk. Gently fold in the Cool Whip. When Cool Whip is thoroughly combined into the peanut butter sweetened condensed milk mixture, stir in half the Reese's Pieces and the chocolate chips.
Pour the mixture into your premade pie crust. Top with the remaining Reese's Pieces.
For best texture, set in the fridge for an hour prior to diving in.
---
Notes
*Use any kind of pie crust you like. I prefer a chocolate crust and to keep in gluten free, do a gluten free chocolate pie crust.