Peach Oatmeal Bars
I've told you before I am a bit of a fruit snob when it comes to fresh fruit.
I have a serious fruit problem. See, I grew up in and still live in the country. While I don't live on a farm, I sort of wish I did. I am fortunate enough to live close enough to walk to several pick your own farms and orchards. I love going to them. My dad and I have been going to the same one for as long as I can remember. Now we bring my daughter. I love keeping the tradition alive. My daughter loves climbing in the apple carts.
And me? Well, I harbor secret fantasies about being a farmer and chucking my iPhone into a lake. Going to pick my own fruit lets me live the dream.
Well not the chucking the iPhone into a lake thing.
Not sure if I should be sad about that or not.
I know I am not sad about peach season though. There's nothing better than a sweet, juicy fresh picked peach. I love picking them, I love eating them, and I love baking them. I really loved baking these peach oatmeal bars.
They were meant to be breakfast but turned into breakfast that could be a dessert.
That's ok though. Sweet breakfast goes really well with coffee. Coffee fuels my personality now that I am a mommy. Better yet, these peach oatmeal bars are a premade breakfast.
Premade breakfast is a must for me these days. I was on a kick of making these black bean egg muffins for awhile. And then it kind of stopped. I'm not sure why. But when I stopped doing make ahead breakfasts, my own breakfast consumption plummeted. Weird I know, given that I write and run this food blog.
I think it's a curse of motherhood though. I fell into an awful trap of getting up before my daughter to write and drink coffee but I'd wait to eat breakfast with her. I'd make us breakfast but I'd be up and down so much, getting her more cheese, ice (she loves ice), or retrieving her fork that I literally would forget to eat or not get a chance to. Then it'd be lunch and the same thing would happen again.
So I'd end up either eating a half a box of dry cereal one handful at a time or nothing at all until dinner. Bad news bears. This mama gets hangry. So I need to go back to make ahead breakfasts.
Like these peach oatmeal bars. The peaches make them sweet and juicy. The oatmeal makes them breakfast worthy. They are delicious cold, but would be excellent heated up with a big scoop of vanilla ice cream on top. So you know, dessert worthy too.
It's a sweet situation.
Print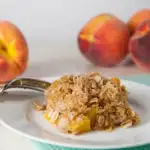 Peach Oatmeal Bars
---
Prep Time:

15 minutes

Cook Time:

45 minutes

Total Time:

1 hour

Yield:

12

bars

1

x
4

–

5

peaches, peeled and chipped

1.5 cups

of rolled oats

1/2 cup

of milk

1/4 cup

of brown sugar

3

tbs of butter, melted

1

egg

2 tsp

of cinnamon

2

tbs of honey

1

tbs of baking powder
For the crumb topping
1 cup

of rolled oats

3

tbs room temperature butter

1/2 cup

of brown sugar

1 tsp

of cinnamon

2

tbs of honey
---
Instructions
Preheat the oven to 350 degrees.
Spray a with nonstick spray. Set aside.
Peel and slice peaches. Put in a bowl and toss with 1 tsp of cinnamon and 1 tbs of honey. Set aside.
In another bowl whisk together 1.5 cups of rolled oats, 1 tsp cinnamon, 1/4 cup of brown sugar, and baking powder. Set aside.
In a small bowl, wish together 1 egg, 3 tbs of melted butter, 1 tbs of honey, and milk.
Pour the wet ingredients over the dry ingredients and gently fold together.
Fold the peaches into the mixture.
Bake at 350 for 30-35 minutes or until the edges just start to bubble. Remove from the oven.
Make crumb topping by tossing 1 cup of rolled oats with 1/2 a cup of brown sugar and a tsp of cinnamon. Cut room temperature butter into small pieces and mix into the oat mix until small clumps form. Spoon mix on top of the bars. Drizzle with honey.
Put the bars back into the oven and bake for an additional 7-9 minutes or until the top is lightly golden.
Cool and enjoy.
Notes
I use gluten free oats to keep it gluten free but use any kind of rolled oats you like.