Happy New Year! Can you believe the holidays are over? And are you ready for some salad? Sweet garlic chili chickpea salad with roasted broccoli to be exact.
How you feeling about that? Sad? Happy? Indifferent? Normally I'm all sad about it. I hate the Christmas lights and music ending. I'm normally sad about the general end to merrymaking and no more reasons to make the best chocolate chip cookies or gingerbread donuts until the end of the year. But this year I'm ready.
I don't know if it's just because the holidays were sort of blah for us this year. We had to say goodbye to our lovey lab two days after Christmas. She had cancer and it progressed much quicker than we were expecting. That definitely dulled our holiday sparkle.
But beyond that, I'm just ready to leave behind the crazy of the fall and holiday season and settle into a routine and work on some New Year's resolutions. This year I resolved to take better care of myself. I struggle in that arena. I get up early most mornings, pour myself the first of many extra large cups of coffee, and turn on my laptop. Then I work until my kiddo wakes up, drinking coffee as needed. Know what I didn't do in the mornings? Your choices are exercise, eat a meal, change out of my pjs, or take a shower.
If you answered all of the above you are right. I would walk right from my bedroom to the kitchen to get coffee to my laptop. I generally wouldn't come up for air until Goose woke. Then I'd be in full on mom mode. And those of you with littles know it can be really hard to take care of yourself when there are small children involved. I get so consumed with momming sometimes that I wouldn't break to do anything other than refill my coffee cup.
So the rest of my proverbial cup was empty. Empty empty empty. I literally would feel myself just run out of gas by 4 pm. I didn't want to run, I didn't want to go to the gym. By 4 pm, I just wanted to lay down and nap. Every single day. And no wonder, I was literally fueled by caffeine, unicorn farts, and my sense of wit and sarcasm.
So this year, I am aiming to do the following:
skip browsing social media in the morning
do yoga or a short work out when I wake up each morning
meal prep so I have a fridge stocked with healthy breakfasts and lunches
get more sleep so I drink less coffee
So far this new year, I am 3 for 4. Any guesses what I failed on today?
Yep definitely drinking coffee. Because I actually succeeded in meal prep, working out, and doing less mindless social media scrolling so far. Winning. Whoop.
And this sweet garlic chili chickpea salad with roasted broccoli and quinoa helped with the meal prep part of things. It's the perfect make ahead lunch solution or the perfect big salad for dinner. And it's got so many flavors going on. I love the sweet savory combo. And these chickpeas are full of sweet savory goodness. Oh, and some spice! Can't forget that.
Plus so easy to throw together a big batch. One prep sesh and you get 5 full lunch salads out of this or maybe 3 dinner salads. And all you need to do is whisk together some honey, siracha, lime juice, pressed garlic, and soy or tamari sauce with some sesame or olive oil. Pour half over the chickpeas and the veggies and save the other half for dressing. Roast the chickpeas for 15 minutes, flip and add the broccoli and roast for another 20 minutes. Boom. A tray full of delicious goodness that gets tossed into a fantastic salad.
Yes, a fantastic salad. Those words rarely go together but here they totally belong together. Why? So many flavors and textures. You've got sturdy crunchy kale as a base, nutty quinoa, and serious crunch factor going on with the red peppers, peanuts and chickpeas. Yum yum yum. It's a salad I am so happy to eat. A salad that makes me glad to see January and say goodbye for a little while to cookies.
So tell me, what are your New Years Resolutions? Are you sad to say goodbye to the holidays?
Looking for other sweet and spicy salads? Try these:
And if you want to build an Italian style version of a roasted chickpea salad try these Easy Garlic Roasted Chickpeas with Parmesan
Print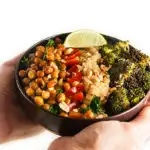 Sweet Garlic Chili Chickpea Salad with Roasted Broccoli
---
Author:

Prep Time:

10 minutes

Cook Time:

40 minutes

Total Time:

50 minutes

Yield:

5

salads

1

x
Description
Sweet garlic chili roasted chickpeas and broccoli make this salad anything but boring. Perfect for a big healthy dinner salad or meal prep lunches.
---
For the dressing/marinade
4

cloves of garlic, pressed
juice of

1

lime

4

tbs siracha*

4

tbs honey

2

tbs soy or tamari sauce

2

tbs of sesame or olive oil
For the salad
1 cup

of uncooked quinoa

1

15 ounce can of chickpeas, drained and rinsed

1

large head OR 2 smaller heads of broccoli, stems removed

1

red bell pepper, chopped

5 cups

of kale, big stems removed
chopped peanuts (optional)
cilantro to garnish (optional)
---
Instructions
Preheat the oven to 400.
While oven is preheating, in a small bowl whisk together all the ingredients for the dressing. Set aside. While the oven finishes preheating start cooking quinoa on stovetop according to directions on the package.
When oven is preheated, prepare a cookie sheet with aluminum foil and spray with nonstick spray. Pour chickpeas evenly over tray and toss with about 1/3 of the dressing and 2 pressed cloves of garlic. Bake at 400 for 20 minutes. Flip chickpeas over. Add broccoli to sheet and drizzle some more of the dressing over the broccoli. Cook an additional 15-20 minutes or until the broccoli is tender.
While veggies are roasting, chop the pepper and remove the the stems from the kale. Drain quinoa.
When veggies are done assemble salads by adding a cup of kale to each bowl and topping each with equal parts of quinoa, roasted veggies, pepper, and cilantro and peanuts if desired. Top with extra dressing and enjoy.
Notes
*adjust the siracha to desired amount based on how much heat you like
Salad is good warm or cold. If making for meal prep to eat all week, add peanuts and dressing just prior to serving. Peanuts will get soggy in the fridge. Salads will stay good for 3-4 days in storage containers.
Category:

salad

Cuisine:

American, Asian
Shop this recipe!
*These links are affiliate links. To read my affiliate policy click
here.