Learn how to roast garlic and add an extra layer of deliciousness to pastas, dressings, oils, and so much more! This easy method will up your kitchen game instantly.
Post may contain affiliate links. As an Amazon Associate I earn commissions on qualifying purchases. To read my affiliate policy click here.
If there's one thing you can learn how to do in the kitchen that will make a ton of difference and can make so many basic dishes better it's roasting garlic.
It's a basic skill every home chef needs to know, right up there with how to caramelize onions.
Because once you know how to do it, the possibilities are endless!
And even better, it's so easy to do.
Added bonus? When you're making it, your kitchen will smell exactly like your favorite Italian place.
Ingredients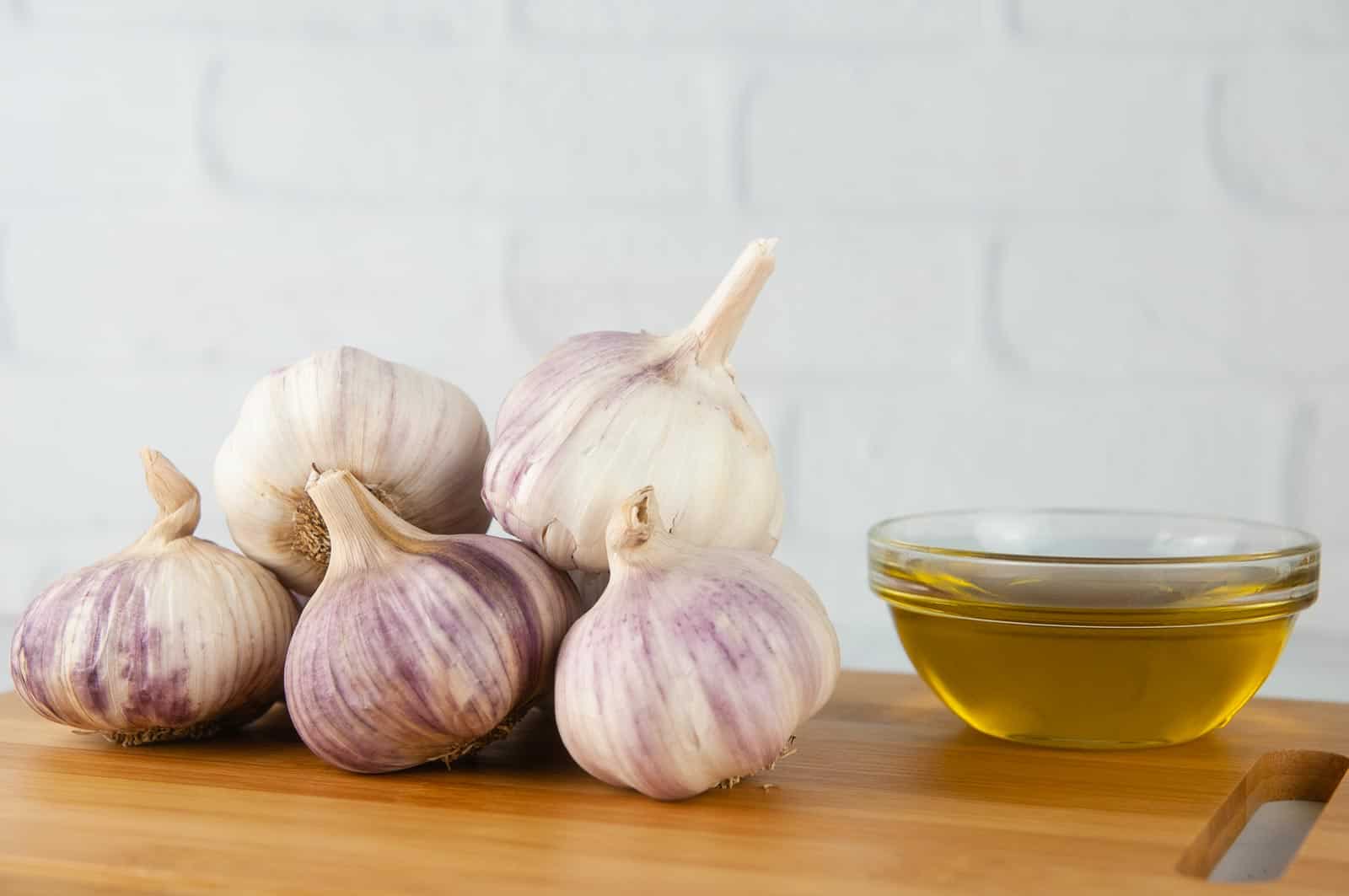 Really you don't need much to roast garlic. All you need is:
Garlic– Obviously right? I always make at least whole head of garlic, but you can easily make a bunch more at the same time. And trust me, even if you think you only need a clove or two, you'll find uses for the rest of the head.
Olive oil– Use a good olive oil for this.
That's it! All the essentials you need.
If you want to get fancy, you can add a touch of flaky sea salt.
How to Roast Garlic in the Oven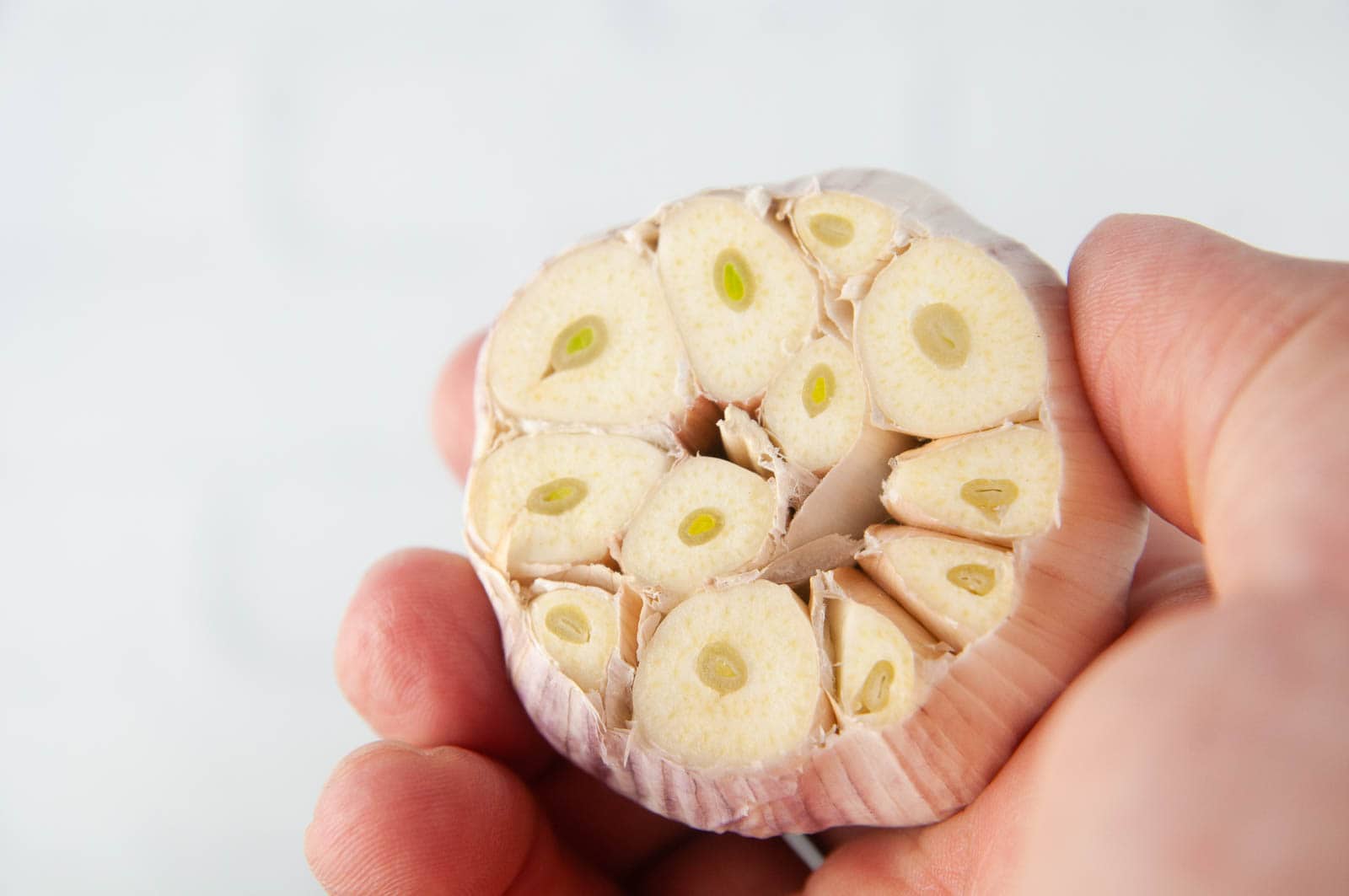 Prep the garlic.
Cut the top of the garlic head off. Wrap it foil, keeping the top exposed. Drizzle on olive oil.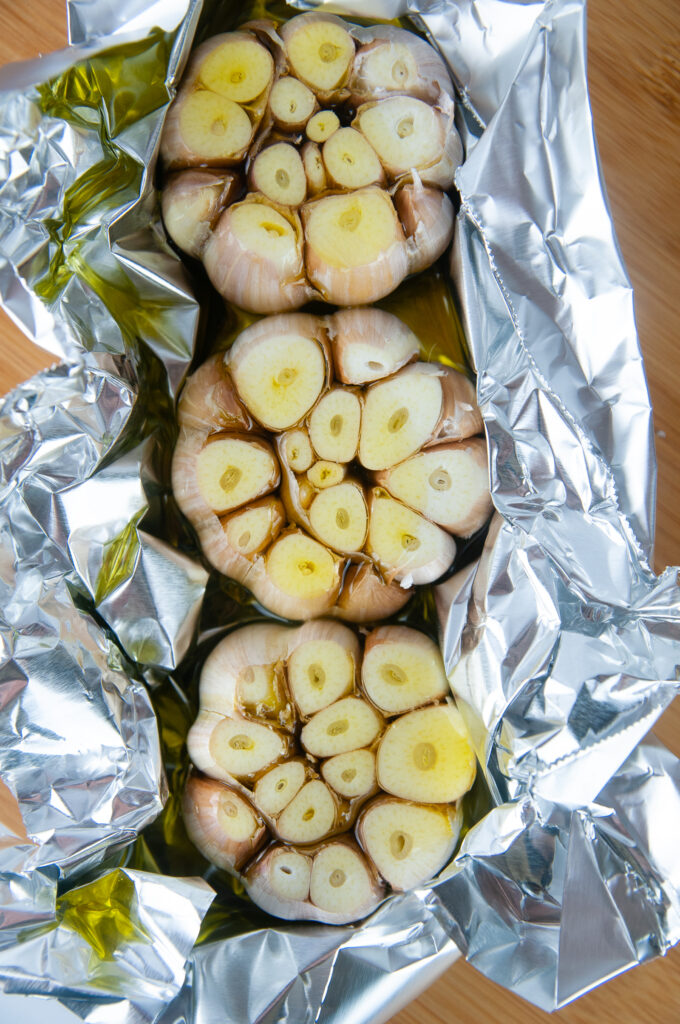 Roast.
Roast the garlic at 400 for 40 minutes or until the tops of the cloves are soft and caramel colored. Enjoy on bread or in your favorite recipes.
This is my favorite way to roast a lot of garlic and much less prep than roasting peeled cloves.
How to Roast Peeled Garlic Cloves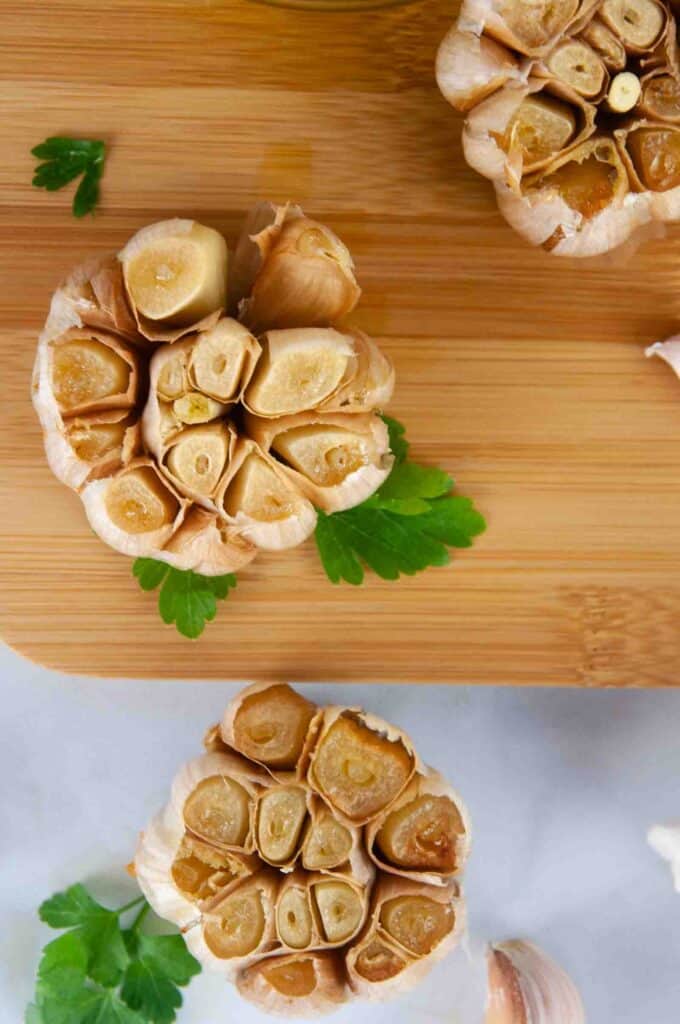 Don't want to roast whole heads of garlic? You could always roast the peeled cloves instead.
To do it:
Prep the cloves.
Peel the garlic cloves unless you have bought a bag of peeled garlic. If you are working with whole garlic and what to peel a bunch at once, use this handy garlic peeler.
Roast.
Toss the garlic in olive oil and spread it out on a foil or parchment lined baking tray. Roast in a 375 degree oven for 45 to 60 minutes, turning once halfway through.
What does basting mean, anyway?
Basting means spooning, pouring, or brushing liquid over meat as it cooks.
The technique is supposed to keep the meat from drying out as it roasts in the oven.
Sometimes, it involves coating the meat in something like butter that will release fat as it cooks.
Why do you roast garlic cloves peeled?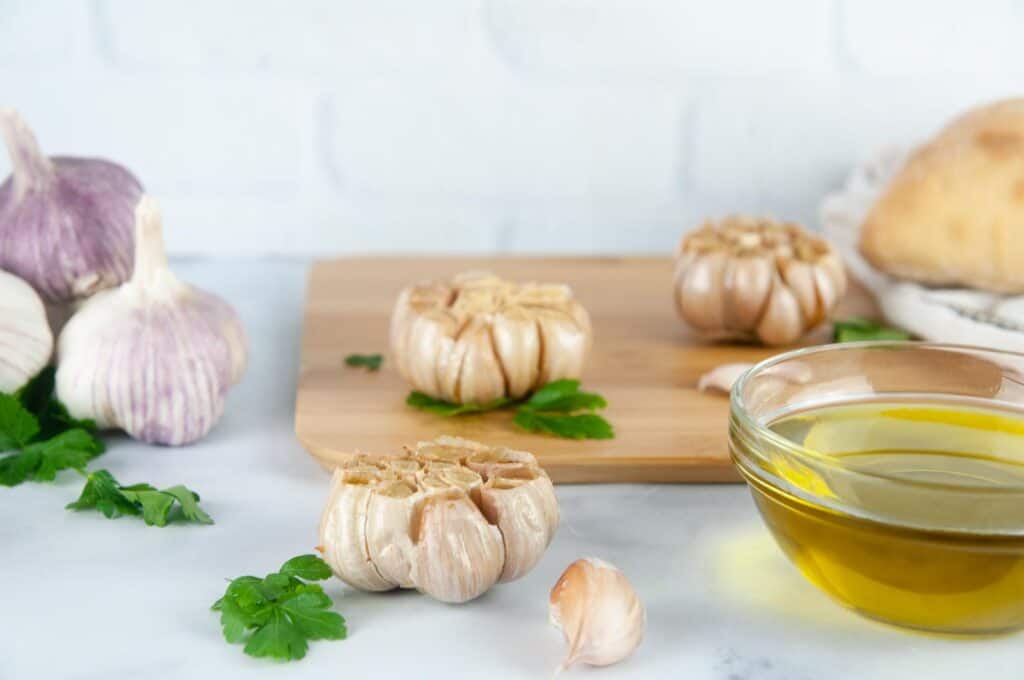 I recommend roasting peeled cloves of garlic if and only if you have purchased one of the big bags of pre peeled garlic cloves.
And I would buy a pre peeled bag of garlic for recipes that call for lots of garlic.
Can you eat unpeeled roasted garlic?
You can if you want to. The skin around the garlic cloves is tough and papery, even after it's been roasted so you probably wouldn't want to eat it.
How long does roasted garlic last?
Roasted garlic can also be refrigerated for up to 2 weeks if you store it properly or frozen for up to 3 months.
Can I roast it without foil?
Yes and you have several methods you can choose from:
With the top covering it- When you chop the top off of the head of garlic, save the top. Drizzle olive oil on the body of the garlic, then pop the top back on to cover the exposed cloves. Roast at 400 for 35-50 minutes. The downside of this method? The garlic can get too brown in spots.
With parchment paper- No foil? No problem! Wrap the the prepared heads in parchment paper instead!
Can I roast it without olive oil?
Yes you can! You can substitute another oil like avocado oil or you can dry roast it.
To dry roast, just wrap the prepared bulb tightly in foil and bake as directed above.
Is there a way to roast it faster?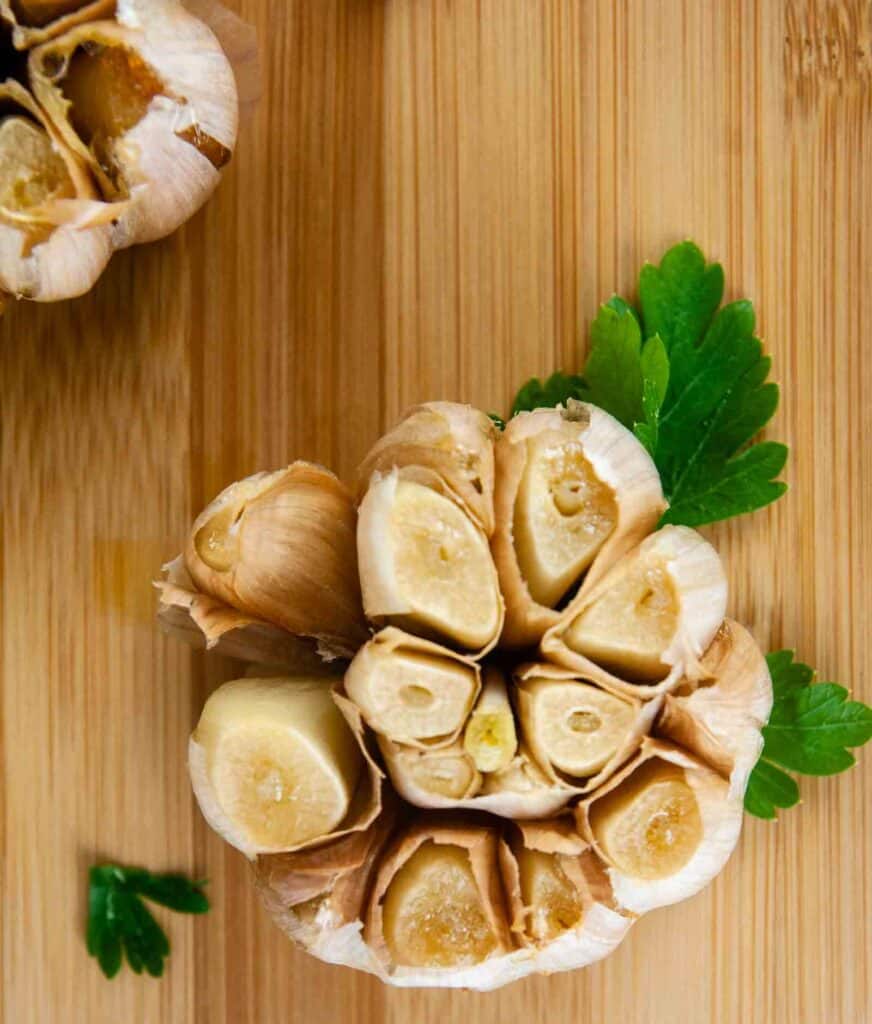 You can "roast" it in the microwave.
To do that:
Cut the top off of the garlic and cover the exposed cloves in oil.
Put it on a microwave safe baking dish.
Add about 1.5 tablespoons of water to the dish.
Microwave on 50% power in 3 minute increments until the garlic is soft and tender.
Is roasting garlic good for you?
Disclaimer: this is definitely not a health website, but my Italian grandmother swore garlic was so good for you in any form. According to her, it could cure a headache, clear up your skin, and cure a cold.
Well it turns out Grandma wasn't wrong. The Cleveland Clinic says garlic can boost your immune system, benefit your heart, and act as an anti-inflammatory.
However, they continue to say the most benefits come from raw garlic and eating too much garlic isn't the best (hello stinky garlic breath).
How to Use Roasted Garlic
The possibilities for roasted garlic are endless!
Some of my favorite ways to use it include:
Roasted garlic mashed potatoes
Spread it on bread
Make roasted garlic infused olive oil or roasted garlic butter
Put it into fettucine alfredo.
Add it to spaghetti sauce.
Make roasted garlic pasta.
Use it in hummus or white bean dip.
Tips and Tricks
You can roast individual cloves of garlic. To do this, remove the cloves from the head but leave the cloves intact and covered with their paper skin, toss with olive oil, and roast in a foil packet until soft.
Feel free to sprinkle sea salt and fresh ground pepper on top of the garlic.
Gently squeeze the garlic head after 40 minutes with a pair of tongs. The garlic should be fairly soft. If it's not, roast 5 minutes longer and recheck. Repeat until soft.
It's easy to double or even triple or quadruple the method. Just add an extra tablespoon of olive oil for each extra head of garlic.
If you roast more than one head of garlic at a time, make sure you choose garlic heads that are similar in size so they have a similar roasting time.
Did you make this roasted garlic or any other recipe on my site? Leave me a comment below and let me know how you liked it. And make sure you follow along with me on Facebook, Pinterest and Instagram to see everything we've got going on.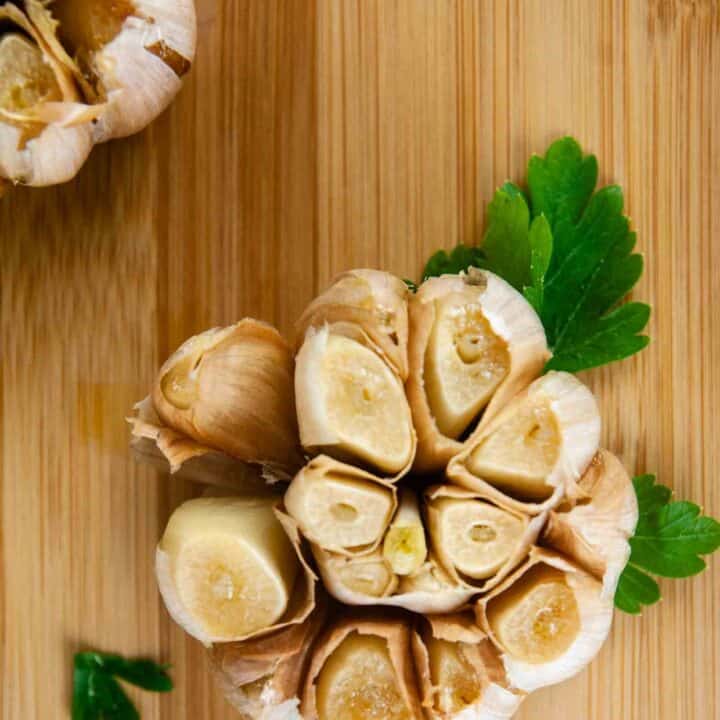 How to Roast Garlic
Learn how to easily roast heads or cloves of garlic in the oven.
Ingredients
1 head of garlic
1 tbs olive oil
pinch of flaky sea salt
Instructions
Whole Garlic Heads
Prep the garlic. Cut the top of the garlic head off. Wrap it foil, keeping the cut side of the garlic bare. Place on a cookie sheet. Drizzle on olive oil and sprinkle on sea salt if desired.
Roast. Roast the garlic at 400 degrees Farenheit for 40 minutes or until the tops of the cloves are soft and caramel colored. Enjoy on bread or in your favorite recipes.