Learn how to caramelize onions for French onion soup, topping burgers, and using in all kinds of appetizers. This no fail method will have you cooking onions like a pro right in the comfort of your own home.
Post may contain affiliate links. To read my affiliate policy, click here.
If I had to pick one of my favorite foods, I'd say caramelized onions. They are so buttery, rich, and delicious and pair oh so well with cheese. (Another one of my favorite foods.) You don't have to wait until you go out to eat to enjoy delicious caramelized onions. In fact, you can make a huge batch of these onions and add them to different meals throughout the week for that showstopping Sunday dinner feel any day.
Kitchen Items Needed
For quick reference here's a handy list of every kitchen tool you need to make the most delicious caramelized onions:
Ingredients for the Best Caramelized Onions
Ingredients for caramelized onions might vary a bit based on what you intend to use the onions for. I like to use:
Onions. Sweet, yellow onions or vidalia onions work better than white onions. Red onions caramelize beautifully too, and turn a deep dark purple color that can be really pretty on sandwiches.
Butter. You need butter to keep the onions from sticking to the pan. It also gives the onions that rich deliciousness.
Liquid. Adding a little liquid as the onions cook helps deglaze the pan and mobilize the delicious juices known as fond that the onions release as they caramelize. Never use water. Go for wine, another alcohol like beer or sherry, broth, or balsamic vinegar.
Salt. Salt helps draw the moisture out of the onions and will add to the delicious fond mentioned above.
Spices. Here's where the variety really comes out. The spices will likely serve to enhance whatever dish you are going to put the onions on. I almost never make caramelized onions without using pressed garlic cloves though, since garlic just makes everything so much more delicious. Other common spices for caramelizing onions include black pepper, thyme, and sage.
How to Caramelize Onions
The key to caramelizing onions is to cook them evenly and have patience, young Padawan. Because there's no shortcut to caramelizing onions. It isn't hard, but it does take some time.
To make perfectly caramelized onions, start by slicing all of your onions.
Next up, melt the butter over medium heat in a large cast iron skillet. Once the butter has melted, add the onions and season them with some salt. If you want to add fresh pressed garlic or any dry spices, you can add them now.
And now we wait.
And stir.
Then wait some more.
And then stir some more.
After 15-20 minutes, the onions will start to release a sticky, thick liquid- the fond. They'll also start turning golden and softening up. However, they will still not be totally soft and have whitish parts in the center. This means they're not done. At this point you can add a little of the wine to loosen the fond up and prevent the onions from burning.
Keep cooking and stirring the onions. The liquid you added will reduce and thicken and the onions will start to loose their white centers. This takes awhile, another 25-30 minutes. During this time, don't stop stirring often. As the onions soften and deepen in color, you'll need to stir them almost constantly to prevent burning and sticking. You may also need to add a little bit more liquid. If you do make sure to let the liquid reduce.
How do I know that my onions are done caramelizing?
This is largely subjective. You can stop caramelizing onions once they turn a light golden caramel color. They'll be yummy but they'll still have a bit of a solid toothiness and a crunch.
If you cook the onions until they are soft and a deeper caramel color, the sugars and flavors in the onions get more of a chance to develop. This means they will be even more delicious so it's worth it to let them cook until they are totally soft and deeply golden brown.
How long will caramelized onions last?
If you store your caramelized onions in an air tight container in the fridge, they will last for about a week. You can also freeze individual portions of caramelized onions in small freezer bags for a few months at a time and pop them out whenever you want to jazz something up.
Recipes to Use Caramelized Onions
Again there's no right or wrong way to use them. Besides the obvious French onion soup, these are some of my favorite uses for caramelized onions:
French Onion Bread. This bread is stuffed full of caramelized onions and cheese. It's literally the stuff my dreams are made of. French onion bread makes a fantastic appetizer for game day or holiday gatherings or any time you're entertaining.
French Onion Chicken. Parmesan coated chicken breasts topped with buttery caramelized onions. It's fancy feeling and totally delicious.
Other Uses for Caramelized Onions
Caramelized onions are fantastic on so many other different kinds of food! You can use:
Pastas with French Onions
Caramelized Onions on Pizza
As a way to jazz up a frozen pizza. Just spoon them on top of a white frozen pizza after its cooked and enjoy.
In Sandwiches and Burgers
A French onion burger. Oh yes, delicious glorious cheeseburgers topped with French onions. Don't mind if I do.
French onion grilled cheese. Just stop. Look at this deliciousness. Quite possibly the only grilled cheese I'd ever want to eat.
Other uses
Spoon them on steak, chops, or any meat.
Serve them on slices of crusty baguettes for a caramelized onion bruschetta.
Print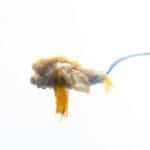 How to Caramelize Onions
---
Author:

Prep Time:

10 minutes

Cook Time:

60 minutes

Total Time:

70 minutes

Yield:

about

1.5 cups

of caramelized onions

1

x
Description
How to caramelize onions for delicious onions to use in French onion soup or almost any savory dish. A basic caramelized onion recipe.
---
1/2 cup

of unsalted butter

3

pounds of sweet or yellow onions, sliced

1/4 cup

of white wine or sherry*

6

cloves of garlic, pressed (optional)

1/2 tsp

salt

1/2 tsp

pepper

1 tsp

dried sage (optional)

1 tsp

of dried thyme (optional)
---
Instructions
Thinly slice the onions. Add the butter to a cast iron skillet. Melt the butter over medium low to medium heat. Pour the onions in. Add the white wine or sherry, garlic, salt, pepper and spice. Cook over medium heat stirring every few minutes for the first half hour. During the next half hour, stir very frequently, almost constantly, until the onions are soft and deep golden with no white left. This will take about another half an hour.
Notes
You can substitute beer, chicken broth, or beef broth for wine or sherry.
Omit the seasonings if desired.
Category:

side dish, kitchen basics

Method:

stove top

Cuisine:

American
Keywords: how to caramelize onions, French onion recipe. how to make French onions, caramelized onions recipe