This Parmesan Balsamic Chicken and Brussel Sprouts Skillet is January food. But better.
You know about January food right? The food you eat for the first few weeks each new year trying to shed the holiday fluff. Yeah, that food.
It gets a bad rap a lot. I mean, I totally understand how it would. After a fall full of comfort food like pumpkin penne with peas and Parmesan and Parmesan garlic twice baked potato casserole, it can be a let down.
But this Parmesan Balsamic Chicken and Brussel Sprouts Skillet is not a let down even though it's healthy and perfect January food to go along with those New Year goals. And I think I know why. I see the common thread here. It's the Parmesan cheese.
I mean, Parmesan cheese is kind of magical isn't it? It's so delicious and flavorful. Even Goose, who is currently Princess Picky, loves Parmesan. No kidding. I'm pretty sure she is currently keeping herself alive on a diet of grated Parm, chocolate milk, and the occasional hunk of Play Doh.
Let me paint you a picture of this. Imagine if you will dinner time on any give night. Now Mommy is a food blogger and Daddy also loves to cook so generally dinner is something delicious like Crock Pot Bolognese or Vegetable Soup with Quinoa. So each night, homemade food goes on the table and on her plate.
Each night, she eats approximately one lick. Yes, a lick. Not a bite. Because bite would involve putting the food in her mouth and potentially then into her stomach. Then she puts it down (ok flings it) and will very nicely say, "Hand me cheese peas."
This is her way of saying, "Please dump a pile of Parmesan cheese on me plate so I can eat it with my ridiculously small toy spoon from my Minnie Mouse tea set before I either A) faceplant directly onto the leftover cheese on the plate or B) decorate the dog with a Parmesan sprinkle."
Dinnertime with a toddler. At least she uses please. It's the little things.
Well, at least she is filling up on Parmesan. I mean it is one of the yummiest cheeses. And a little bit of it goes a very long way in this Parmesan Balsamic Chicken and Brussel Sprouts Skillet. It's the combo of the slightly salty cheese with the sweet and savory Balsamic that dresses up the chicken and Brussels so nicely. And this dish is one of those dishes that doesn't need a lot of time or a lot of effort to put together. It's sort of a paired down version of my Autumn Chicken Skillet, but with more delicious Brussels and even less effort. Plus, it's healthy and hearty and can stand alone as a meal or would be awesome over rice or quinoa.
See, January food. But better.
Print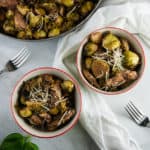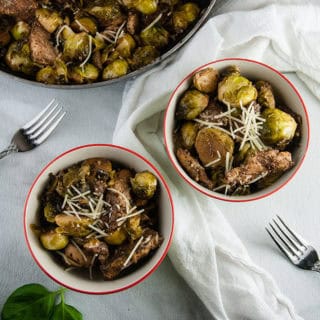 Parmesan Balsamic Chicken and Brussel Sprouts Skillet
---
Author:

Prep Time:

10 minutes

Cook Time:

16 minutes

Total Time:

26 minutes

Yield:

3

-

4

servings

1

x
Description
A quick and easy healthy meal of chicken and veggies on the table with only 1 pot and in under 30 minutes.
---
24 ounces

of Brussel Sprouts, halved

2

chicken breasts

1/4 cup

plus 1 tablespoon of olive oil

1/3 cup

plus 1 tablespoon of balsamic vinegar

10

crushed garlic cloves

3/4 cup

of Parmesan cheese
salt and pepper to taste
---
Instructions
Cut chicken breasts into bite sized chunks. Put in a bowl with with 1/3 cup of balsamic vinegar and 1/4 cup of olive oil and 6 crushed garlic cloves. Season with salt and pepper.
Allow the chicken to rest in the marinade while you heat a tablespoon of olive oil in a large frying pan over medium heat. Add the Brussel sprouts, 1 tablespoon of balsamic, salt and pepper and remaining garlic cloves to pan. Saute the mix for 8-10 minutes until the Brussels start to soften.
Add the chicken mixture and cook for an additional 8 minutes or until the chicken is cooked through. Flip half way through.
Just before removing from heat, add the Parmesan cheese and stir to combine.
Serve alone or over rice or quinoa.
Category:

dinner

Cuisine:

American
Nutrition
Serving Size:

3-4 servings
Shop this recipe!
*These links are affiliate links. To read my affiliate policy click
here.