Welcome to the place where I share what I'm up to each week and a bit of my real life outside of the blog.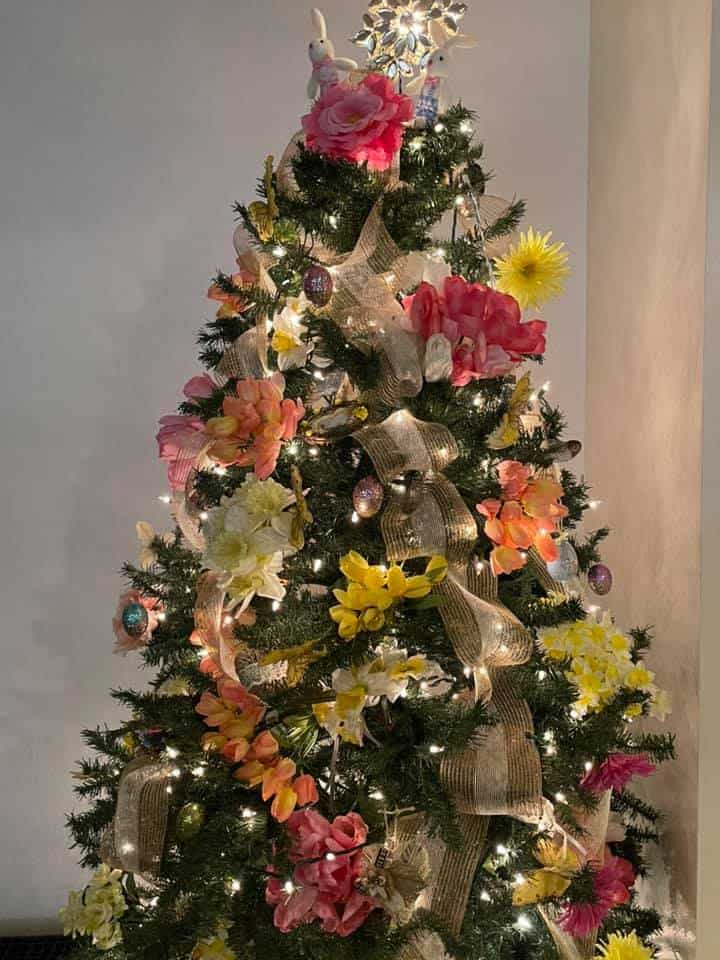 Post may contain affiliate links. You can follow this link to read my affiliate policy.
Doing
Impromptu St. Patrick's Day celebrating. We did a St. Patrick's Day color by number, a colors of the rainbow scavenger hunt and found the most fun Youtube channel called PE with Mr. G. and all played the St. Patrick's Day catch the coins game. Even my little guy loved it because I'd shout the instructions out, "Jump!" or "Duck!" and he'd do it too. Super cute.
Later today we might make some beer mac n cheese and a big slice of cake with Bailey's frosting.
Decorating
We decorated our Christmas tree for spring. Yes, I keep a tree up year round and flip it out seasonally. I am super happy with how it came out. The combo of burlap florals, butterflies and sparkle eggs looks cute. Loving it.
Watching
I am involved in watching only comfort television right now. It's been all Golden Girls, New Girl and Schitt's Creek. Nothing remotely new.
However, over the weekend, Goose and I watched a couple of Pioneer Woman episodes together. We have family snuggle time in the morning and normally watch a cartoon, but she wasn't liking what was on (Puppy Dog Pals- don't blame her tbh) and asked me to change the channel. I flipped through the stations and as soon as I was on Food Network and she saw Ree cooking, she was like, "STOP MOMMY! Let's watch her make!" And we did.
She's super funny with things like that. She loves to watch cooking and crafting videos when I'm scrolling through social media. Sometimes, she snuggles up and asks me to find her cooking videos and then she'll offer her opinions, telling me what looks yummy and what looks gross.
I wonder if she likes them so much because I make them.
Reading
I'm over my reading rut and finally finished The Honeymooner and I started and finished Whisked Away also by Melanie Summers. I'm onto book 3 in the Paradise Bay series called The Suite Life. I really loved Whisked Away. It was adorable and I adored Emma, the female main. She is perfectly awkward and the climax involved a ridiculous cosplay costume, powdered sugar as makeup and the cutest but also laugh out loud funniest romantic grand gesture. Highly recommend for rom com fans.
Eating
We have been loving the lighter springtime flavors lately. I'm still all about this Greek salad with lemony hummus lately. I've also been into fresh asparagus and you should check out this asparagus with Parmesan cheese. That has me wanting some pasta primevera and I'm working on a recipe that I'm sure will knock your socks off.
Loving
A few weeks ago I made probably the most quarantine-y purchase ever. I bought two pairs of Feejays. What are Feejays? Sweetpants with feet attached. I have black fluffy ones and pink tie dye ones and I am seriously obsessed. There's a 99 percent chance that I am wearing a pair if I am home, which is pretty much all the time.
That's it from me this week! What are you up to? Leave me a comment below and let me know!